NEWS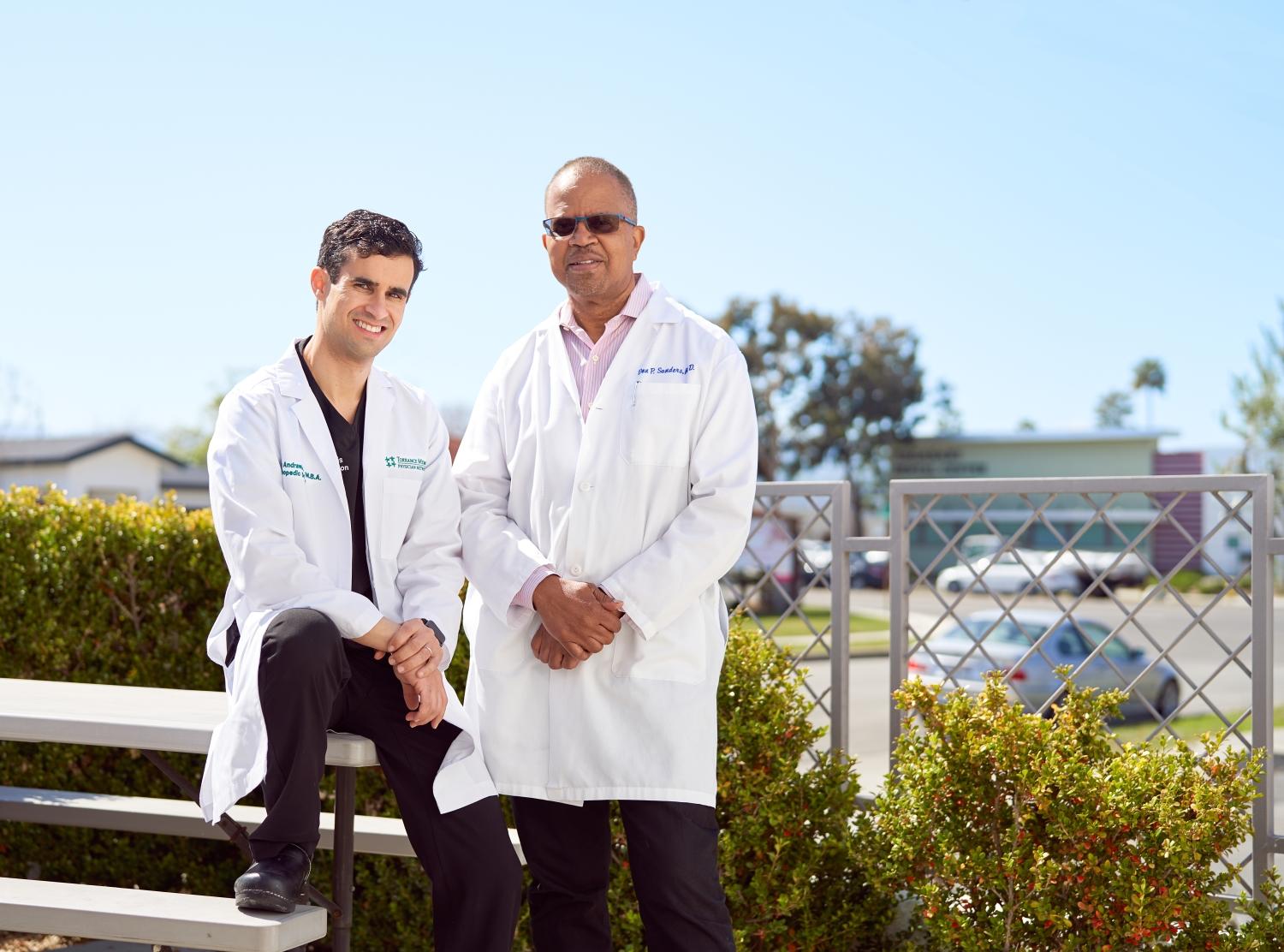 At the Top of Their Game
Written by John Ferrari | Photographed by Vincent Rios
Spring is here. You've been exercising and practicing for your favorite outdoor activities. You should be at the top of your game, but that joint pain isn't going away. In fact, it's getting worse. Whether it's rheumatoid arthritis, osteoarthritis or a sports injury, it may be time to consider orthopedic surgery for a partial or total hip, knee or shoulder replacement. But when?
"You're going to know when it's time," says Todd Shrader, MD, a joint replacement surgeon and sports medicine specialist with Torrance Memorial's Lundquist Orthopedic Institute. "It's when your quality of life is suffering and other options are not working." If joint replacement is in your future—as it is for an increasing number of Americans—there's good news: It's one of the most successful and effective surgical procedures performed today.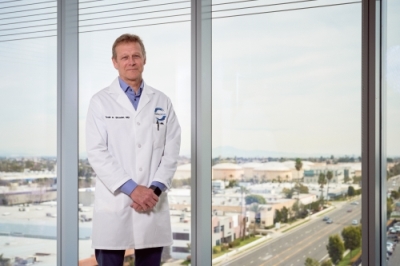 The Lundquist Orthopedic Institute is at the forefront of advances in the field of joint replacement. Emphasizing comprehensive, patient-centered care, the institute also provides a full range of expertise in specialized fields including general orthopedics; sports medicine; hand, wrist, foot and ankle care; and pain management.
The care and attention the institute's specialists devote to each patient shows in the distinctions it has received. Ranked by U.S. News & World Report as one of the nation's top centers for orthopedic surgery, the Lundquist Orthopedic Institute also has earned Blue Cross Blue Shield's Blue Distinction Center designation for joint replacement and spine surgery.
According to the Centers for Disease Control and Prevention's National Center for Health Statistics, more than 1 million total joint arthroplasties (the reconstruction or replacement of a joint) are performed in the United States each year. That number is predicted to rise to nearly 4 million over the next 10 years. Here in the South Bay, the Lundquist Orthopedic Institute's specialists perform more than 1,200 hip and knee replacements—more than double any other hospital in the area, according to 2018 data from the Office of Statewide Health Planning and Development.
"The population is getting older, so there are more and more people who have arthritic joints," explains Lundquist Orthopedic Institute orthopedic surgeon Don Sanders, MD. "Also, people are staying more active as they get older; that creates more wear and tear on joints. The large Baby Boomer population is now right smack dab in the middle of where they're requiring joint replacements."
As Baby Boomers have aged, joint replacement surgery has really come of age. The last two decades have seen major advances. "We've been able to develop more minimally-invasive techniques," Dr. Sanders says. "The concept is we do less damage when we're doing the surgery"—thereby reducing recovery times significantly.
Dr. Sanders helped pioneer the direct anterior approach for hip replacement surgery—a technique that leaves the muscle attachments intact, allowing patients to recover faster and more completely. First performed at Torrance Memorial in 2004, the technique now accounts for 80% of hip replacements at the hospital. Similarly, the subvastus approach for knee replacement surgery avoids cutting into the quadriceps, speeding patient recovery.
Another even more recent innovation is robotic-assisted surgery. The Lundquist Orthopedic Institute started using the Mako Stryker robotic system last year to assist with knee replacement surgery. "We're starting to develop evidence of patients having less pain and better recovery using the system," says Dr. Sanders.
The system doesn't actually perform the surgery, Dr. Sanders explains. "We use the robotic arm to assist in the surgical procedure." Specifically, the system allows surgeons to operate with greater precision.
"That's critical to achieve successful joint replacement," says Dr. Shrader. "The robot aligns the joint implant perfectly and balances the soft tissues, both critical factors for a successful total knee replacement."
A third advancement—to anesthesia and pain blocks—helps patients get back on their feet as soon as possible. Local pain blocks, similar to epidurals, are administered before and during joint replacement surgery.
Reducing pain and discomfort after surgery has a practical benefit. "Patients who get up sooner recover quicker," explains Lundquist Orthopedic Institute orthopedic surgeon John Andrawis, MD. "They can usually have a physical therapist see them within a few hours of surgery. Torrance staffing allows that to happen."
"We've been at the forefront of pain management," adds Dr. Shrader. "Patients wake up with very little to no pain. We want patients to walk the day they have the surgery. It lowers the chance of getting a blood clot. Plus it helps them go home [faster], and it's much better to recover at home."
Although most patients remain at Torrance Memorial overnight after joint replacement surgery, "the large majority go home the next day," says Dr. Sanders. For some patients, there's even the possibility of going home the day of the surgery.
"It really depends on the patient," adds Dr. Andrawis. Some younger patients—generally those younger than 70—may choose joint replacement surgery as an outpatient procedure. However, he says, "it's not your chronological age, it's your physiological age" that determines whether outpatient surgery is a possibility.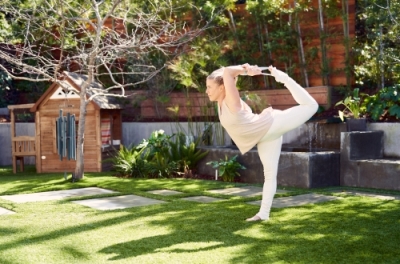 Getting back on her feet after a bilateral hip replacement was a priority for 47-year-old yoga instructor Jill Lynch. "My hips started bothering me more than five years ago," she recalls. "I tried to fix the problem and alleviate the pain with strength work and neurological work. I did every possible thing I could do ahead of time, but eventually I had to admit to myself there was something wrong and the only option was surgery. I did some research beforehand, and given how important my hips are to my career, I knew I wanted the direct anterior approach and I knew Dr. Sanders was the best."
Lynch was using a walker four hours after her surgery. Five days after her surgery, she was walking without crutches, and after a month she and Dr. Sanders agreed she could resume her yoga work. "I feel fantastic," she says. "I was in a lot of pain leading up to surgery. I feel like I have my life back."
Lynch's background in yoga helped her recovery, but Torrance Memorial's goal is to give every patient the best experience and easiest recovery possible.
"We have an extensive pre-op process," Dr. Andrawis says. "This year we're working on a pre-op clinic so we can coordinate better patient care—especially patients with multiple medical issues. And before surgery and rehab, we have prehab for fitter patients. Our patients have a month-long presurgical process. The goal is to educate people on what to expect, which allows them to be more successful in their recovery. There are all these touchpoints at Torrance Memorial."
Successfully combining exceptional surgeons, advanced surgical techniques and the latest technology with comprehensive care and the convenience of a local hospital has earned the Lundquist Orthopedic Institute another impressive distinction. It's ranked in the top 10% of hospitals nationwide for patient satisfaction in a 2018 survey conducted by the Centers for Medicare and Medicaid Services.
After all, Torrance Memorial patients like Lynch don't choose the Lundquist Orthopedic Institute just because it's convenient; they choose it because it's the best.