NEWS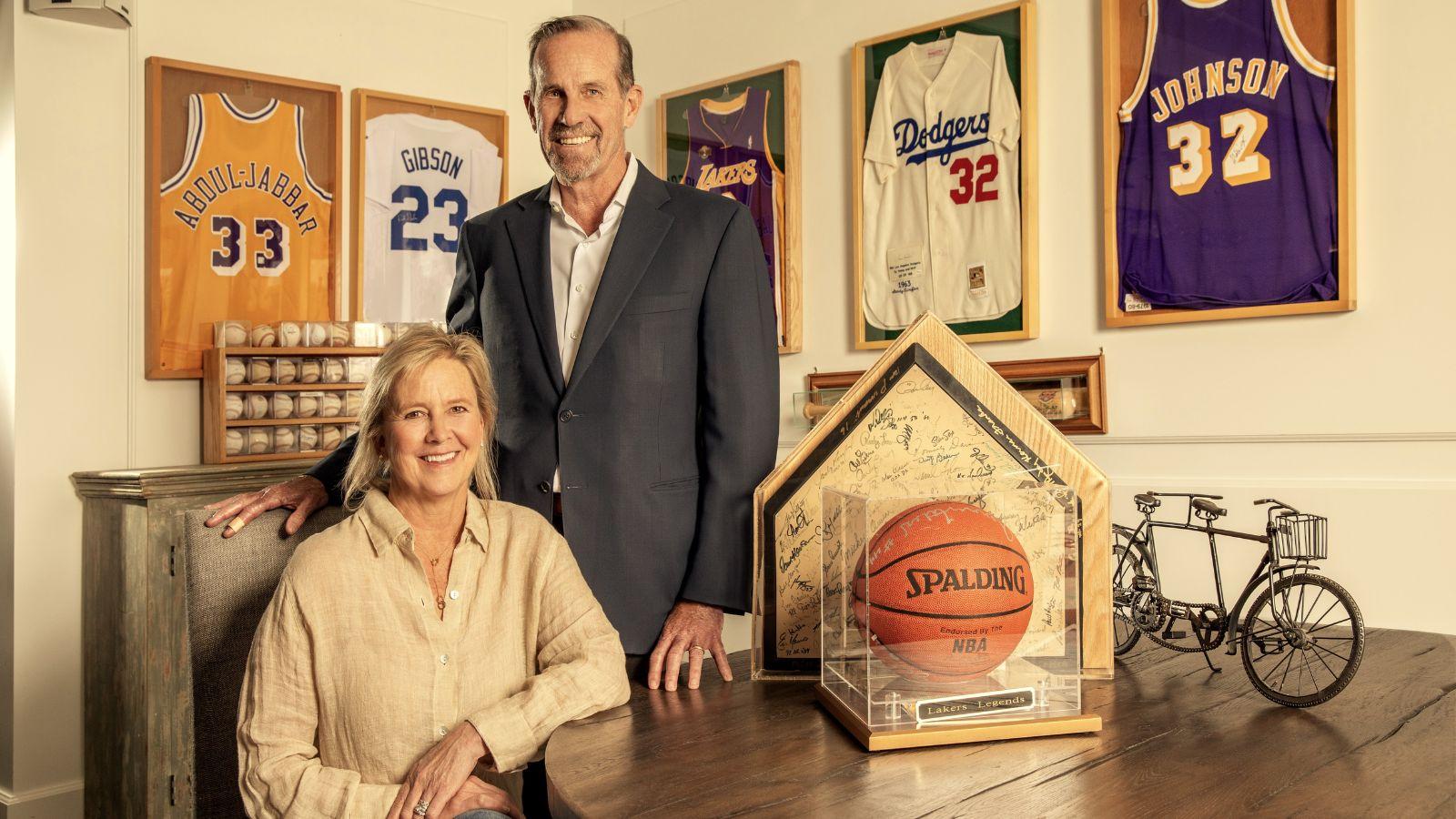 Tom & Lori O'Hern: Ironman Agents
Written by Diane Krieger  |  Photographed by Micheal Neveux
Being passionate about health and wellness is what you'd expect of any Torrance Memorial Patron. But Tom and Lori O'Hern take it to the next level.
He's a nine-time Ironman triathlon finisher, including three Hawaii Ironman races. He has also completed the Western States 100-mile run and the Catalina 50-mile run many times. She was part of an all-female relay team that won first place in the Escape from Alcatraz Triathlon.
The O'Herns met in Manhattan Beach back in the 1980s. "We literally bumped into each other at Hennessey's," says Lori with a grin.
Extreme athleticism was baked into their romance from the starting line. Their third date was a camping trip to the Grand Canyon where Tom and friends did a double crossing in the pouring rain.
Tom's first gift to Lori was a bike. "The second gift was a workout bag with a wetsuit in it," she says. "Then running shoes. I was like, 'Hmm, there's a theme to this.'"
Tom was already a triathlete and ultra-distance runner when they met. Once Lori entered the picture, "he just kind of roped me into it," she says. On their honeymoon in 1989, the O'Herns rode a tandem bike from San Francisco to Manhattan Beach with a "Just Married" sign hanging from the back.
Since then, they've raised four fitness-minded children who are their pride and joy: Tommy, 29, Augie, 27, Ellie, 24, and Maggie, 17. For the first 15 years of their marriage, Lori and Tom continued to train and compete as triathletes.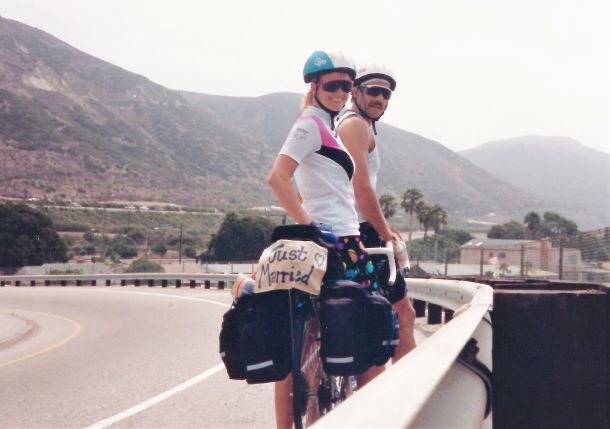 This was all happening alongside high-octane careers. Tom was recruited as CFO of The Macerich Company in 1993, helping take the real estate company public in 1994. Lori worked in the aerospace industry, running logistics and purchasing operations for McDonnell Douglas. She later moved into pharmaceutical sales after earning her MBA at Pepperdine University in 1991.
But long hours and frequent business trips took a toll on family life, and Lori left the workforce in 1995 to make parenting her top priority. Tom also slowed down. As an athlete, anyway.
Lori has a series of pictures showing him crossing the finish line of the Canadian Ironman in the mid-1990s. First by himself. Then with a kid in his arm. Then two kids. Then three. With each finish, his time grew a little longer.
Tom eventually stopped competing around 2002. "At that point," he says, "the kids' activities were more important than me disappearing for six or eight hours on Saturday and Sunday to train for the Ironman."
Lori's triathlon days are also long behind her, though she still works out every day. "We have a full gym in our garage and a Peloton," Tom says. "Fitness and health are an important part of our lives and our kids' lives."
A Matter of the Heart
A health crisis brought the O'Herns into the Torrance Memorial community. Twenty-five years ago, Tom's dad, Thomas O'Hern, came to the ER with life-threatening congestive heart failure. Though Thomas belonged to an HMO, the family was grateful the ambulance took him to Torrance Memorial that day because he received "extraordinary care" from prominent South Bay cardiologists Bruce Jackson, MD, and the late Gary Kissel, MD.
"It was about as good an experience as it could possibly have been under those circumstances," Tom reflects. The doctors ordered a quadruple bypass, but first Thomas had to get strong enough for the surgery. In a time of revolving-door medicine, Dr. Jackson and Dr. Kissell took great care of him, Tom says.
After the successful bypass surgery, Thomas spent a few more weeks in Torrance Memorial's cardiac rehab facility before moving into Lori and Tom's Lunada Bay home for the remaining six months of recovery.
"That's how we first really got to know Torrance Memorial," says Tom, who in addition to being a Patron sits on the board of the Torrance Memorial Foundation.
His twin sister, Mimi, also recently became a Torrance Memorial Patron. "Dad got great care, and we all had great memories of how well he was treated in those days," Tom says.
Midwestern Roots
Tom and Lori hail from the Midwest. Lori's Belgian and Italian immigrant grandparents originally settled in Detroit. A second-generation Michigander, Lori grew up in Bloomfield Hills, a northern suburb of the Motor City, where her dad was an executive with General Motors. The youngest of three sisters, Lori studied business at Michigan State University before heading west. 
Though Tom was born in Indianapolis, his family roots ("mostly Irish with a little German in there") are in Chicago, where his dad and three sisters "scraped and clawed to get through the Depression." Tom's grandfather died in the 1918 pandemic, and Tom grew up hearing about the Spanish flu. "Never in a million years would I have envisioned we would see a version of that," he says.
Thomas worked in the textile business for Philadelphia Carpet Company, later Shaw Industries. The company transferred the family to California in 1964, and Tom and Mimi grew up in Palos Verdes. Their mother died when the twins were only 10, and Thomas raised them alone.
They attended St. John Fisher Parish School, then Rolling Hills High School (now Peninsula High). Tom majored in accounting at Cal Poly San Luis Obispo and began his career as an accountant with Arthur Andersen in 1978. He spent 25 years as Macerich's chief financial officer prior to becoming its CEO in 2019.
"My timing was far from perfect. I got to lead the company through COVID-19," he says, grimacing at the memory.
"We have 48 'A-quality' regional malls in top markets around the country," he explains, "and at one point, around April 2020, they were all shut. Every single one of them. In places hit hard—like New York and California—it was a battle to get them open and keep them open. Everything's going great now, in fact better than pre-pandemic, but that was a tough couple years."
He credits "hard work, determination and support from my family, particularly my loving wife," with his rise from CPA to CEO. An iron will, tempered by years of Ironman training and competition, surely helped.
In addition to his role as a board director of Torrance Memorial Foundation, Tom also serves on the USC Marshall board of leaders. He's also on the boards of Douglas Emmett, a publicly traded real estate investment trust, and the National Association of Real Estate Investment Trusts.
Focus on Family
Though Tom's work requires a fair amount of travel, the O'Hern children always stayed front and center. All four will have graduated from Palos Verdes High, where Lori and Tom are longtime parent leaders, volunteers and boosters.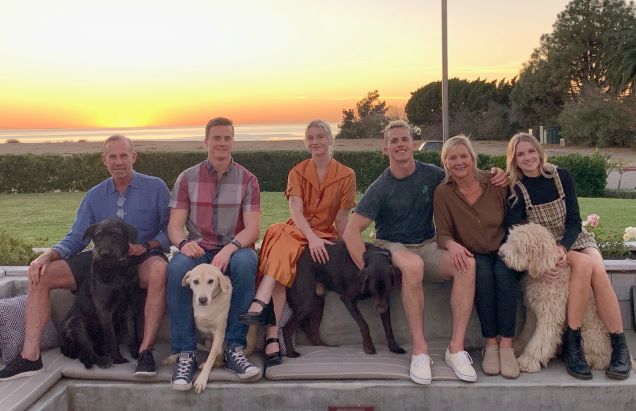 Year after year, Lori was the football and lacrosse team mom as well as team photographer. Tom chaired the Palos Verdes High stadium committee, which raised the capital to rebuild and turf the football field and replace the tartan track.  
Earlier, Tom was president and treasurer of Lunada Bay Little League and president of the PVHS Booster Club. He and Lori both served on the board of the Peninsula Education Foundation. In other community leadership roles, Lori cochaired Los Hermanos, a philanthropic service organization for PVHS; served on the Lunada Bay Elementary PTA board; and worked on the silent auction committee for Vistas for Children. Tom was on the capital committee for the campaign to rebuild St. John Fisher Church.
The kids rewarded their parents' dedication and communal service by growing into healthy, balanced, successful young adults. Tommy attended Washington University in St. Louis, where he studied business and played NCAA Division III football. He later earned a Master's of Accounting degree from USC and now works as a CPA for KPMG in Los Angeles.
Augie attended Notre Dame and the University of Virginia, majoring in business. He's now an investment banker with BTIG in San Francisco.
Ellie studied business and cinema at USC and raced on the snowboard team. She's now at Parsons School of Design in New York pursuing a degree in fashion design.
Their youngest, Maggie, is a cheerleader finishing her junior year at PV High. She is active in student government and the Peninsula chapter of National Charity League (NCL), a mother-daughter organization.
Lori remains a steadfast supporter of NCL and has held various board positions over the years including heading the scholarship committee for several years.  "With four kids, you kind of get involved," she says.
As her children left for college, Lori's community involvement has only increased. "The fewer kids I had at home, the more I started volunteering," she says.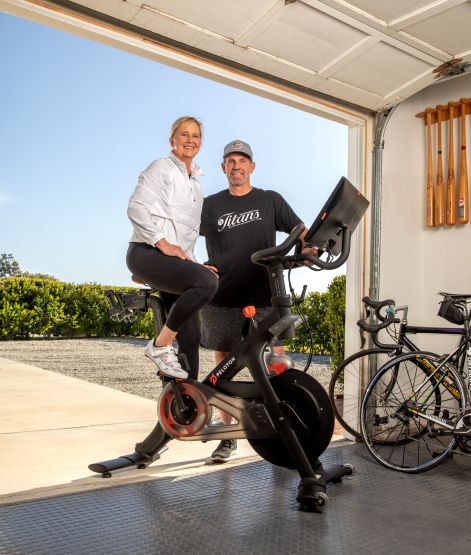 Eyeing the Empty Nest
 With only one child to go, Lori looks forward to the next stage of life. Maggie graduates a year from now. The nest isn't going to be truly empty anytime soon, however.
The O'Herns share their home with a yellow lab named Dugan and a rowdy rescued giant schnauzer named Hunter. After Dexter, their beloved mini schnauzer, passed away last year, an irrepressible whoodle named Bear joined the family. "He's a COVID puppy and totally Lori's dog," Tom says.
 Family gatherings still happen regularly, though it's rare for all six O'Herns to be in the same city. Dodger Stadium is Tom's and Lori's favorite place to be on a Sunday afternoon, and it's not unusual for two of the younger O'Herns to accompany them. Rams, Clippers and Lakers games are also favorite family outings.
Though he no longer trains for triathlons, Tom continues to enjoy outdoor activities. Every year he takes a fly-fishing trip to Alaska, sometimes with Tommy or Augie by his side. 
The whole family regularly vacations in Hawaii, getting in lots of hiking and kayaking. All the O'Herns are dedicated skiers or snowboarders. On many winter weekends, they head for their family retreat in Mammoth, which Lori has "basically gutted and rebuilt." 
"It's a hobby of hers," says Tom, with a grin. "She's got this propensity for buying homes and redoing them—in one case, all the way down to the studs and back. She's always got a major project going."
"He's exaggerating," Lori says, with an amused eye roll. "We've done it a couple of times."
Since the O'Herns love to entertain and have hosted many large social gatherings in their home, the organizations they patronize—Torrance Memorial Foundation among them—continue to benefit from their generosity and charm. •