NEWS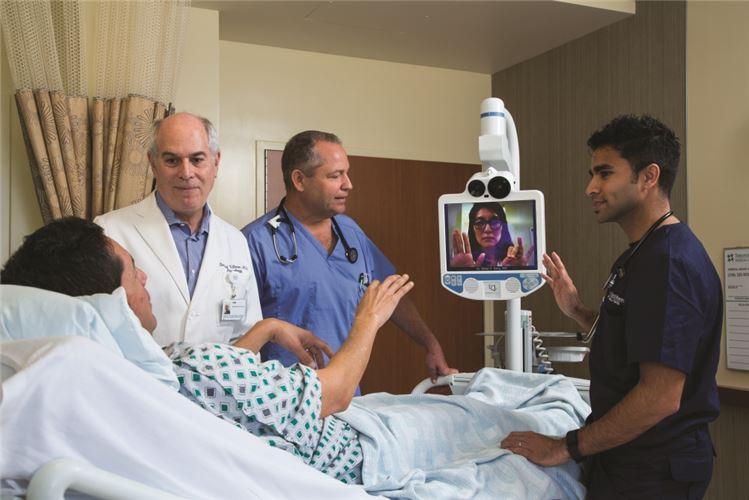 Telestroke Launches to Prevent Brain Loss
When someone has a stroke, the timing of intervention can make the difference between life or death and debilitating loss of brain function. Studies have shown that prompt access to a neurologist reduces mortality or the long-term disabling effects of a stroke.
To ensure round-the-clock stroke coverage is available to South Bay patients, Torrance Memorial Medical Center's Lundquist Cardiovascular Institute has collaborated with Cedars-Sinai Medical Center to develop a Telestroke program to offer 24/7 access to stroke specialists and expedite the transfer of patients when higher-level intervention is needed.
The program's launch at Torrance Memorial is made possible by a $250,000 gift to the Torrance Memorial Foundation from Francesca and Doug Deaver of Redondo Beach.
"This partnership will facilitate instant collaboration between health care providers and stroke neurologists to produce a high accuracy diagnosis and result in the most effective treatment," says Eric Nakkim, co-medical director, Lundquist Emergency Department, Torrance Memorial Medical Center. "Research shows that Telestroke improves outcomes, reduces patient risks, decreases ambulance transport, shortens hospital stays and lowers costs through more timely and accurate diagnosis. We're very excited to offer this continuum of care to our patients."
Through Telestroke, the videoconferencing technology will enable specialists at Cedars-Sinai to communicate with Torrance Memorial's emergency room team to examine the patient, interpret brain images, confirm the diagnosis and provide recommendations, just as if they were at the bedside.
The evaluating physician will recommend in the case of ischemic stroke (which occurs as a result of an obstruction within a blood vessel supplying blood to the brain) whether tissue plasminogen activator (TPA), a clot-busting medication, is needed. According to the American Heart Association, each 15-minute span between the onset of ischemic stroke (the cause of nine out of 10 strokes) and the delivery of TPA is an average of one month of disability-free life lost for that patient. Immediate intervention in the case of hemorrhage stroke is just as critical.
In 2015, neurologists Jeffrey Kim, MD, and Ben Tseng, MD, joined the Torrance Memorial Physician Network to provide rapid daytime access to the more than 450 stroke patients who enter Torrance Memorial's Emergency Department each year. In the event neither doctor is immediately accessible at bedside, one of four Cedars-Sinai neurologists: Patrick Lyden, MD, Shlee S. Song, MD, Konrad Schlick, MD, or Mani Nezhad, MD, are available to instantly assess the patient via twoway audiovisual communication.
"Strokes can occur at any time and it is important to have access to urgent neurologic evaluations by experts that can help decide whether patients are eligible for TPA or other interventions as quickly as possible. We've all seen the data and patients have a greater chance for better outcomes and independence with early treatment," says Song. "Time is brain."
The Deavers' gift helps bring to Torrance Memorial the RP-Lite®, Mobile Remote Presence Solution, a robot-like system that includes a camera, monitor and laptop station affixed to a stand on wheels. Its patented design facilitates immersive two-way audiovisual communication between a patient and physician. When positioned adjacent to the bed, the RP-Lite's design allows a camera and directional microphone to fully engage the patient and doctor in face-to-face interactions. The system, used in combination with InTouch Health's workflow solution and cloud connectivity maximizes the real-time interactivity and instant transport of vital, life-saving information.
"As a proud resident of the South Bay, I am aware of how fortunate I am to have had opportunities in business and to raise a family in this community," says Francesca Deaver. "My father was active in his support of our community hospital, Torrance Memorial, which has become a thriving medical center. Our children and grandchildren were also born there. Our personal philosophy is simple; we have a responsibility to do what we are able for our community at all times. We feel fortunate and humble to be a part of the legacy of Torrance Memorial."
Learn more about Torrance Memorial's Stroke Program.