NEWS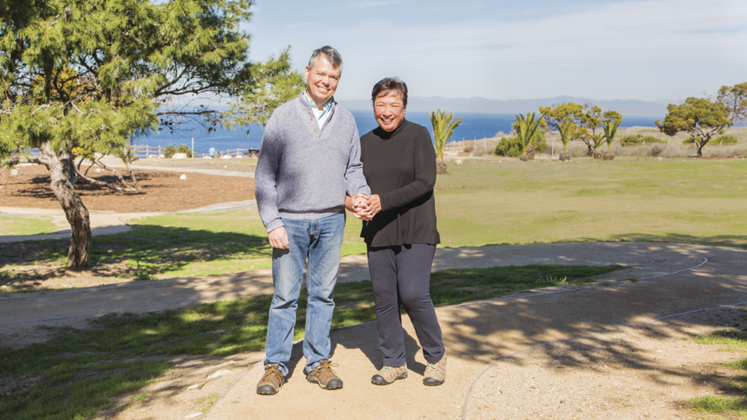 Stroke of Luck
Steve Baker is a creature of habit—bedtime at 10 p.m., morning alarm at 6 a.m. and in the shower 15 minutes later. That's why when Steve was awake and agitated at 5:15 on the morning of February 22, his wife, Namele, knew something wasn't right. When she saw the left side of his face looked weaker than the right, she immediately suspected he'd had a stroke.
Fortunately Namele didn't waste any time. She called 911, told the dispatcher her husband was in their bedroom and opened the doors to the house so the paramedics could come in. She then went back to wait with Steve, who was busy insisting nothing was wrong with him. Healthy and active at 60, Steve found it inconceivable he could be having a stroke, and he was convinced he would be back home from the hospital in time to go to his job as assistant director of human resources at the Port of Los Angeles.
But Steve didn't go to work. Instead he was rushed to Torrance Memorial Medical Center's emergency department, where he was diagnosed with a massive stroke of the type that can cause lifelong disabilities. To prevent further catastrophic damage, Steve needed a thrombectomy, a highly specialized catheter-based procedure to remove the blood clot. He underwent the procedure shortly after arriving at the hospital and is now expected to make a full recovery.
The odds were in Steve's favor that day thanks to two factors—Namele got him help right away and he had access to highly specialized care.

Proximity Matters
When someone has a stroke, every second counts. The Los Angeles County Emergency Medical Services Agency has developed a Comprehensive Stroke System to ensure patients with acute stroke are taken to the closest appropriate facility.
Through advanced training, adherence to the highest standards of patient care and the continued addition of highly trained neurosurgical experts, Torrance Memorial was recently recognized by the Los Angeles County EMS as a designated Comprehensive Stroke Center. This designation is further recognition of Torrance Memorial's ongoing commitment to the expansion of its stroke program, already one of the most comprehensive in the South Bay area.
The designation means emergency services are directed to take acute-stroke patients directly to Torrance Memorial for care.
Additionally, to guarantee round-the-clock stroke coverage for the South Bay, Torrance Memorial has partnered with Cedars-Sinai to develop a telestroke program that offers 24/7 access to stroke specialists. In place since 2016, the system uses teleconferencing technology to allow neurologists on call at Cedars-Sinai to diagnose patients at Torrance Memorial's emergency department.
This 24-hour coverage is critical to saving lives and protecting quality of life. "When patients are having a stroke, minutes matter. The telestroke program is designed to get patients diagnosed and treated as quickly as possible, without having to be transported to another hospital," says Shlee Song, MD, medical director of Torrance Memorial's stroke program and associate director of the Cedars-Sinai department of neurology stroke program, who was on site when Steve arrived.
In Steve's case, he was diagnosed via telestroke by a neurologist and stroke specialist at Cedars-Sinai. Telestroke technology allowed the physician to communicate with Torrance Memorial's emergency room team and examine Steve, interpret his brain images, confirm his diagnosis, and provide recommendations just as if he were at Steve's bedside.

Life-Saving Thrombectomy Saves Brain
The telestroke system saved Steve's doctors precious minutes, but there was still no time to spare. A highly specialized thrombectomy procedure was needed immediately before his blood clot could cause more damage. Thrombectomy is a minimally invasive procedure during which a catheter is guided up through an artery in the leg and into the brain. Once inside the brain, the clot is removed using a specialized clot retrieval device. Thrombectomies are appropriate for patients who, like Steve, have a large clot in a large vessel. These are often the types of stroke that trigger the worst disabilities or death. Tissue plasminogen activator, more commonly known as tPA, is effective for treating smaller clots, but not always as helpful for strokes so large.
In Steve's case, he was also outside the four-and-a-half hour safety window after the onset of stroke for tPA to be administered. So without thrombectomy, the best a patient like Steve could hope for in the past was recovery and rehab.
According to a recent Wall Street Journal article, stroke experts estimate 20 percent or more of severe stroke patients should receive thrombectomies, but in some parts of the country, as few as 2 percent receive it. This is primarily due to a lack of resources and training to perform the procedure. Torrance Memorial's highly trained staff was first in the South Bay to begin performing thrombectomy years ago and expanded the program further in 2015 with the purchase of a biplane imaging suite in the recently built Lundquist Tower. Biplane imaging is the most advanced interventional medical imaging technology available and is essential to conduct the procedure rapidly. The digital X-ray technology uses two mounted rotating cameras, one on either side of the patient, to take simultaneous pictures brought together on a computer screen to form a three-dimensional portrait for doctors to study. Biplane imaging also allows doctors to follow the path of blood flow through the vessels and to create a "roadmap" for reaching and treating the precise location of clots and other malformations in the brain and neck.
Namele was given minutes to decide to give the green light to perform the thrombectomy after doctors clearly presented the risks. A piece of the clot could break off and cause more damage to the brain, or Steve could experience further bleeding at the clot site. But her son Alex was blunt: "Dad would not want to live without a good quality of life. Mom, we need to go for it."
And so they did. Namele and Alex were then taken to the Torrance Memorial waiting room where subsequently Dr. Richard Krauthamer, the interventional radiologist who performed the procedure, and Dr. Song came out to tell them the surgery had been a success. Dr. Krauthamer even showed Namele an image of the clot. She was surprised at its size. "It didn't look that big," she says. "Amazing that something so small could cause that much damage."
Steve's experience and outcome were the result of careful preparation, planning and practice on the part of the Torrance Memorial and Cedars-Sinai teams. Namele still remembers what Dr. Song told her as they were taking Steve to the intensive care unit (ICU) after his procedure: "Your husband's result is exactly why we work so hard to prepare and train for stroke emergencies. This makes it all worthwhile."
Since the stroke Steve has been diagnosed with asymptomatic atrial fibrillation, a type of heart arrhythmia that can cause blood to pool and form a clot. He is now on blood thinning medication to ensure he doesn't experience another stroke. Otherwise, Steve's recovery has been remarkable. Even before he was discharged, the hospital's physical therapy team determined he didn't need the stroke recovery and follow-up care services available to Torrance Memorial stroke patients.

Commitment to Advancing Neurological Care
Torrance Memorial's leadership is committed to furthering neurological care for the South Bay community. A $16 million gift from the Lundquist family will establish a Neuroscience Institute, one of the only such programs at a non-academic hospital in Los Angeles County. The Institute will serve patients with neurological needs who otherwise would need to be referred out of the area. Additional funding will go to upgrade the surgical and ICU capabilities at the hospital.
Meanwhile, the Bakers are busy appreciating each day. They spend time with their son and new daughter-in-law. Steve has already spent time back at work, and they are planning a trip to France in September. Namele wants to make sure everyone knows their story. "I want people to know there is hope [after a stroke]," she says.