NEWS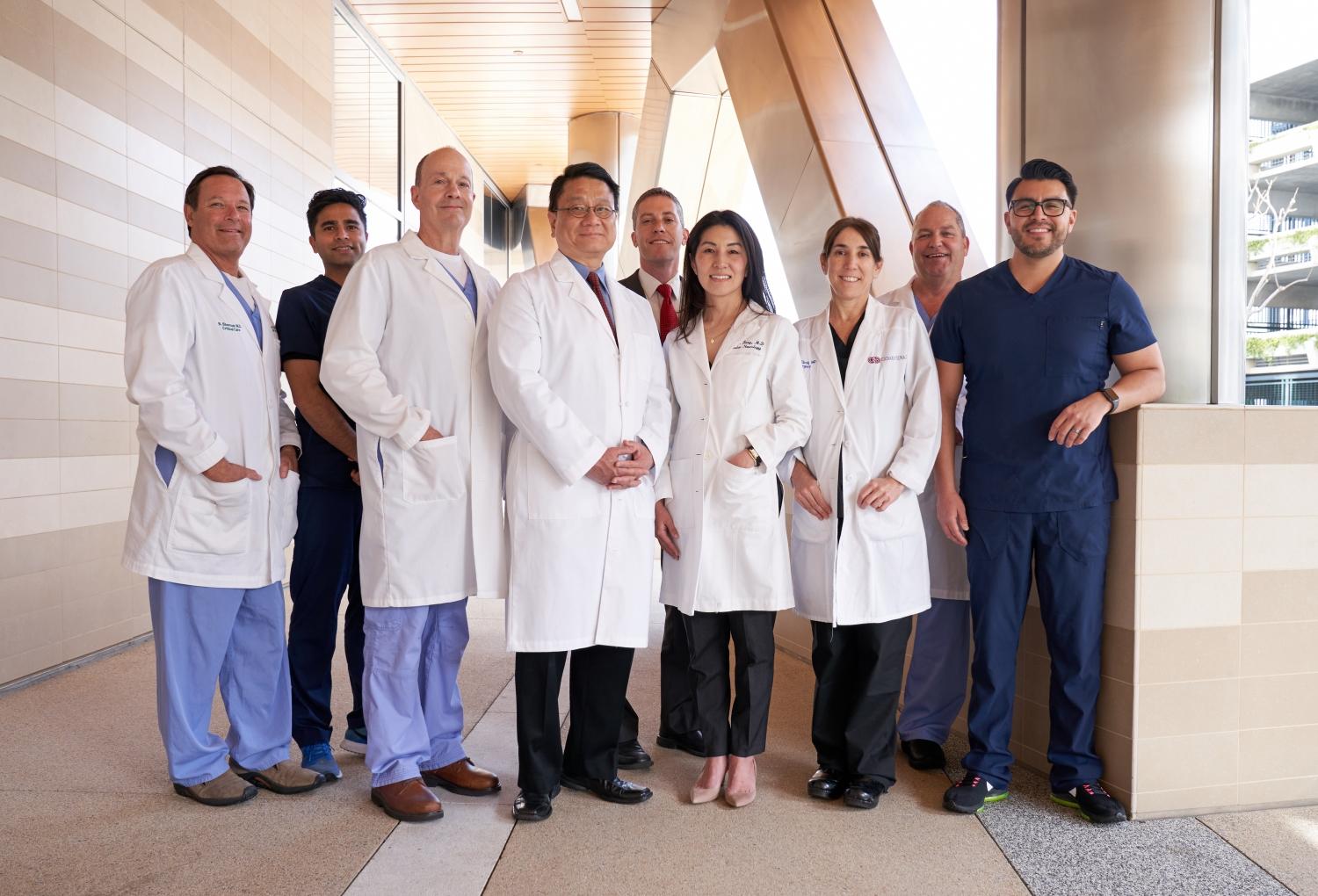 Stroke Doesn't Have to Be Devastating When Expert Care is Close to Home
Written by Michelle Abt | Photographed by Vincent Rios
In January 2020, Torrance Memorial Medical Center received its Comprehensive Stroke Center (CSC) certification from DNV GL, a national health care accreditation organization. The CSC certification—the highest level of certification awarded by DNV GL—signifies Torrance Memorial's ongoing commitment to offering the most advanced stroke care for members of the South Bay community.
This significant milestone was achieved through a team approach and a variety of program-wide collaborative efforts that resulted in these critical enhanced stroke treatment capabilities.
"The Comprehensive Stroke Center certification is a win-win for Torrance Memorial and Cedars-Sinai Medical Center, as well as for the entire South Bay community," says Shlee Song, MD, medical director of the Comprehensive Stroke Center and Telestroke Program at Torrance Memorial and Cedars-Sinai. "South Bay residents now have access to a team of specialists who offer a full range of stroke treatments close to home, decreasing the time it takes for patients to receive expert stroke care and increasing the chances of a positive outcome."
Neurosurgery Expertise
Through a partnership with Cedars-Sinai established in 2016, Torrance Memorial now has specially trained neurosurgeons on staff who can perform advanced minimally invasive and open procedures to remove blood clots, treat brain aneurysms and control bleeding in the brain.
As part of the CSC certification process, Torrance Memorial was required to demonstrate it is equipped to perform complex neurosurgical interventions to treat all types of strokes, including ischemic strokes that occur when the blood supply to the brain becomes blocked, as well as hemorrhagic strokes that occur when a blood vessel ruptures and causes bleeding in the brain. Torrance Memorial was also required to show hospital staff could provide expert treatment for a brain aneurysm, which is a bulge in a blood vessel in the brain that can cause a hemorrhagic stroke if it ruptures.
Paula Eboli, MD, is an endovascular neurosurgeon at Torrance Memorial who specializes in performing a range of complex endovascular procedures. Endovascular procedures treat problems with blood flow to the brain from inside the blood vessels themselves, using a catheter inserted through a small incision in the wrist or groin.
Dr. Eboli uses the latest brain and blood-vessel imaging technology to perform procedures not previously offered at Torrance Memorial, including clipping and percutaneous coiling to treat brain aneurysms, percutaneous thrombectomies to remove blood clots that cause ischemic strokes, and carotid endarterectomy and stenting to remove blockages and prop the carotid arteries open.
"The partnership between Cedars-Sinai and Torrance Memorial brings the expertise of Cedars-Sinai neurosurgeons to the South Bay, allowing us to deliver a higher level of acute stroke care at Torrance Memorial," says Dr. Eboli.
Telestroke Technology
In addition to being ready and able to provide the most advanced surgical stroke treatments, Torrance Memorial is leveraging the latest Telestroke technology in partnership with Cedars-Sinai to deliver faster stroke diagnosis and treatment, which promotes improved outcomes for patients.
The Telestroke program provides physicians at Torrance Memorial with 24/7 access to stroke specialists at Cedars-Sinai. Using a specialized videoconferencing system, Cedars-Sinai specialists can examine stroke patients, interpret brain images, confirm the diagnosis and provide treatment recommendations just as if they were at the patient's bedside.
"Telestroke is enabling us to do everything so much faster when minutes count," said Dr. Song. "With Telestroke, expert help is just minutes away."
Neurointensive Care Unit
Another component of the CSC certification was the establishment of Torrance Memorial's Neurointensive Care Unit, which provides specialized care for patients who have experienced a stroke.
The Neurointensive Care Unit is equipped with the latest monitoring technology and staffed by a team of specially trained nurses, neurointensivist physicians and ancillary support professionals, such as respiratory therapists, physical therapists, nutritionists and pharmacists.
"When patients arrive in the Neurointensive Care Unit after having a stroke, they are facing an uncertain—and sometimes grave—health situation. We help the patient and their family by surrounding them with a multidisciplinary team that works together to provide compassionate, seamless and exceptional stroke care," says Brian Sherman, MD, board-certified neurointensivist at Torrance Memorial. "It's like a NASCAR pit crew—each staff member has a job to do, but everyone is communicating and working together in parallel."
The combination of faster access to stroke care, the most advanced treatments and specialized, compassionate care for patients and families in the Neurointensive Care Unit often results in better outcomes and shorter hospital stays for patients.
"We shepherd our patients and their families through all aspects of stroke care, combining science-based treatment with compassion to make them feel truly cared for. It's so satisfying for Torrance Memorial to have a Neurointensive Care Unit where a patient can be in a coma in the evening and wake up the next morning asking for an omelette," said Dr. Sherman. "It reaffirms why we come to work every day."
A Positive Community Impact
Before Torrance Memorial became a CSC, South Bay residents who required advanced stroke care had to be taken or transferred to another facility—sometimes resulting in delayed treatment that placed patients at a higher risk of increased brain damage that could lead to physical or cognitive impairments.
Now, when seconds count, South Bay patients can receive faster access to advanced stroke care right in their community, without having to go to a facility farther from home.
"When it comes to stroke care, time is brain—and the faster someone receives treatment, the better their chance of a positive outcome," says Marco Pech, MSN, RN, SCRN, stroke program coordinator at Torrance Memorial. "It's amazing to see patients leave Torrance Memorial deficit-free with their loved ones after having a serious stroke."
"Being a Comprehensive Stroke Center is making a statement to our community that we offer the highest level of stroke care and have all the systems in place to support patients and families throughout a neurological emergency," says Dr. Sherman. "At Torrance Memorial, we provide specialized stroke care from the emergency department through follow-up, and we anticipate each patient's needs from day one."
Additionally, having access to comprehensive stroke care close to home means families do not have to travel long distances to care for their loved ones.
"Having a patient transferred to a facility outside their community adds stress for the patient and family, especially during a lengthy hospital stay," says Dr. Song. "Providing care close to home helps patients recover, allows family members to visit and eases stress."
Program-Wide Collaboration
Torrance Memorial's stroke program staff all agree the hospital's long-awaited CSC certification was the result of a commitment to provide the best community stroke care and enhanced capabilities and is due to the outstanding collaboration between Torrance Memorial staff, as well as between Torrance Memorial and Cedars-Sinai.
"The co-led program between Torrance Memorial and Cedars-Sinai allows us to combine our resources to treat patients at Torrance Memorial and if needed, expedite transfer to our partnered colleagues at Cedars-Sinai," says Dr. Sherman. "Expert care can come to Torrance Memorial with our affiliation."
"Our administration was strongly supportive of our efforts to obtain the CSC certification, including putting together local donor support—they were always coming from a place of 'yes,'" says Dr. Song. "The Lundquist family has invested in the idea of delivering expert care in the region establishing the Lundquist Neurosciences Institute."
"It takes a village to have a successful stroke program," said Pech. "Many people worked diligently to provide South Bay residents with this level of stroke care."