NEWS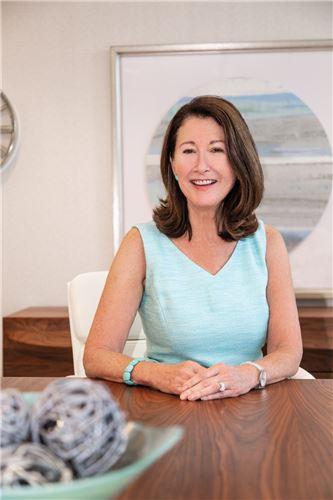 Steady Wins the Race
Stepping into Kate Crane's El Segundo office, one is immediately surrounded by a sense of calm. The sea-blue colors and beach-themed décor exude a feeling of tranquility that aptly reflects the suite's occupant. However, that calmness should not be confused with lack of energy. Crane gets things done.
An attorney specializing in estate planning, trust and probate law, Crane first became involved with Torrance Memorial Medical Center 30 years ago, when she was nominated by a medical center board member to join the board of trustees. She accepted the position in 1988 and has been involved with Torrance Memorial ever since.
Crane served as a board member for five years before accepting the role of chair, which she held from 1993 to 1997.
A Prosperous Tenure
As chair, she led the board in making strategic decisions for the hospital in terms of its growth and management. The health conference center and a new emergency department were built during her tenure. The Torrance Memorial Breast Diagnostic Center was also dedicated to the late South Bay auto dealer Vasek Polak and his late wife, Anna Maria.
"With a great legal and business mind, she very quickly got up to speed on the ever-changing health care industry," says Craig Leach, president and CEO, Torrance Memorial Medical Center. "She fostered important relationships between various physician practices and the medical center, that helped lay the groundwork for our community hospital to become the robust health system it is today."
Among the priorities was support and staffing of the burn center, a resource not found in many hospitals. "Staffing a burn center is an expensive proposition because it requires highly specialized physicians," she says. "But it is essential since we live in a community with refineries. Torrance Memorial has long been committed to offering this resource."
Three Decades of Support
When Crane became a board member, she also joined the Ambassadors Program, the premier annual support program for Torrance Memorial. The program raises funds for the burn center, Turpanjian Rehabilitation Services, Hunt Cancer Institute and the health education program. Crane has been an Ambassador for 30 years.
"I'm very dedicated to Torrance Memorial," she says. "It is a people-focused medical center, and its level of services and attention to care and detail are outstanding. The people who run the hospital have been there as long as I have. I have tremendous respect for [president and CEO] Craig Leach and [sr. vice president] Sally Eberhard. There are also many long-term employees in every department of the hospital, as well as a cadre of wonderful volunteers."
Crane credits Torrance Memorial for being ahead of its time when it came to recognizing women and encouraging them to fill leadership roles. She notes that the individuals who chaired the board immediately prior to and following her tenure were both women.
Born and raised in New Jersey, Crane attended Boston College, spent two years studying in Vienna and graduated from Emory University School of Law in Atlanta. "At that time, everybody wanted to be a litigator. L.A. Law was on television and made it look very glamorous."
She began her career as a litigator in Charleston, South Carolina, then took a teaching fellowship at George Washington University. She subsequently obtained her Master of Law in taxation. Crane lived for a brief time in Ohio before moving to California. Altogether she has taken five bar exams and earned five bar admissions: South Carolina, Georgia, the District of Columbia, Ohio and California.
"What I really enjoy about my work is my clients," she says regarding her estate planning, trust and probate practice. "I get a lot of satisfaction from helping my clients plan for their families."
"I do like to 'take care' of people in my life, in my business and in my community." Along with the practice of law, Crane "practices" connecting people for companionship. She has fixed up two client couples: One was together for 15 years, and the other is in their 80s.
As for Crane's own match, she met her husband, Milan Smith, when both were partners at the same Torrance law firm. Today Smith is a judge on the Ninth Circuit Court of Appeals. The pair have been married for 22 years and live in Manhattan Beach.
Crane has a grown daughter (who participated in Torrance Memorial's high school volunteer program) from a previous marriage, and Smith has six children and 14 grandchildren, so the couple spends a lot of time with family. They also love to travel and recently returned from a trip to Japan.
In addition to roles with Torrance Memorial, Crane has held a variety of volunteer positions. She is chair of the John Gogian Family Foundation, a private charitable foundation that supports community-based organizations that enhance the quality of people's lives in Los Angeles County. She previously served on the boards of H.E.L.P. (Healthcare and Elder Law Programs Corporation), the Blue Ribbon women's support organization of The Music Center and LA BioMed, a nonprofit research organization that works in partnership with Harbor-UCLA Medical Center.
"I have had many opportunities and been very lucky in my life. Appreciating that good fortune, I have long focused on giving of my time and skills to the community," says Crane. "I do like to 'take care' of people in my life, in my business and in my community."
For more information on the Ambassadors annual giving program, visit torrancememorial.org/ambassadors or call Judith Gassner at 310-517-4704.
Written by Nancy Steiner 
Photographed by Shane O'Donnell