NEWS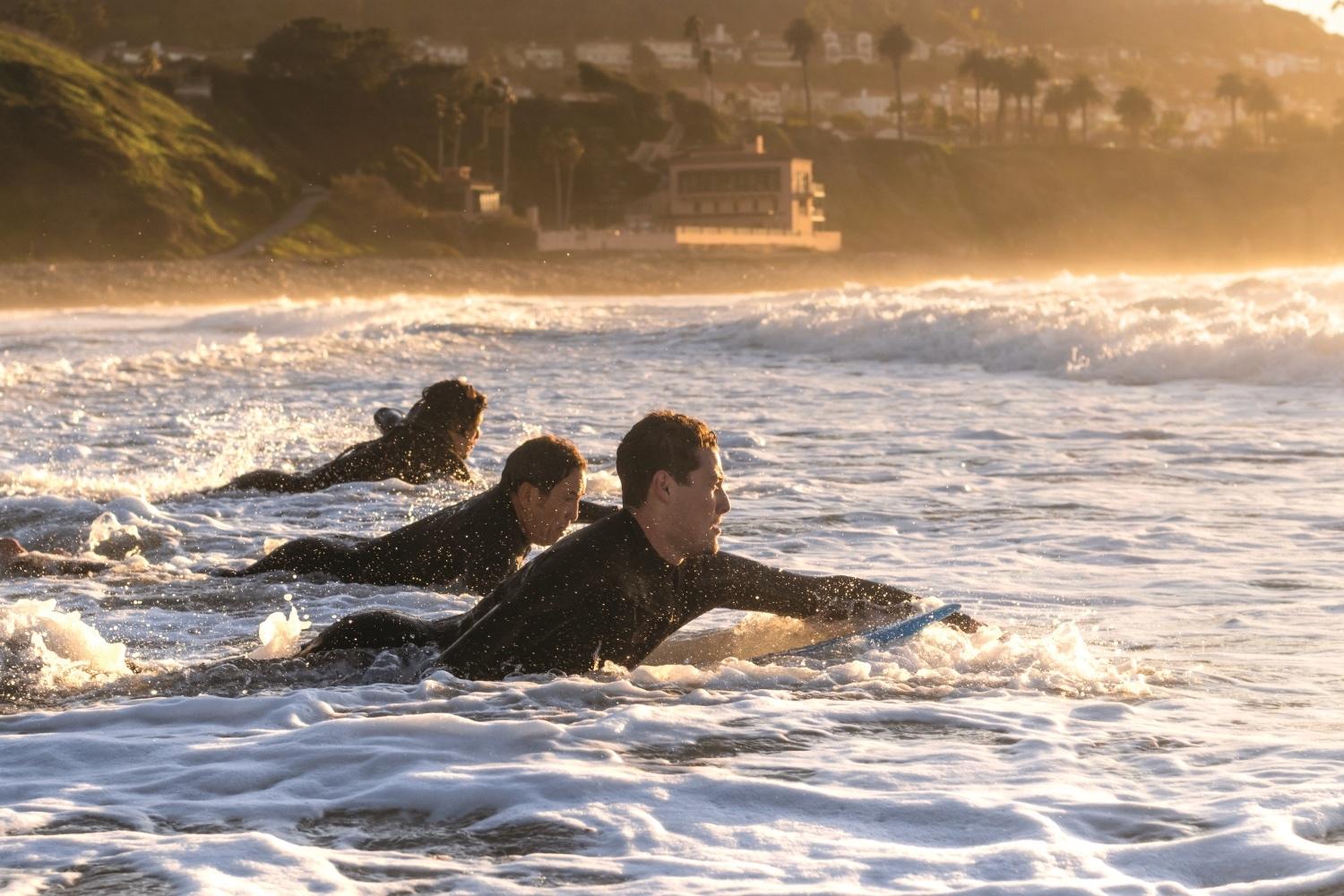 Riding High
When a child is sick or injured and in the hospital, it can make a parent feel helpless.
Pat and Ellen Theodora have experienced such a situation not once, but twice.
When their daughter, Hallie, was young, she had a serious infection on her foot. The couple took her to Torrance Memorial Medical Center. "It was so bad, the doctors were worried if things didn't turn around in a day or two they were going to amputate her foot," says Pat, who now serves on the Torrance Memorial Foundation board and executive committee. Hallie spent six days in the pediatric center.
Nearly a decade later, Pat was back in the medical center's emergency department with son Jaden, who was injured while surfing in Redondo Beach. His leg was severely gashed by the fin of his surfboard, which narrowly missed his artery. Jaden received 300 stitches during a painstaking three-hour-long procedure to close the wound. He spent the next week in the pediatric unit.
Pat recalls the long days and nerve-racking nights spent at the hospital. "They were alleviated by the tremendous care we received from the doctor's nurses and staff," he says.
Hallie and Jaden have made full recoveries and are healthy, thriving young adults today. Pat and Ellen will never forget the excellent care and support they received from staff.
"When we decided we wanted to make a donation to the hospital, we picked pediatrics," Pat says.
Torrance Memorial celebrated the opening of the Pat and Ellen Theodora Pediatric/Young Adult Pavilion in October. The Theodoras' $2.5-million gift helped complete the final phase of the medical center's $40-million renovation of the Donald and Priscilla Hunt Tower. The new wing has 17 private rooms and features a playroom and space for Torrance Loves Children, or TLC, an alternative childcare option for sick kids of employees and community members.
"It's amazing," Pat says of the space, quickly adding that it's not just a pediatric wing. Eight of the beds are dedicated to Torrance Memorial's Medical Stabilization Program, which provides acute care services for adolescents and young adults experiencing complications as a result of a severe eating disorder. The program is designed for individuals who are too medically unstable to enter an outpatient or residential treatment program.
The medical unit has a dedicated nursing station, family conference room, nutrition area with a dining table, and a space for psychotherapy sessions. "We believe the improvement in the patients' environment will contribute to their recovery in many ways," says Dr. Linda Schack, medical director, Torrance Memorial Medical Center's Medical Stabilization Program.
Supporting this program was important for the Theodoras. "We know families that have girls with eating disorders," Pat says. "And it's a pretty tough thing to see the kids go through that."
Dove Right In
In spite of Jaden's frightening accident, the Theodoras have not curbed their active lifestyle. The family resides in Palos Verdes Estates, near a beach that boasts some of the best surfing in the area. Pat purchased a golf cart 10 years ago, which he decked out with a surf rack. He drives it to check the break along the Palos Verdes coast.
"[We] always try to surf," he says. In fact, he has traveled the world to surf the hottest spots on the planet—including Hawaii, Costa Rica, Mexico, Indonesia and the Maldives. His sons often join him and are certified divers as well. "We're in the water a lot, between swimming, diving and surfing."
After Jaden was cut by his board in the near-fatal accident, Pat admits he was hesitant to get back in the water. But his passion, like his father's, drew him back in. Now a student at his father's alma mater, San Diego State University, he lives by the water in Pacific Beach and tries to surf regularly.
In 2008, about two years after Jaden's surfing accident, Pat and Ellen joined the Torrance Memorial Patrons program. They believe it's a good way for the family to give back to the medical center that saved their children. Pat also convinced his father, Pat Sr., and business partner, Dominic Iannitti, (the threesome are co-founders of DocMagic, the largest provider of loan documents in the United States) and his mother, Helen, a former Torrance Memorial Auxiliary volunteer, to join the program. His brother, Kevin, a former Auxiliary volunteer, and his family signed on as well. In 2011, Pat was asked to sit on the Foundation board, and in 2016 he took a seat on the board's executive committee.
Serving on the board and committee, Pat sees firsthand how community gifts—any size—have turned a once small community hospital into an outstanding medical "campus." And he sees just how much the staff really cares. "I sit on the board with a couple of doctors, and I'm truly amazed at how much they give back to the community. They go above and beyond," Pat says.
The attitude of caring that permeates the center starts at the top, according to Pat. He gives credit to chief executive officer 
Craig Leach and his team, who always work under "the pursuit of excellence."
"He's done a great job. He's an amazing, humble guy."
Written by Mary Scott
Photographed by Ridge BenBen