NEWS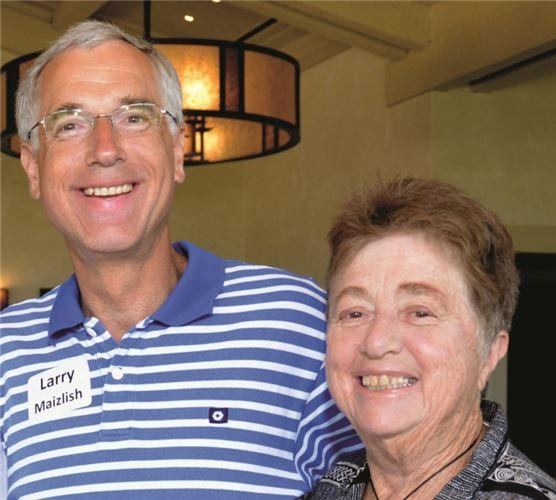 Raised to Give Back
Judy Maizlish recalls that her parents always prioritized community involvement and giving to others, even when funds were limited. "Giving is in my blood," she says. Though she's past retirement age, Maizlish remains willing to give her time to a job she loves. She serves as executive director at Independence Center, a small, nonprofit residential program in Los Angeles for people with social and learning disabilities. She commutes 45 minutes there each day and 90-plus minutes home, to help residents gain skills they'll need to be independent. "I'm passionate about our mission, but I also love where I live, so the commute is worth it," she explains. And as a widow, she says her job and the relationships she's built through it offer a sense of community.
Committed to Her Communities
As a resident of Rancho Palos Verdes for 51 years, she has seen firsthand how her local hospital, Torrance Memorial Medical Center, takes care of the community's physical and mental health and offers opportunities for intellectual growth and lifestyle improvement. "I plan to be around at least another 15 years, and I want to be part of a community where I can stay involved," shares Maizlish, now 83. Her observations about Torrance Memorial led to the decision to contribute through a charitable gift annuity. With this type of planned gift, the donor agrees to make a tax-deductible donation of cash, stocks or other assets to the Torrance Memorial Foundation, whose fundraising supports the continued growth and development of the medical center. In return the donor receives a fixed amount each year for the rest of his/her life. "Torrance Memorial plays such a big part in our community and does so much to help people," Maizlish says. "They offer workshops on everything from estate planning to developing better balance. Giving to the medical center is also practical, as I'm not getting any younger, and at some point I suspect I'll need more services from them beyond my family physician." She says she chooses Torrance Memorial for her health care because it is "a huge organization, but with that community centered, small-town feel. We're lucky to have access to the resources and knowledge Torrance Memorial offers to keep us healthy," she says. "My gift is an investment in the sense that I know I will get my money back through the services they provide.
What Is a Charitable Gift Annuity?
Establishing a charitable gift annuity with Torrance Memorial Foundation allows you to support our mission and receive steady payments during your retirement years. You can begin receiving payments immediately or defer payments to a time you designate in the future.
How It Works
Through a simple contract, you make a donation of cash or securities to Torrance Memorial Foundation, and you receive a fixed amount each year for the rest of your life, and the life of your spouse if you choose. Your age when the payments begin determines the annual payout rate. The older you are, the higher your fixed rate. You receive payments for life, and whatever is left after your lifetime goes to Torrance Memorial.
Tax Benefits
You receive an income tax deduction for a portion of your gift in the year you set up your gift annuity. Your annuity payments are also partially tax-free throughout your estimated life expectancy.
We Can Help
Contact Sandy VandenBerge at 310-784-4843 or Sandy.VandenBerge@tmmc.com with any questions. You may also visit: torrancememorial.org/plannedgiving and click on Plan by Age to learn more. The online calculator can determine payment amounts and tax benefits for your age and donation amount.
Written by Jessica Gmitter