NEWS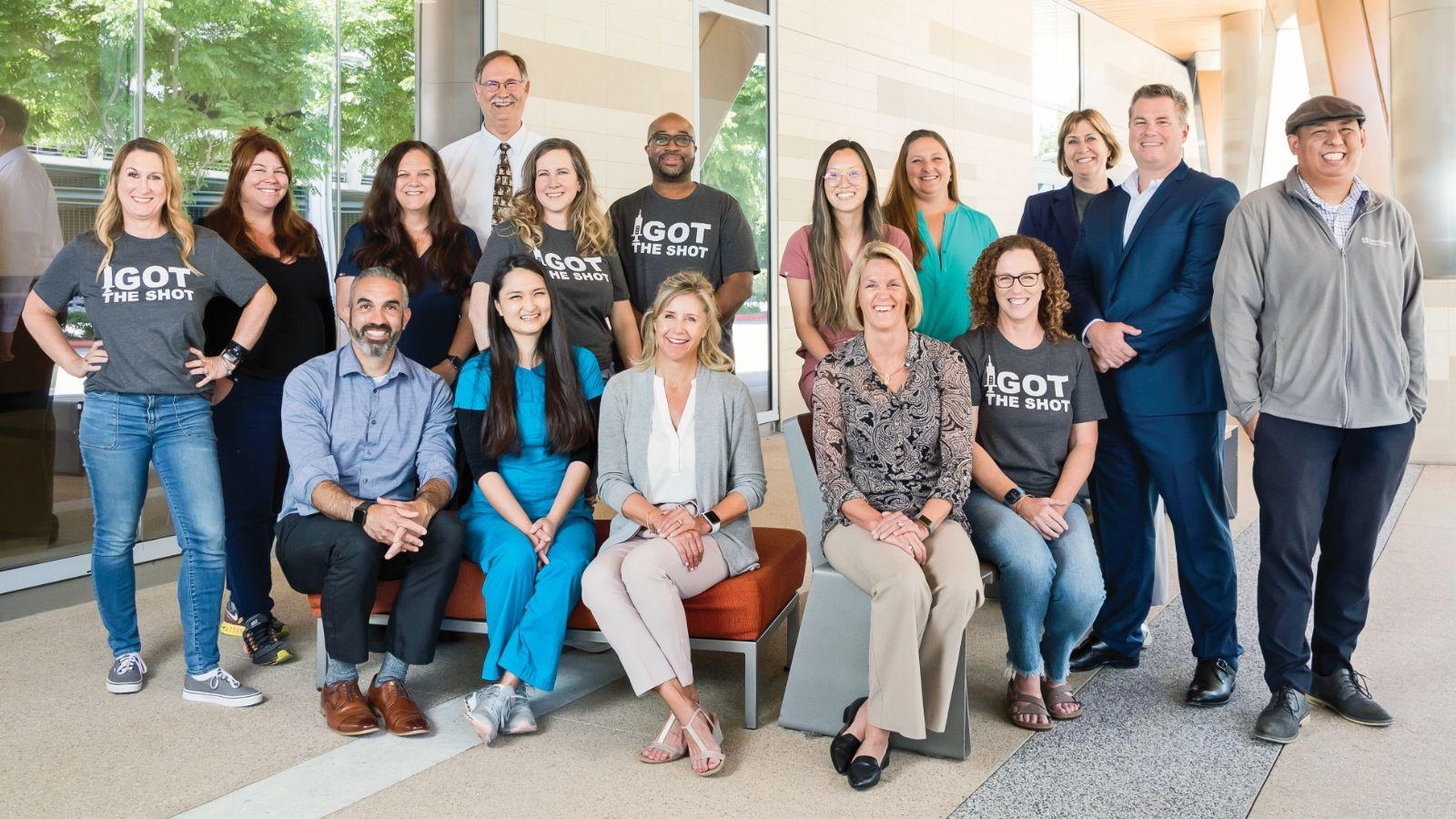 Progress Notes: No "I" in Team
(Photo: L to R: Seated - Jeremiah Hargrave, Mei Tsai, Erin Fiorito, Tracey Mullan, Heather Shay. Standing - Leah Romine, Sarah Tahajian, Carrie Kikuno, Steven Thompson, Tammy Ginder, Chris Bacon, Rachel Cho, Candace Millek, Sue Sions, Bret Barrett, Raymond Rubio. Not pictured - Marvin Albino, Claire Coignard, Catherine Hargrove, Yazmyne Melgoza, Felix Pham.)
Torrance Memorial Medical Center colleagues work together to coordinate a successful COVID-19 vaccine clinic.
Written by Lisa Buffington  |  Photographed by Siri Berting
When the COVID-19 vaccine first became available in Los Angeles County, Torrance Memorial Medical Center only had a few days' notice before receiving a vaccine supply designated for health care workers. In this short time frame, the hospital put together a vaccine leadership team to design, develop and implement efficient, safe and successful COVID-19 vaccination clinics.
"When we got notice the vaccines would be coming, I was tapped to be the administration person for our vaccine program," says vice president of quality Heather Shay, RN, BSN, MBA/HCM. "I asked other vice presidents for people who could help, and we created a vaccine service line in a couple of days."
Although members of the vaccine team had never worked together previously, they immediately formed a cohesive, productive group with the mission of vaccinating as many people as possible. "We knew we were going to have to quickly develop a process to get our 5,500 staff members vaccinated," says vaccine team member Leah Romine, RNC-OB, MSN, who was clinical director of Maternal Child Health Services but recently relocated to Vermont.
The team worked collaboratively to coordinate every aspect of the clinic, from vaccine and personal protective equipment supply to patient registration to the waiting room check-in for those who had received the vaccine. No detail was overlooked—including the calming, spa-style music playing in the initial waiting area and the upbeat, rock music in the post-vaccine waiting area.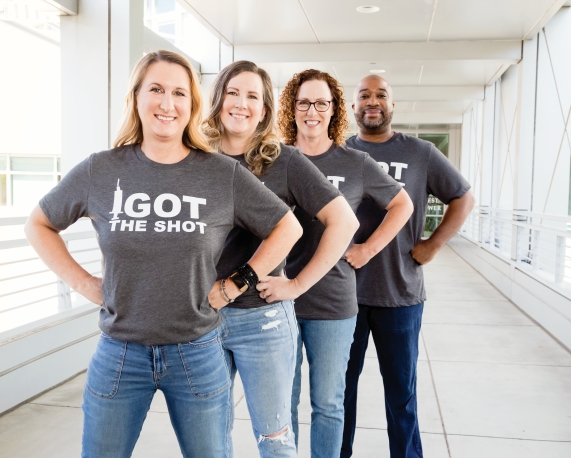 "Music is so important in our hospital. Every time a baby is born, we play a song. When COVID-19 patients are discharged, we play a song," says vaccine team member Chris Bacon, MSN, RN, FNP-C, director of occupational health and safety. "We wanted to incorporate music into the atmosphere of the vaccine clinic too."
After conducting a pilot clinic, Torrance Memorial officially began administering COVID-19 vaccines to its team members on December 21, 2020. David Rand, MD, infectious disease specialist and co-medical director of infection control, was the first employee to receive the vaccine. "Having Dr. Rand—a well-respected physician at the hospital and in the community—be the first to receive the vaccine really put people at ease," says Bacon.
The team was also impressed by the outpouring of volunteer support from the community. "The call to staff the clinic went out just three days before we opened, and we were able to fill all 50 spots," says vaccine team member Jeremiah Hargrave, director of quality and organizational improvement at Torrance Memorial, who handled clinic processes and staffing. "We also partnered with our affiliated nursing schools to staff our clinics. Nursing students have given 95% of the shots at our clinic."
"We worked with county public health officials to understand our weekly vaccine allocations," says vaccine team member Tammy Ginder, PharmD, assistant director of pharmacy services, who coordinated vaccine supply, accountability and reporting. "Although the vaccine supply and eligibility requirements were constantly changing, we were able to evolve and adapt."
According to Romine, the clinic quickly "got bigger" than just vaccinating employees. As vaccine eligibility expanded to community members ages 65 and older—and later all individuals over the age of 12—the vaccine clinic team added new members to address changing needs and increased demand. For example, in early January it became clear the team would need additional help managing phone and online registrations and responding to questions from community members.
"My team was saying, 'I wish there were something we could do to help' when the hospital was surging with COVID-19 patients," says vaccine team member and director of health education/HealthLinks Claire Coignard. "A few days later we received a request from Heather [Shay] to assist with registration, responding to phone and email inquiries and managing the registration list."
Through an ongoing study of clinic operations, the vaccine team implemented process enhancements that increased vaccine capacity from 70 people per hour to 100 people per hour. In addition to expanding the clinic's ability to vaccinate more community members, the increased capacity also promoted efficiency and patient-centered care and reduced waste.
"After we established the flow of the clinic, I did time studies and worked with the group to identify and resolve bottlenecks," says vaccine team member and process specialist Yazmyne Melgoza. "We ended up adding a vaccine station to get the line outside to decrease. If there was a line, we put up canopies and Disneyland-style signs telling people how long their wait would be from specific points."
As of October, the COVID-19 vaccine clinics at Torrance Memorial Medical Center had administered nearly 41,000 vaccine doses to grateful team members and the public. The team even partnered with the Torrance Fire Department to coordinate vaccine distribution to homebound community members. (See Progress Notes: Taking COVID-19 Vaccines to Torrance's Most Vulnerable Residents)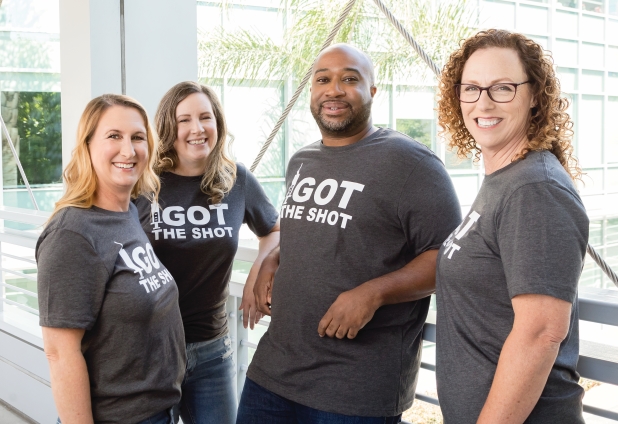 Further, the clinic served as a model for other organizations that wish to set up a COVID-19 vaccine clinic and was featured on a health care podcast discussing COVID-19 vaccination best practices.
For the vaccine team members, the clinic proved to be a rewarding experience. "Seeing the collaboration between people who otherwise would not have worked together and the leadership potential emerge from our team members was very rewarding," says Shay, who shares that giving shots at the clinic re-energized her passion for patient care. "Whenever we had the vaccine clinic, I spent 10 minutes walking through—just to feel the happy energy. People were so thankful and appreciative, and it brought hope to many people."
"Many of our older patients had no one to help them register, and we frequently had people in tears after they made a vaccine appointment," says Coignard. "It just meant so much to them, and I can't even tell you how rewarding that experience has been."
"If you are in the clinic for an hour, you are going to have five people giving you compliments," says Hargrave. "It was so rewarding for all of us to come together, and the sheer gratitude from the community was amazing."
"You could see the gratitude and relief in the patients, and it was really nice to feel like you are part of the solution," says Romine. "One memory that stands out for me was when a member of the clergy was asked if he experienced any reaction to the vaccine. He responded, 'Just a smile!'"
Ginder sums it up perfectly: "With this vaccine clinic, Torrance Memorial was able to reach beyond our walls and tie our hospital and the community together." •