NEWS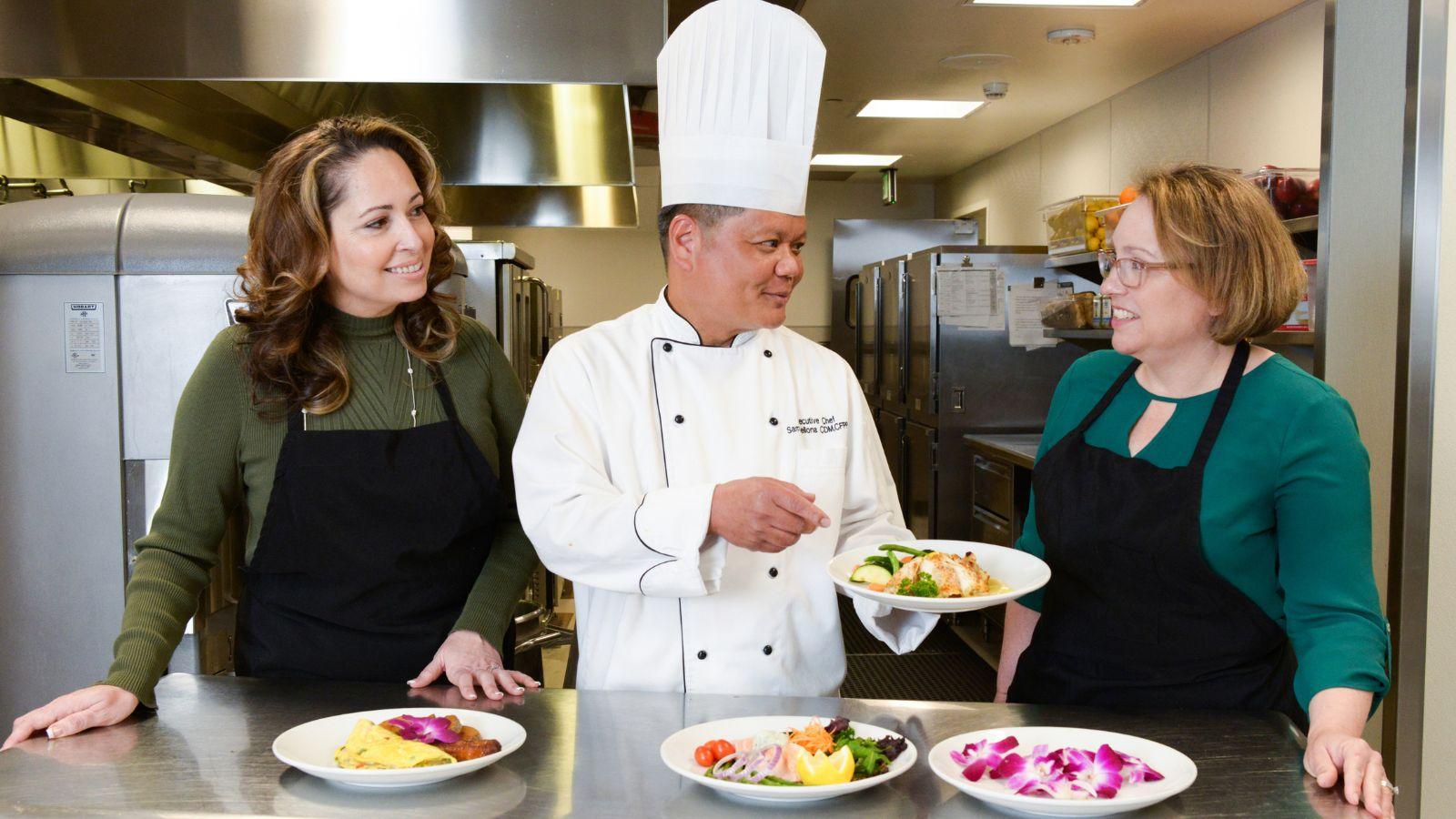 PROGRESS NOTES: Making Hospital Meals More Appetizing
Written by Melani Morose Edelstein  |  Photographed by Philicia Endelman
Eating well and consuming nutritious foods so your body can stay healthy, work efficiently and grow properly are the cornerstones of overall wellness. Perhaps you've noticed your mood affects what you choose to eat, or wholesome eating contributes to your overall sense of well-being.
Hippocrates said, "Let thy food be thy medicine." The popular phrase "You are what you eat" means your body directly responds to the food you consume.
With the knowledge that nutrition plays a key role in healing and wellness, Torrance Memorial Medical Center's food and nutrition services department focuses on making a hospital stay more appealing and more delicious. "Nutrition touches everything and everybody, and out in the broader community, socially, people are looking for food to be a healer," explains Johanna Johnson-Gilman, director of food services for the hospital.
Focusing on giving patients a hotel-style experience, the hospital's vibrant room service menu is tempting and engaging. "When you're in the hospital you don't want to eat—you don't usually have much of an appetite. But when something is visually appealing, that can make a difference," says Dani Rodriguez-Brindicci, director of clinical nutrition.
The plant-forward, sustainably sourced and prepared food served on the Torrance Memorial campus is on par with any restaurant. Food and Nutrition Services, led by executive chef Sam Sellona, is responsible for supplying and serving made-to-order meals for thousands of patients, guest meals for hospital visitors, the Yang Café and Coffee Bar on the first floor in the Lundquist Tower, and Helena's Bistro on the second floor of the West Tower.
With approximately 75% of the hospital's produce locally grown, a conscious cuisine menu, a variety of heart-healthy options, no food dyes, no MSG, antibiotic-free meat and poultry, wild-caught salmon and homemade desserts, this is not your grandmother's bland hospital food. Mass meals prepared to feed many people can no longer be found at the hospital.
The made-to-order cuisine is more like what you would find at a hotel. "We have the portobello burger, wild-caught salmon, fish tacos, black bean tostadas and items like the cauliflower pizza," says Rodriguez-Brindicci.
While the menu promises California cuisine with a modern flare, it is fully customizable to each patient's needs. "We have had patients who didn't want to leave because they said the food was so good," laughs Rodriguez-Brindicci.
The concept of "I can order what I want when I want" helps patients feel a sense of ownership over their state, something unique in a hospital setting where so many things are out of the patient's control. The nutrition services team presents meals appealing to everyone.
A patient on a special diet receives the same visual presentation of the beautiful menu meal, but it's therapeutically appropriate for them. Everyone in food and nutrition services receives ongoing education to better understand what's in the food they serve. Cooks are even trained in the aesthetics of plating—a very important touch that elevates Torrance Memorial's dining options.
"Even simple things like providing an orchid on a plate for breakfast, which we do, make a difference. Patients love it. On Yelp patients will post a picture of their plate with the orchid. They comment it's a nice little touch, and you don't see that at other facilities," says Johnson-Gilman.
The team strives for excellence and patient satisfaction in every regard: reading reviews, engaging with patients and practicing sustainability whenever possible. They've been green-waste recycling since 2018 and practice food recovery and redistribution—cooling and sending all leftover food to a local food bank partner.
While working daily to bring food and nutrition services to the cutting edge, the team also dreams of the future. "A garden would be so fabulous. We started talking about gardening activities right before COVID-19. We will get back to it, but right now we are focused on staff wellness and provide therapeutic activities like succulent planting and other things," Johnson-Gilman beams, acknowledging wellness as a lifestyle is thriving at Torrance Memorial. •
---
Commander of the Kitchen: Executive Chef Sam Sellona
With culinary skills that have propelled him up the professional kitchen hierarchy and business savvy that allows him to successfully manage food production in Torrance Memorial's kitchens, executive chef Sam Sellona brings the highest degree of professionalism to the hospital's food services.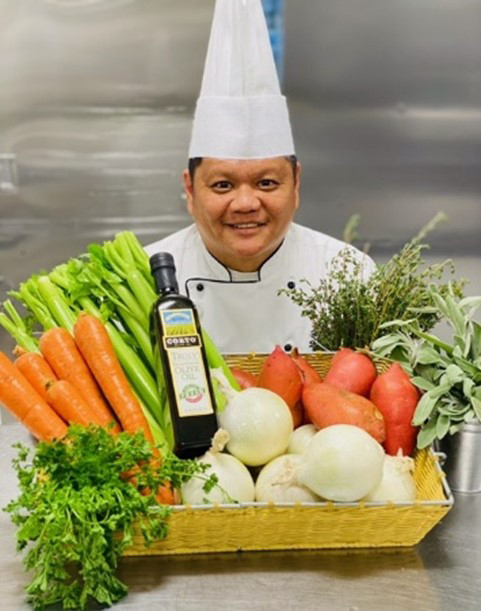 From Yang Café to Helena's Bistro to the catering and patient kitchens where all the meals are freshly prepared and delivered room service style, Chef Sam plans and executes a wide variety of large-scale menu offerings to over 2,500 customers daily, serving up food with a smile.
With a degree from the prestigious Culinary Institute of America, Chef Sam has been in food service for more than 40 years. He began his career in hotels and restaurants in his native Hawaii. He then worked as a chef while serving in the U.S. Navy, cooked for multiple celebrities and dignitaries, and worked in some of the finest dining establishments in New York and Los Angeles before moving into health care food services in 1993. He joined Torrance Memorial in 2015.
Bringing artistry to his cooking, Chef Sam not only prepares mouthwatering delicious food, he is also a master of plate presentation and is known for the way he prepares fruit and vegetable carvings and ice sculptures. He has made many guest appearances on "Torrance Community Cooking," a show that can be viewed on YouTube. Going above and beyond his duties as executive chef, he even offered a private in-home dinner for 10 guests as an auction item at the hospital's Holiday Festival.
 When he's not commanding the kitchen, Sam enjoys paddling with the Outrigger Canoe Club in Newport Harbor, riding his Harley-Davidson motorcycle, and RV camping with his wife and dogs.