NEWS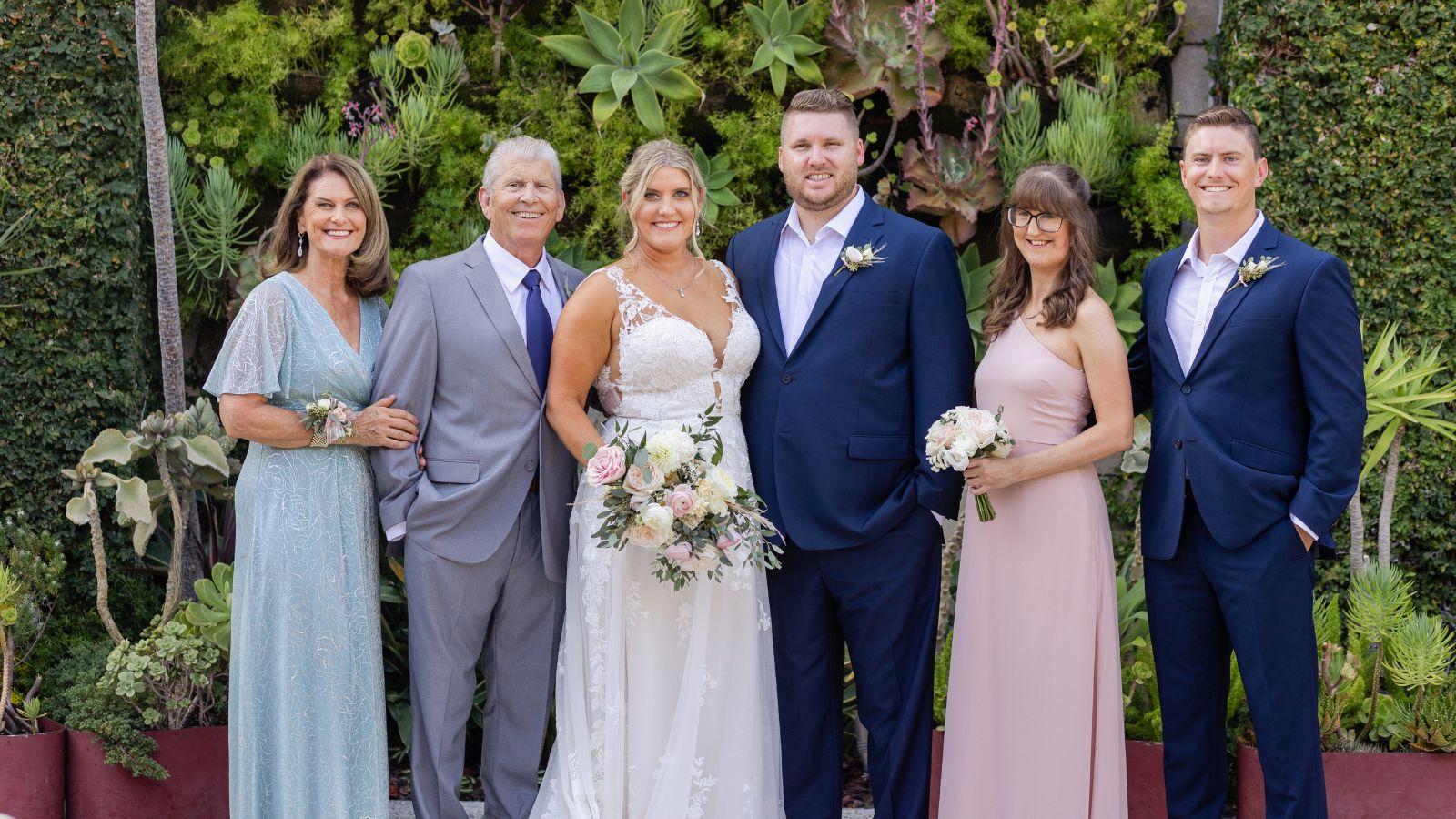 PROGRESS NOTES: A Family Story--A day in the emergency department forever links the Pryor family and Torrance Memorial.
(Photo above:  Dan Pryor proudly walked daughter Emily down the aisle at her wedding last fall.
L to R: Karen Pryor, Dan Pryor, Emily Hardesty, Dakota Hardesty, Katie Pryor, Kevin Pryor)
Written by Melissa Bean Sterzick
Every family has its folklore. It is the stories they share when they are together—remembering and retelling their most dramatic moments. These stories are what make a family a family: the day mom and dad met, the day you were born, the day we lost each other at the zoo, the day you broke your arm.
The Pryor family has a story about the day in 2016 when Dan Pryor survived an almost unsurvivable heart attack in Torrance Memorial Medical Center's emergency department (ED). It includes his daughter's awareness and his wife's responsiveness, which meant Dan was in the best place possible at the exact moment needed to save his life.
Karen Pryor and Emily Pryor Hardesty remember it as a day of a handful of conversations and decisions that meant the difference between life and death. Dan remembers a quick drive to the ED and an even faster transfer to the cardiac catheterization laboratory. He didn't feel too bad, but doctors told him, "You're having a heart attack right now!" They all say he is lucky to be alive.
Dan had been sick for a couple of weeks with bronchitis and walking pneumonia. He felt pain in his upper body but attributed it to soreness from coughing. Karen was out running errands and stopped by Emily's workplace. After talking, Emily felt concerned for her dad and called him to ask about his symptoms.
"I knew the different signs of a heart attack, and because he hadn't been feeling well and was a smoker, I was certain he was having a heart attack," she says. She hung up and told Karen to go home and immediately take Dan to Torrance Memorial.
"I dropped him off at the ED and parked my car, and by the time I came in, they had already taken him back. I hadn't even been sitting for 30 seconds," Karen says.
Torrance Memorial is a STEMI Receiving Center, designated by Los Angeles County as a facility prepared to accept patients who are having a heart attack and quickly treat them with primary angioplasty. Victoria Shin, MD, a Torrance Memorial Physician Network interventional cardiologist, treated Dan in the ED and is still his heart specialist today. She says in Dan's case, the ED physician made the initial assessment and activated the STEMI team and protocol.
"Timing is crucial. We have a saying, 'Time is myocardium,' so every minute an artery is blocked, the more likely that heart muscle will die—resulting in worse outcomes for the patient," Dr. Shin says. "We take pride in the fact most of our patients who present with a heart attack are brought to the cardiac cath lab, and their artery is opened in under 60 minutes, which is the ideal goal."
Today Emily is a registered nurse at Torrance Memorial. Dan's heart attack inspired her to return to school and earn her second degree: a Bachelor of Science in nursing. Her education and experience have confirmed Dan's amazing outcome. "I've seen the EKG. It was bad," Emily says. "He had a massive heart attack."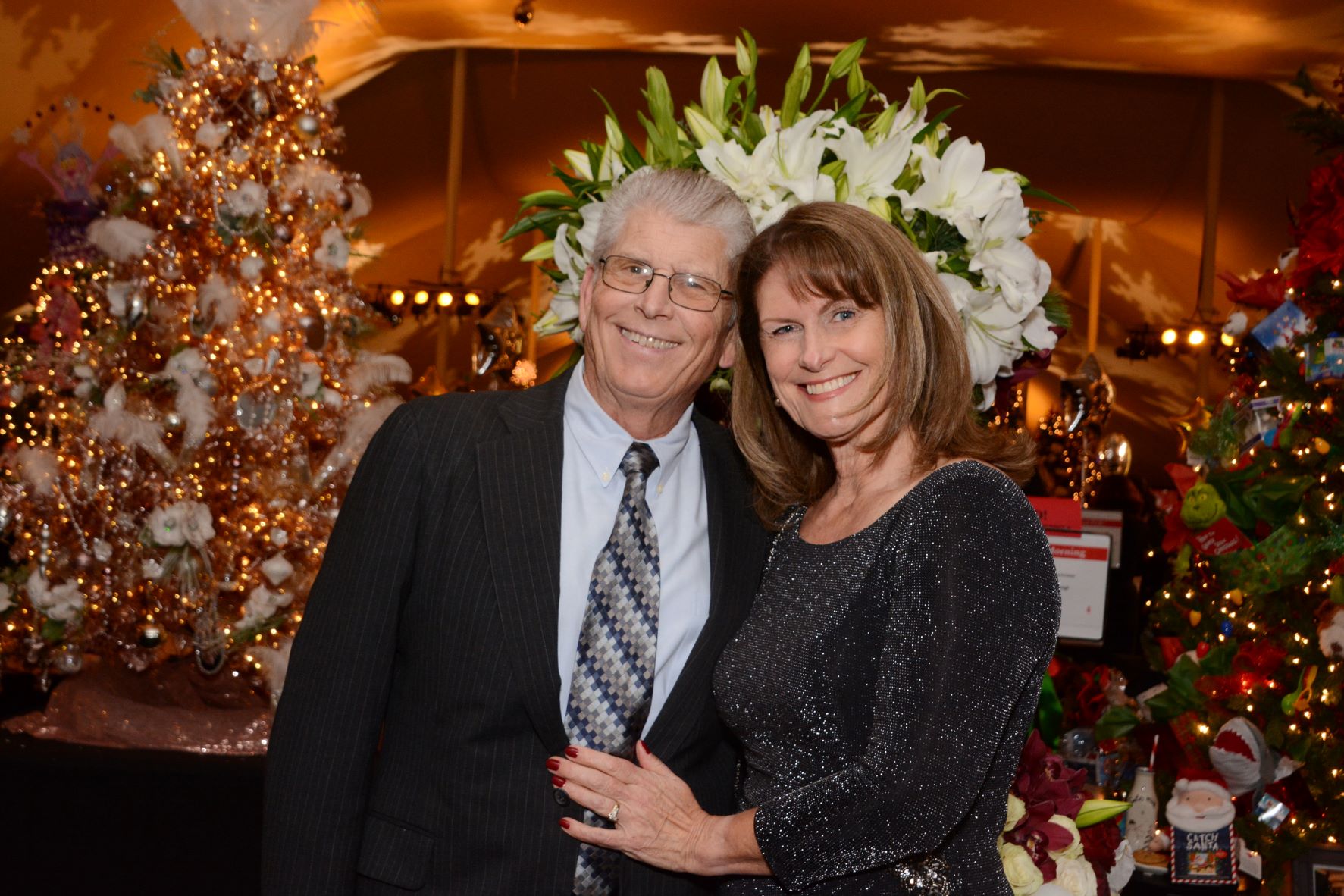 Dan had a 100% blockage of the left anterior descending artery—a type of heart attack known as a "widow-maker." Rapid treatment made all the difference. "That's what saved him. We have state-of-the-art technology, run the latest labs and have amazing physicians, nurses and technicians. Everyone who works here wants the best outcomes for the patients," Emily says. "We are spoiled to have Torrance Memorial so close by."
Karen has since joined the Professional Advisory Council for the Torrance Memorial Foundation and is participating in fundraising to expand the emergency department. "It was a happy accident I got involved with the hospital," she says. "I wanted to be able to give back, though there's no way we can repay what was done for our family."
During his recovery, Dan lost 25 pounds, quit smoking and moved to a less stressful position at work. Now 65, he continues taking his meds, eating a balanced diet and walking daily.
Dan's remarkable treatment and survival saved him for better things. He plays golf regularly with his two older brothers and his 94-year-old father. He enjoys playing cards, making jigsaw puzzles and watching sports with his adult kids. He happily walked Emily down the aisle at her wedding last fall.
Dan is grateful his wife and daughter got him to Torrance Memorial that day. "I know it was hard on them and the rest of the family, but I came through and changed many things. I'm very happy to still be here, that's for sure." •