NEWS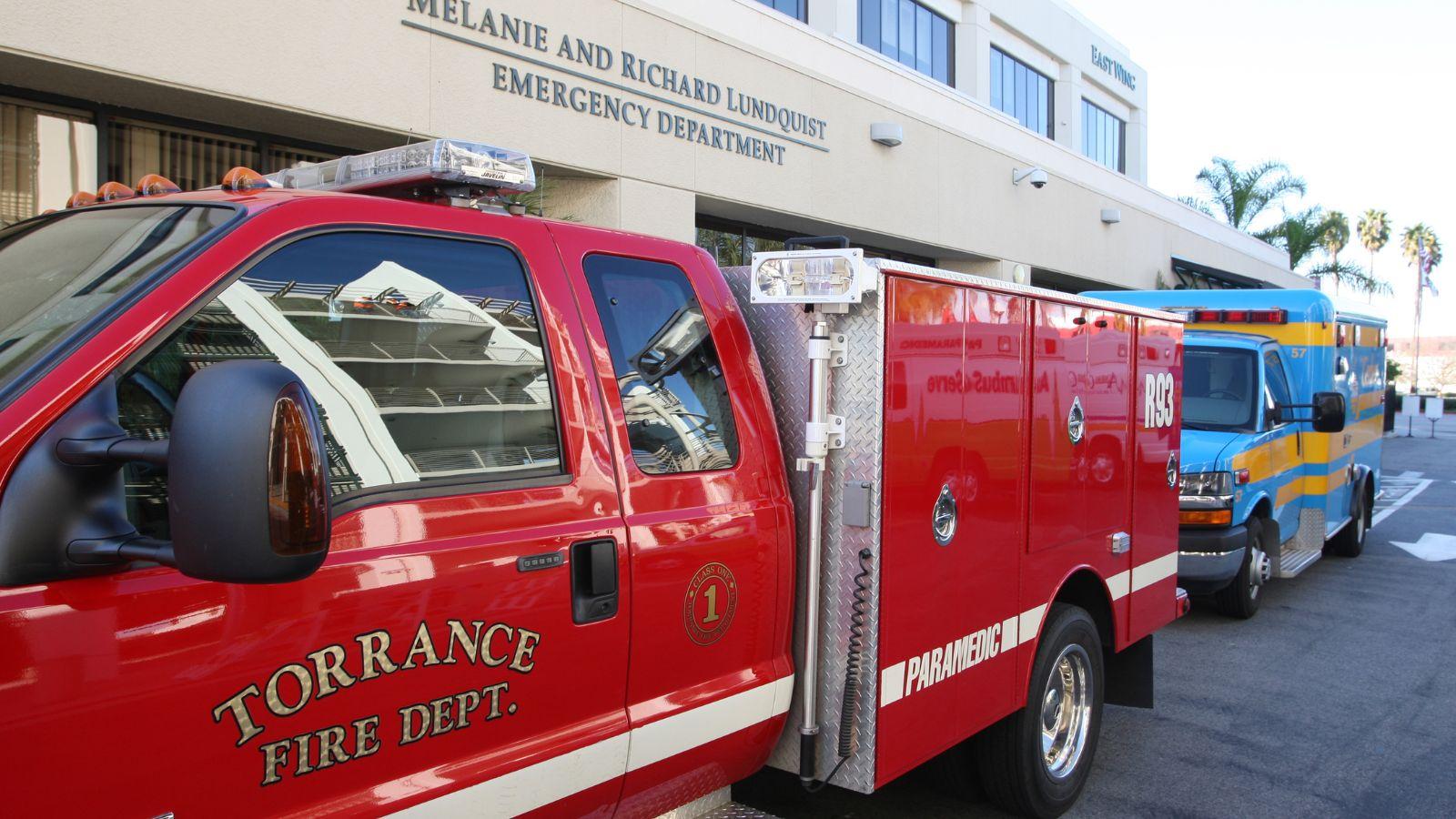 Progress Notes: Emergency Department expansion will enhance access to care
Written by Lisa Buffington
A new two-story facility will incorporate advanced technology and double the number of beds while increasing safety and efficiency.
For nearly 100 years, Torrance Memorial Medical Center's Melanie and Richard Lundquist Emergency Department has provided award-winning, 24/7 care to South Bay residents—delivering critical health care services to more than 88,000 patients each year. In late 2023, Torrance Memorial will begin construction on a $40 million emergency department (ED) expansion project that will increase capacity, efficiency and access to emergency care.
"Our ED has set the standard for exceptional and compassionate care in our community, and as a result we've seen consistent growth in the number of patients we serve each year," says Gretchen Lent, MD, director of the Torrance Memorial ED. "Our team has done a remarkable job of making the most of our current space. An expanded, state-of-the-art ED will allow our team to more efficiently and effectively provide lifesaving care."
The expanded emergency care facility, which is expected to open in 2026, will feature:
More than 80 treatment spaces including dedicated behavioral health rooms—double the department

'

s

current capacity

A modular, open-concept design, including spaces that can be used for multiple purposes or modified depending on staff and patient needs

Rooms with glass partitions for enhanced viewing, safety, security and privacy

A pandemic-ready waiting room with two separate patient areas

Enhanced technology to improve efficiency and safety
Collaborative Planning and Design with Leading-Edge Technology
Torrance Memorial took a collaborative approach to designing the new ED. In addition to hiring Huddy HealthCare Solutions—a firm that has designed more than 300 emergency departments worldwide—the Torrance Memorial planning team included physicians, nurses and support staff in the design process.
"We invited our ED team members to give us input and feedback from the very beginning, which was even better than putting ourselves in their shoes," says Gina Sulmeyer, MD, executive director of clinical informatics at Torrance Memorial.
"Working with Huddy HealthCare Solutions and our team members will ensure we get the most innovative, efficient space with maximized capacity," says Dr. Lent. "Together we will not only build the department of our dreams but a space designed with future needs in mind."
Torrance Memorial's remodeled ED will feature a unique, two-story design—making it one of only a few double-decker EDs in the country. The Torrance Memorial team is visiting other double-decker EDs to learn best practices for managing various processes in a two-story environment.
The new ED will also be equipped with state-of-the-art technology designed to enhance efficiency and safety. "Our patient spaces will have wireless systems that can record conversations between doctors and patients, extract the relevant information, and then automatically enter a note in the patient's electronic medical record so physicians can talk with patients more freely," says Dr. Sulmeyer. "Team member badges and patient identification bracelets will also be equipped with RFID trackers so we know where they are in our facility, when they enter and leave specific areas, and how to call for help if needed."
A State-of-the-Art, Healing Space
The Torrance Memorial ED team is thrilled to have the opportunity to work in a thoughtfully designed, healing space that pairs beautifully with the existing Lundquist Tower. But most of all, the team is looking forward to providing members of the community with enhanced access to emergency care for conditions including strokes, heart attacks, sepsis, accidents and more.
"Our new ED will be a reflection of our mission statement, which is to provide high-quality, timely and comprehensive emergency care, one patient at a time," says Dr. Sulmeyer.
"Overall, it has been incredibly exciting, humbling and rewarding to be involved in creating the distinguished ED our team and community deserve," says Dr. Lent. •
---
Melanie and Richard Lundquist Emergency Department Recognitions
Certified Comprehensive Stroke Center

Designated as an Emergency Department Approved for Pediatrics

ST-Elevation Myocardial Infarction (STEMI) Receiving Center

Paramedic base station for Los Angeles County

One of only three certified Burn Treatment Centers in Los Angeles County

Recipient of the Lantern Award for extraordinary nursing care