NEWS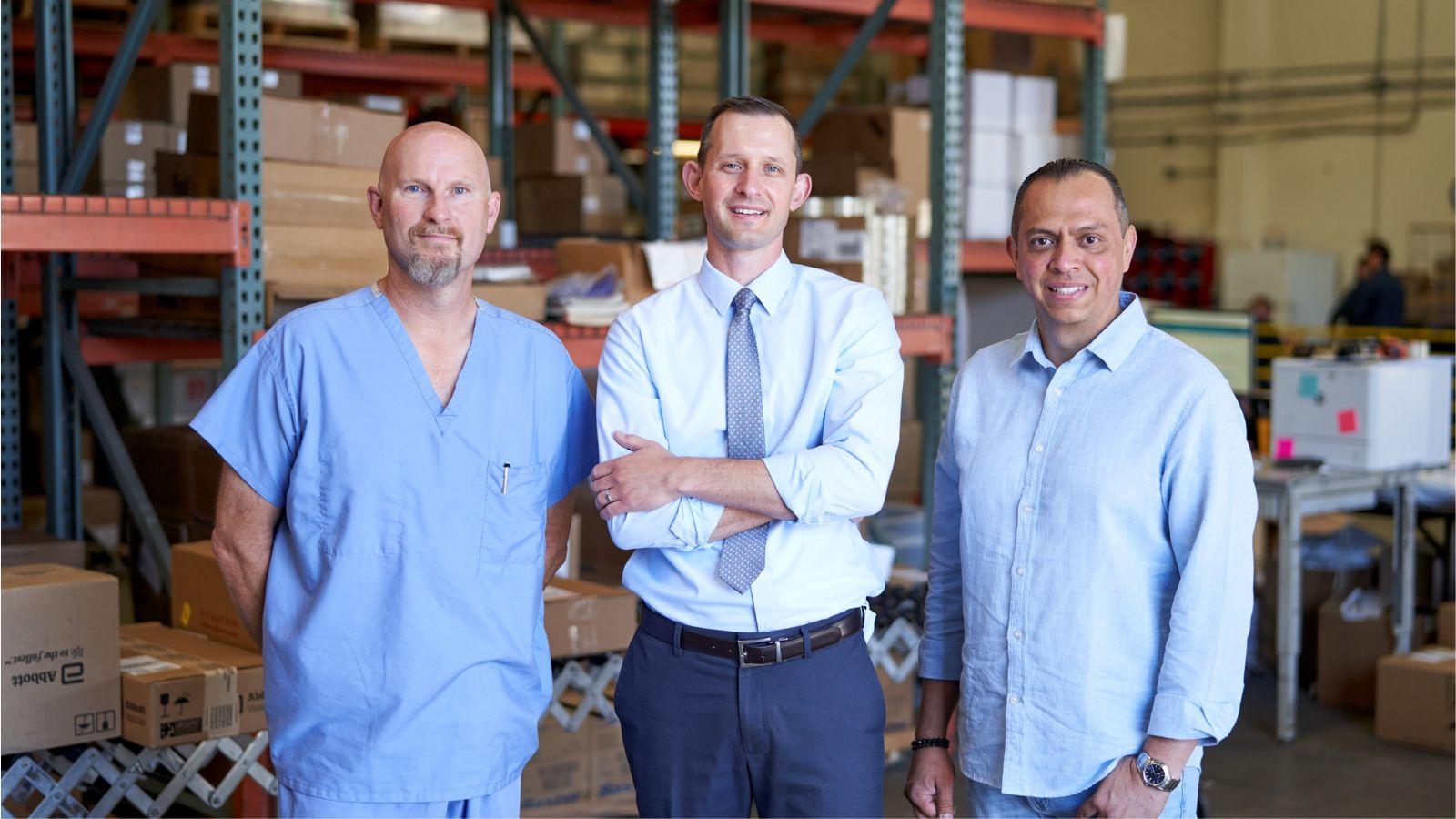 Progress Notes: Chain of Care
Logistics keep Torrance Memorial set to save lives—today and every day.
Written by John Ferrari  |  Photographed by Vincent Rios
Think of everything you use at Torrance Memorial. Everything, every day, from scalpels to swabs, caps to booties. All that stuff is made somewhere—often thousands of miles away—and makes it into your hands, at your fingertips, when and where you need it. That's the magic of Torrance Memorial's supply chain … but it's not magic. It's the work of purchasing agents, warehouse managers and teams of people delivering and stocking everything, every day.
"That's our mission statement," explains executive director of supply chain operations Phil Cutler. "To ensure we have the right goods at the right time, for the right cost, through the right channel."
For someone looking at the supply chain process from the end user's perspective, it seems seamless. "That's the view, I think, people understand of supply chains, but it's so much more complex than that," Cutler explains.
It involves anticipating the hospital's needs weeks or months in advance, sourcing supplies—fully approved for medical use and at the best price—and coordinating their delivery, storage and finally repackaging for delivery and use by individual units at the medical center. That includes everything the hospital uses, apart from blood, radionuclides, food, pharmacy stock and some materials used by Environmental Services.
Now think of that chain breaking: every link—from the factories where items are made through sea, air, rail and truck transport, right to the hospital warehouse's receiving docks—is impacted. Think of every hospital in the U.S. and around the world clamoring for the same PPE, as much as they can get, all at once. And think of what happens if those supplies don't make it to the hospital—because it's a matter of life and death.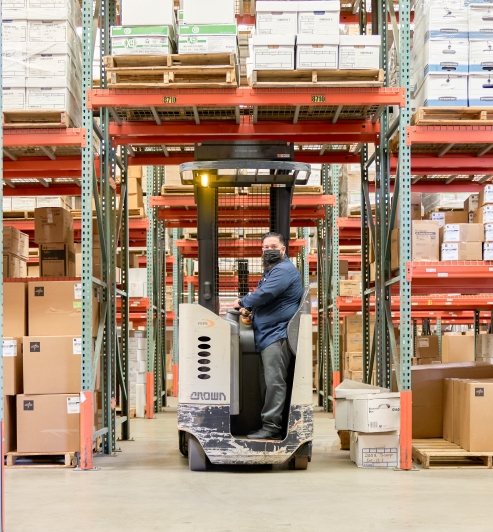 Think of February 2020. From their computer screens, Cutler and the hospital's purchasing agents look out over Torrance Memorial's supply chain as it stretches from the hospital to wholesalers and distributors, and ultimately to manufacturers that may be in the next state or across the Pacific. It's their job to ensure supplies are ordered and scheduled for delivery. When the COVID-19 pandemic reached Southern California, they saw the hospital's supply chain tighten until no slack was left. They saw links starting to weaken, but they knew they had to keep the hospital supplied.
"We're sitting in planning meetings, anticipating what we're going to need," Cutler remembers. "Thousands of things. We're in the same boat as every other hospital, every other business, every other country, every other person."
Torrance Memorial's supply chain often begins in China, which was grappling with the pandemic. Not only Torrance Memorial but every other hospital and the wholesalers from which they purchase supplies suddenly had to confront unprecedented issues moving supplies out of China. Everyone involved in the supply chain worked to overcome problems and keep hospitals throughout the United States equipped to care for patients.
For example, Cutler shares, "Surgical-grade N95 masks were one of the most quickly disrupted items. But only 10% of the global N95 mask production are manufactured for medical use; 90% are industrial grade. An FDA emergency use authorization allowed us to use industrial N95 masks in nonprocedural situations."
Evaluating and approving items that could be used in place of regular supplies (known as substitute items) became one of the key methods that kept Torrance Memorial stocked throughout the pandemic. Cutler explains the process: "Typically, we evaluate the supplier, and once we've determined this might be a viable product, we request medical-grade samples. We put those in front of a medical analysis team of practitioners, clinical education folks and others. Normally a process like this for a new product takes a month or two at least, but during the pandemic a decision may have to be made in 24 hours or the opportunity would be gone. In many cases we couldn't even get a sample. We might have to determine an initial trial buy by looking at photos, and substandard items were a huge problem. These decisions needed to be made quickly."
Cutler marvels that sometimes they were competing with other countries, when the entire country would buy items in massive quantities from a manufacturer. Thinking small—and very outside the box—gave Cutler an advantage.
Case in point: protective goggles. Essential PPE, they were hard to source. One evening after another long day—and every day was a long day, Cutler says—he noticed his son using goggles from a children's science set and realized the manufacturer probably manufactured adult goggles too. Contacting a family connection in educational materials, he was able to get several hundred pairs of goggles air-freighted from China.
Those goggles—and just about everything else—arrive at Torrance Memorial's warehouse, overseen by warehouse and receiving manager Tony Bonilla. "Receiving supplies and planning to deliver—that's a normal day for us," he says. "We get regular deliveries for every single department. The amount is big, but we can handle it."
Every day Torrance Memorial's warehouse personnel deliver orders by the pallet-load and by the individual box to every single department at the hospital. And even on a normal day, there are special orders and emergency requests to handle.
The pandemic changed everything at the warehouse, Bonilla says. In addition to receiving deliveries, he and warehouse personnel drove throughout Southern California to collect and bring back lifesaving supplies and equipment—like ventilators—Cutler had sourced for the hospital. It was a challenge, he says, to stay on top of everything and keep organized. Today the entire warehouse, including Bonilla's office, is full to the roofline with supplies and donations.
Some supplies are delivered directly to hospital units. Others arrive at Central Services, where manager Chance Krutsinger and his team package and prep them for final delivery. "We supply all of the nursing floors with supplies," he explains. "We're the face of where their supplies are coming from. We check each nursing unit and restock up to par level. That is our main focus during the day: restocking their supply from our supply in the basement. We work with the managers of the departments to adjust, taking their requests and adjusting par levels accordingly."
When the pandemic hit, demand spiked for PPE immediately. "People wanted to be protected from head to toe," Krutsinger recalls, from face shields to shoe covers. At the same time, the normal sources of those supplies were disrupted and overwhelmed. "That was our biggest challenge when it came to our day-to-day ops: A lot of supplies weren't coming in. We weren't able to restock units to their normal levels."
Deciding where to deliver items was one of the big challenges for Krutsinger. "Everyone felt they needed supplies the most. We were trying to get the point across we had a limited supply, and we were trying to get supplies to the areas where they were needed most—to the areas at highest risk. We worked a lot with Infection Prevention and administration to determine that. We can't make that determination in Central Supply because we're not clinical. Based on what we had available and what the department normally uses, we rationed what we had. We needed to stretch our supply."
While some of the shortages were predictable, others were surprising—certain IV sets, for example. "Nurses got creative running IV lines farther than usual so they didn't have to enter a COVID-19 patient's room for normal adjustments," Krutsinger explains. "That minimized the number of times they needed to enter rooms, which saved PPE by reducing the use of gowns and masks."
Over the course of the last year, Krutsinger, Bonilla, Cutler—everyone in Torrance Memorial's supply chain—became so good at keeping the hospital stocked that by the last surge in cases, "We had everything we needed in far greater quantities than normal," Cutler says. "By that time, we weren't dealing with PPE but with items needed for next the stage: vaccinations."
"I'm proud of our staff," Krutsinger says. "They work hard day in and day out." There's a good reason for that, during the pandemic and every day. "These things are important," Bonilla explains. "They're what keeps the hospital going. Having a box in my hand—it's like a life." •