NEWS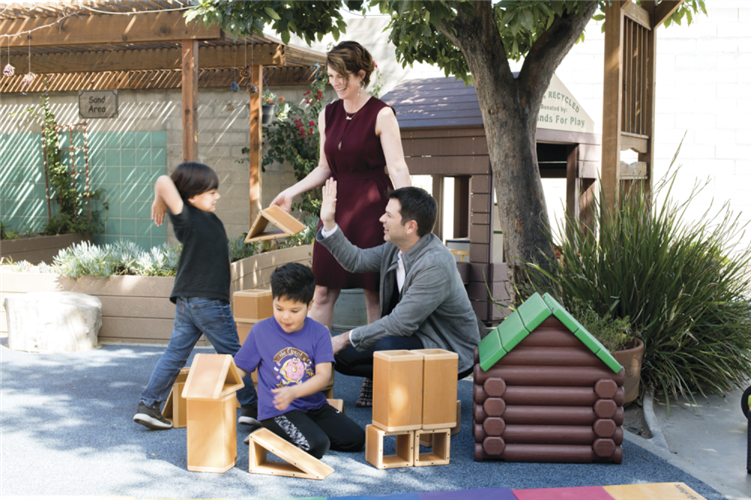 Play Together; Stay Together
It's 12:40 p.m. on Tuesday and there's a school assembly vibe in the air. Hundreds stride quickly across Lakeshore Learning's 15-acre Carson campus into the employee lounge to cheer on the contenders—a half dozen employees lined up to play "Spin and Win," the company's own version of "Wheel of Fortune." Representing all types of jobs, from the mailroom to research and development, workers nominate their peers weekly based on their accomplishments to take a turn spinning for prizes including cash, theme park tickets and car detailing.
Lakeshore Learning's block of corporate headquarter buildings emerge from Carson's industrial district as a small city. But in contrast to its sprawling campus, the weekly "Spin and Win" game is an example of how Bo Kaplan and his brother Josh Kaplan strive to maintain a certain close-knit feel at their family's longtime owned and operated business.
"Lakeshore has three core values that guide everything we do: 1) taking care of our people; 2) taking care of our customers; and 3) making great products," Bo, Lakeshore's president and CEO, says. "We've always felt that if we devote our passion and our energy toward doing these things well, we'll be in good shape."
Rooted in Their Values
So far these values have served them well. Today Lakeshore Learning is a leading developer, manufacturer and supplier of innovative educational materials for children—from infancy through sixth grade. Since Bo and Josh (president of merchandising) began leading the company in 2009, Lakeshore Learning has grown into a business with worldwide distribution, 60 retail stores nationwide and 2,500 employees in offices from California and Kentucky to Hong Kong.
The company has come a long way since Bo and Josh's grandmother Ethelyn started the business 64 years ago. Recently divorced with $10,000 to her name, Ethelyn packed up her family and moved from Omaha to Oakland to make a fresh start. There, she went to work at a toy store. Drawing on her experience watching her father start and run the first supermarket in Omaha, she soon came to realize running her own store was in her wheelhouse. In 1954, she opened a toy store on Lakeshore Avenue. She eventually began selling school supplies to local nursery schools and discovered a higher calling—serving teachers.
Ethelyn's children, Mike, Charlie and Saranne soon began working at the store with their mother. After reaching adulthood, Mike and Charlie joined the business full-time. Because both loved living in Southern California, the business eventually moved to Carson in the mid-1970s, expanding into product development and manufacturing. The company has since evolved to producing indoor and outdoor classroom furniture for preschools and elementary schools, as well as a broad range of school supplies and learning tools for teachers and parents.
"My grandma put us in a really neat industry," says Bo. "My father and uncle did an unbelievable job growing the business and building a really sound infrastructure."
After graduating from the University of Arizona, Bo began working at the company alongside his dad, Mike. A visit to Lakeshore's retail store in Pasadena would prove fateful to Bo's future, and also to a young store manager named Dawn Herman, who had just experienced the most successful store opening in the company's history.
"My father and I said, 'We need to find out what she is doing differently so we can replicate it in our other stores,'" Bo says of the meeting and store tour.
Impressed with her management skills, Bo's dad promoted Dawn to be Lakeshore's district sales manager and later to be director of sales. Bo says although he "absolutely fell for Dawn immediately," it wasn't until a few years later they began dating and then became engaged.
With plans in the works for a wedding with a guest list of 400+ employees, Dawn would receive unsettling news about her health. At age 30, she was diagnosed with an aggressive form of breast cancer.
The diagnosis came with other devastating news. "They told me I was going to go through some pretty gnarly chemo and that I was not going to be able to have kids," Dawn says.
With Dawn scheduled to begin chemotherapy in just a few days, the couple cancelled their big wedding and ran away to Las Vegas to get married.
Despite being "so scared about all of it," Bo quickly became an instant expert on breast cancer, picking up Susan Love's "The Breast Book" and reading it cover to cover that night.
"He interviewed surgeons; he was very active in finding out what the treatment was going to do. He got really involved," Dawn says. "Throughout our first year of marriage we were both bald. He shaved his head so we could be bald together."
Bonded Through Commitment
Both witnesses to the failed marriages of their parents, the couple survived their challenging first year of marriage aligned in their commitment to each other.
"It either breaks you or it bonds you. It bonded us," Bo says. "I always say if you're willing to give 60% to get 40% back, you've got a shot, but if you expect it to be 50/50 you're toast."
Four years later, with the help of a fertility specialist, Dawn successfully gave birth to daughter Kayla, 14, followed by twins Max and Grace, 11, and Ben, 10, growing their family to five children (Dawn had daughter Tahani, 23, from a previous marriage).
Health Is Wealth
The triumph over health challenges, along with "many, many trips to the ER" with their children, led the Kaplans to value having a quality local hospital a short drive from their woodsy Palos Verdes Estates home.
"We should have a wing named after us based on the number of times we've been there—especially in the pediatric ward," Bo says. "The nurses were always so welcoming."
"Our little girl was 2 1/2 when she had an afebrile seizure that led to a code blue [cardiac arrest resuscitation] in the ER. We have had lots of gut-wrenching, scary moments," says Dawn.
Bo adds, "It's that moment when you pray, 'I never need anything else to go my way my entire life, if you just give me this one.' They [Torrance Memorial's emergency department staff] were just amazing."
Daughter Tahani was diagnosed with type 1 diabetes when the couple was buying their current home. Coincidently the seller was Eric Nakkim, MD, medical director of Torrance Memorial's emergency department (ED), with whom they had interacted during numerous trips to the ED, and they describe as "supportive, kind and helpful." The Kaplans have remained friends with Dr. Nakkim and his family, who introduced the couple to Torrance Memorial's Young Physicians and Professionals Alliance (YPPA), a philanthropic group designed to acquaint young community movers and shakers to Torrance Memorial physicians, through social events such as casino nights, hikes and beer tastings. The Kaplans have since hosted two separate gatherings for the group in their home.
"We're really proud of this hospital even though we have nothing to do with its success," says Bo. "It's rare to have a local hospital is that good. We feel really lucky it is there and we're proud to support it. The deeper we get into [supporting] it the better we feel."
Written By Colleen Farrell | Photographed by Lauren Pressey