NEWS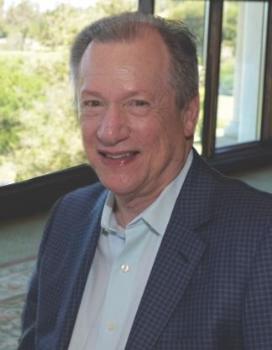 Planting a Seed for the Future
For the newly retired local psychiatrist, Dr. John Sealy, there's no greater thrill than watching a gift—whether financial or simply the gift of time, effort and attention—bear fruit in someone else's life. Gardening is one of Dr. Sealy's passions, and he sees parallels between that hobby and his nearly 50-year career as a psychiatrist.
"With my gardening, it's sort of symbolic of helping patients grow—providing the right environment, the right nutrition, etcetera, to enable them to thrive," he says.
Dr. Sealy is dedicated to giving back to the community and has served on the board of various nonprofit organizations throughout the years, including the Switzer Center, a nonprofit special learning school with a clinical treatment program for students who have learning disabilities, emotional problems, attention problems and behavioral disorders.
Seven years ago, Dr. Sealy decided to set up a planned gift, known as a deferred charitable gift annuity, to provide a source of income for himself and a gift to Torrance Memorial Medical Center. This type of planned gift confers immediate tax benefits and provides a guaranteed source of income (a portion of which is tax-free) for the rest of your life. The longer you wait to receive income, the more it pays you, making it an ideal option for younger donors who are planning for supplemental income in retirement.
"It's something I'd certainly advise people to consider because it's a win-win-win," Dr. Sealy says. "You help the hospital, you help yourself, and in your retirement, you'll really help yourself because there's this nice little check coming in, which doesn't hurt anything when your income has been slashed."
During his decades of psychiatry practice, Dr. Sealy worked mainly at the Del Amo Hospital, a psychiatric facility located next to Torrance Memorial. He continues to serve as a consultant at Del Amo.
"I've always looked out the window and seen Torrance Memorial, which has helped us tremendously with the medical issues that often accompany our psychiatric patients," Dr. Sealy says.
Dr. Sealy has seen the way the hospital cares for patients. He's also experienced the hospital's care as a patient himself, undergoing various treatments at different times in his life, and he believes Torrance Memorial to be "one of the greatest hospitals in the country."
"The reason Torrance Memorial is a great hospital is because the community supports it," he notes. "That's what I want to do. I want to see it thrive, and it is. I'm very proud of it. We're very fortunate in Torrance to have such a remarkable hospital."
Having retired from his psychiatry practice in December, Dr. Sealy is now beginning to receive income from the deferred charitable gift annuity he set up with Torrance Memorial. He is enjoying more time to read, work in his garden and play the piano. He is also learning to become a better cook and baker. Having recently joined the board of the South Coast Botanic Gardens, he is looking forward to the opening of the new rose garden in April.
Establishing a charitable gift annuity with Torrance Memorial Foundation allows you to support our mission and receive steady payments during your retirement years. You can begin receiving payments immediately or defer payments to a time you designate in the future.
How It Works
Through a simple contract, you make a donation of cash or securities to Torrance Memorial Foundation, and you receive a fixed amount each year for the rest of your life, and the life of your spouse if you choose.
Your age when the payments begin determines the annual payout rate. The older you are, the higher your fixed rate. You receive payments for life, and whatever is left after your lifetime goes to Torrance Memorial.
Tax Benefits
You receive an income tax deduction for a portion of your gift in the year you set up your gift annuity. Your annuity payments are also partially tax-free throughout your estimated life expectancy.
We Can Help
Contact Sandy VandenBerge at 310-784-4843 or Sandy.VandenBerge@tmmc.com with any questions. You may also visit our website at torrancememorial.org/plannedgiving and click on Plan by Age to learn more. The online calculator can determine payment amounts and tax benefits for your age and donation amount.
Written by Tabitha Hogue