NEWS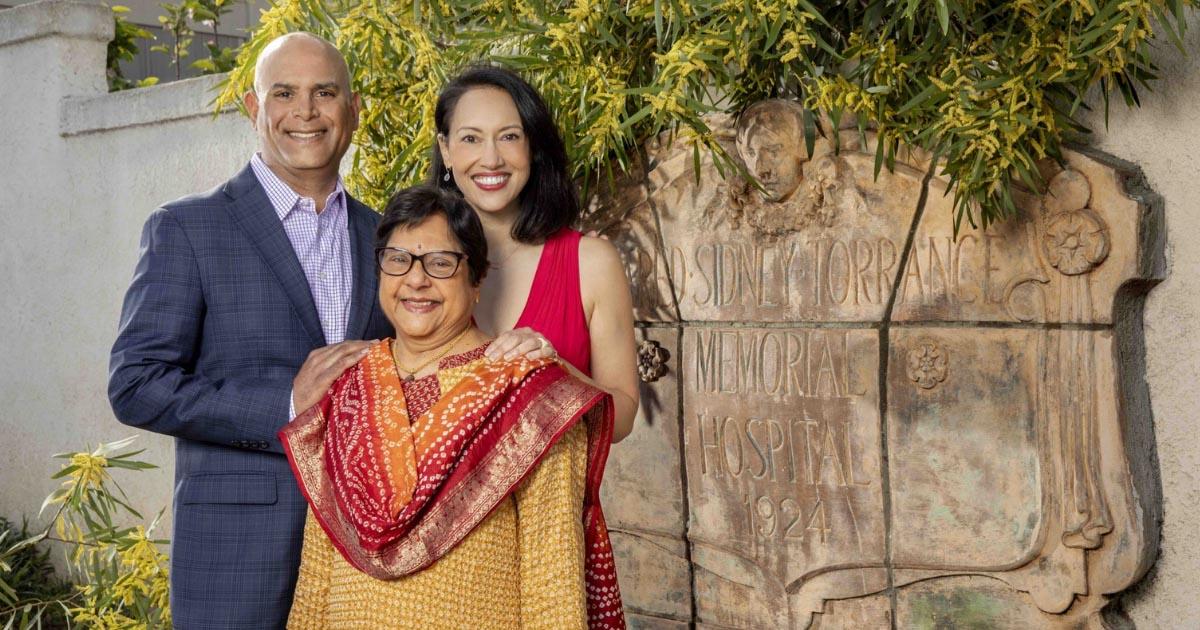 One Family, Two Generations of Hospital Support
Written by Diane Krieger | Photographed by Michael Neveux
To Sam Sheth, Torrance Memorial is no ordinary hospital. It's where he drew his first breath. Both he and his brother, George, were born in the original building on Engracia Avenue—delivered by the esteemed Charles Nemeth, MD, a Torrance Memorial icon who passed away in 2013.
Childhood bumps and bruises kept bringing Sheth back to the hospital, and an invisible cord still ties the 53-year-old businessman to his birthplace. "When I broke my wrist on a skateboard in fifth grade, we went to Torrance Memorial," says Sheth, now a hospital Foundation board member and Patron. "When I got a spike in my ankle playing pony league baseball, I went to Torrance Memorial," he continues, tallying an impressive list of adolescent injuries. "When I walked through a plate glass window in high school, I went to Torrance Memorial. And when I was in a five-car pileup on the 110 freeway in my senior year, I went to Torrance Memorial."
The same was true for his father, mother and brother. "Every time anybody in our family had to go to the hospital, it was always Torrance Memorial," he shares.
So when the family patriarch, Harshad Sheth, fell ill on Thanksgiving in 2012, they rushed him to Torrance Memorial, where he was admitted for evaluation. After a complete workup, doctors delivered the heartbreaking diagnosis: advanced, aggressive cancer of the gall bladder.
"We became very close to the hospital then," Sheth recalls. "My dad was going through all these tests and treatments, and they took such wonderful care of him. The physicians and staff were so helpful, knowledgeable, compassionate. We never felt rushed. It was comforting."
Harshad and his wife, Bharti, had been Torrance Memorial Foundation Patrons since 2010. After his father died in early 2013—peacefully, at home, with his family around him—Sheth got more involved with the Foundation. He started making sizeable donations. In 2016, he and his wife, Kay, also joined the Patrons program.
"It has been very rewarding to give back," Sheth says. "And it's a lot easier to ask other people for money when you're giving significantly yourself. I tell our friends what a meaningful difference the hospital made in my dad's quality of life and just how important that is to the community."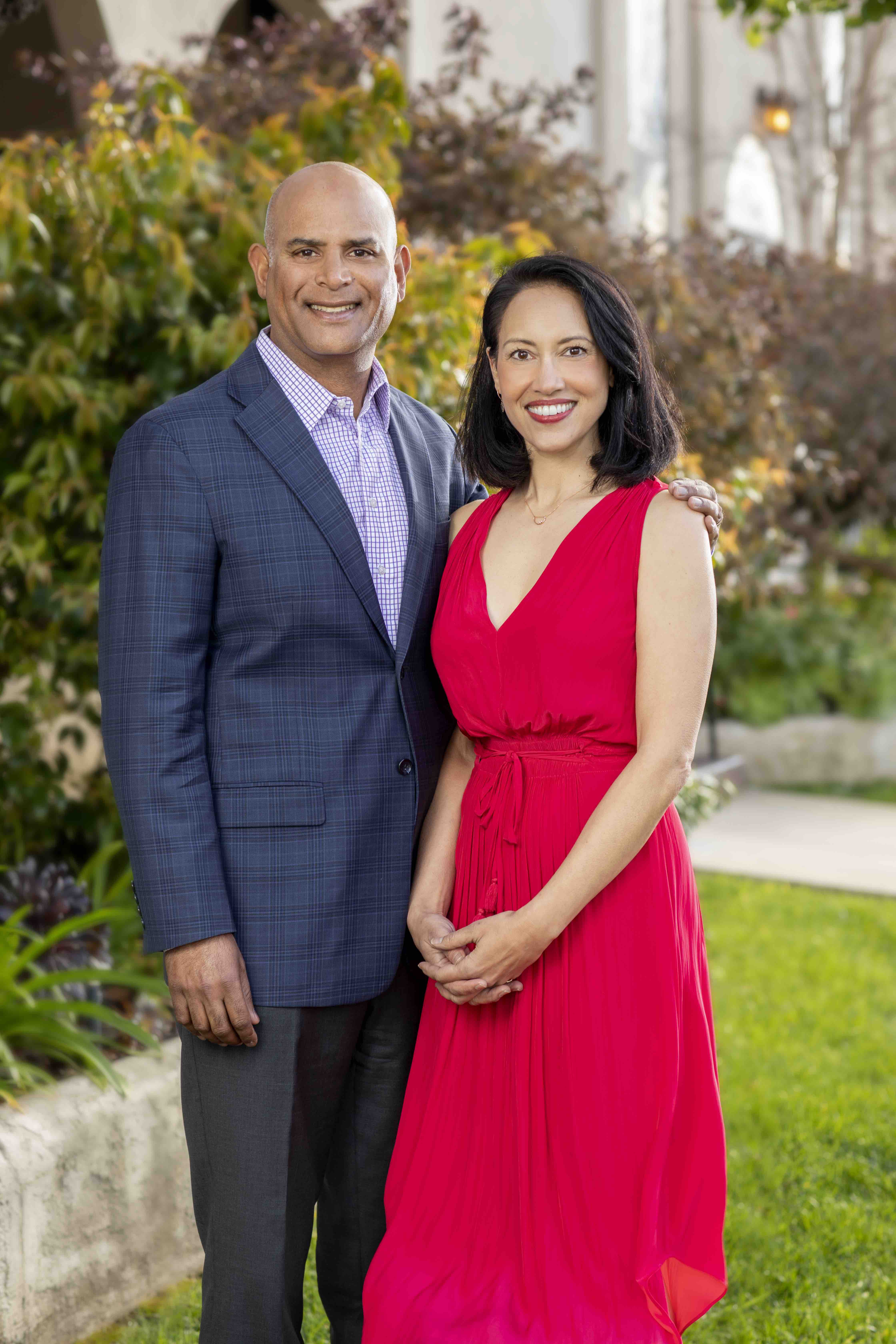 While Sam and Kay Sheth are both California natives, India looms large in both their family histories. Kay was born and raised in San Francisco in a bicultural home. Her mom's parents had immigrated from Genoa, Italy. Her dad was the scion of a prominent family in Tamil Nadu, India, and the grandson of a famous architect credited with many important civic buildings in Chennai.
Sheth—co-founder and senior managing director of VerityPoint, a boutique consulting firm—is the child of Gujarati immigrants who achieved the American dream. His father, Harshad, had come from Gujarat, India, in 1959 to study mechanical engineering at USC. He earned a master's degree in metallurgical engineering at UCLA before starting his career at the Armco Steel plant in Torrance, one of the nation's largest.
There weren't many other South Asians in California back then. "My dad was one of the early ones," Sheth says. When Indian prime minister Jawaharlal Nehru paid a visit to Los Angeles in 1963, Harshad was tapped to organize a meet-and-greet for the ex-pat community. "My dad rounded up all the adults from India in Southern California that he could find. It was only 85 people."
After finishing his education, Harshad went home to Gujarat with a plan to immigrate to the United States. Six weeks later he returned with his bride, Bharti, and they laid permanent roots in Southern California.
"He became an extremely patriotic American," Sheth says. "My dad was actually born on the 4th of July. He loved everything about this country and imbued us with that same sense of patriotism to this great country."
Through the 1970s and '80s, the Southland remained far less multicultural than it is today. Sheth vividly recalls being almost the only South Asian kid at Howard Wood Elementary School and Dapplegray Intermediate School. Today, about 150,000 people of Indian heritage live in the region.
The first few years were challenging, but the Sheth family persevered.
"It was the classic immigrant story," Sheth says. "My parents worked hard. It was unbelievable what they managed to do on my dad's income in the early days."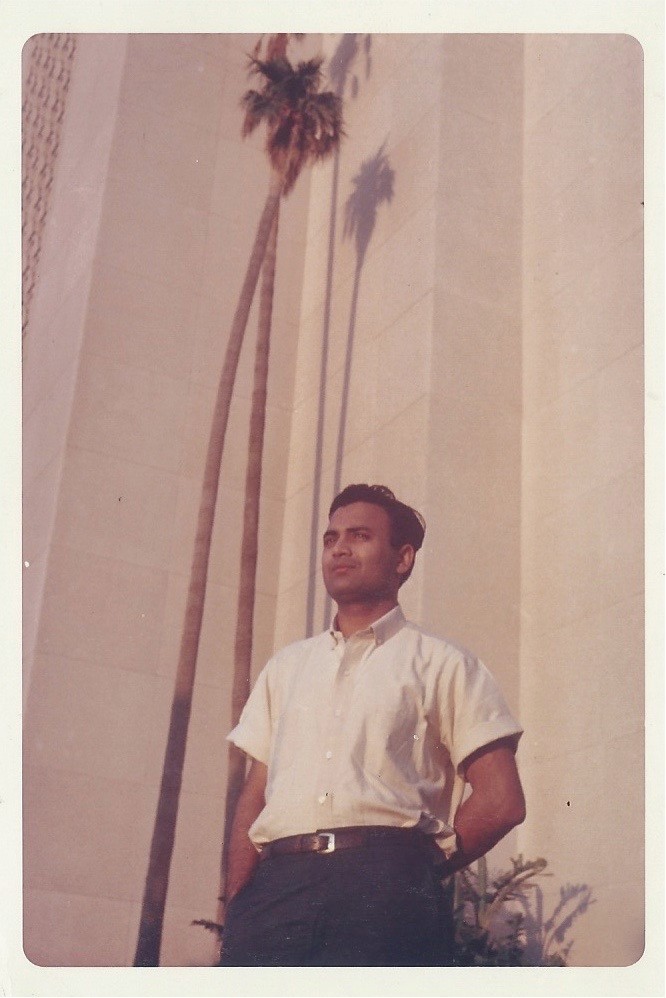 The oldest of six children, Harshad helped two younger brothers settle in America, helping to support them through college and watching them get established in their professions. "My first uncle came and lived with us in 1969," Sheth recalls. "His youngest brother came and lived with us starting from 1977."
Then it was Bharti's turn.
"My mom had been an outstanding student in India, but she put her education on hold to have kids," Sheth says. When her boys were old enough to start school, Bharti enrolled at Cal State Dominguez Hills as a math major.
"My dad was very supportive of her education," Sheth says. "If she had to study on the weekends, he and my uncle would take us out for the day. But she was pretty amazing. Going to college with two young sons at home, she made it look easy. Dinner was always on the table, our clothes were always washed, the house was always neat."
After earning her bachelor's degree, Bharti earned her master's degree in biostatistics at the UCLA School of Public Health, where she caught the eye of doctorate students Fred Wasserman and Pam Anderson, founders of Maxicare Health Plans. They recruited her as chief biostatistician for California's first HMO, and Bharti embarked on a pioneering role in the medical data industry.
Meanwhile, Harshad's engineering career thrived. During his years with Armco Steel (later National Oilwell), Harshad was awarded six patents for metal alloys. When the company moved to Houston in 1984, Harshad opted to stay in California and focus on distributing his patented products internationally. He later sold that business to a friend, Gordon Shultz, and then managed that business at Shultz Steel until his retirement in 2012.
Like his parents, Sam Sheth works hard, prioritizes family, shares his resources generously and somehow makes it all look easy. In addition to supporting Torrance Memorial, he is a passionate advocate for Junior Achievement—a global organization with the mission of educating children in financial literacy and entrepreneurship. Sheth has been active in the JA SoCal chapter since 1997, serving as a past board chairman. For the last dozen years, he has chaired the development committee.
"I've helped to raise a lot of money for Junior Achievement," he says, "but what I love most is getting in the classroom." The group dispatches 4,000 volunteers into hundreds of K–12 schools across L.A. County, reaching nearly 60,000 students annually.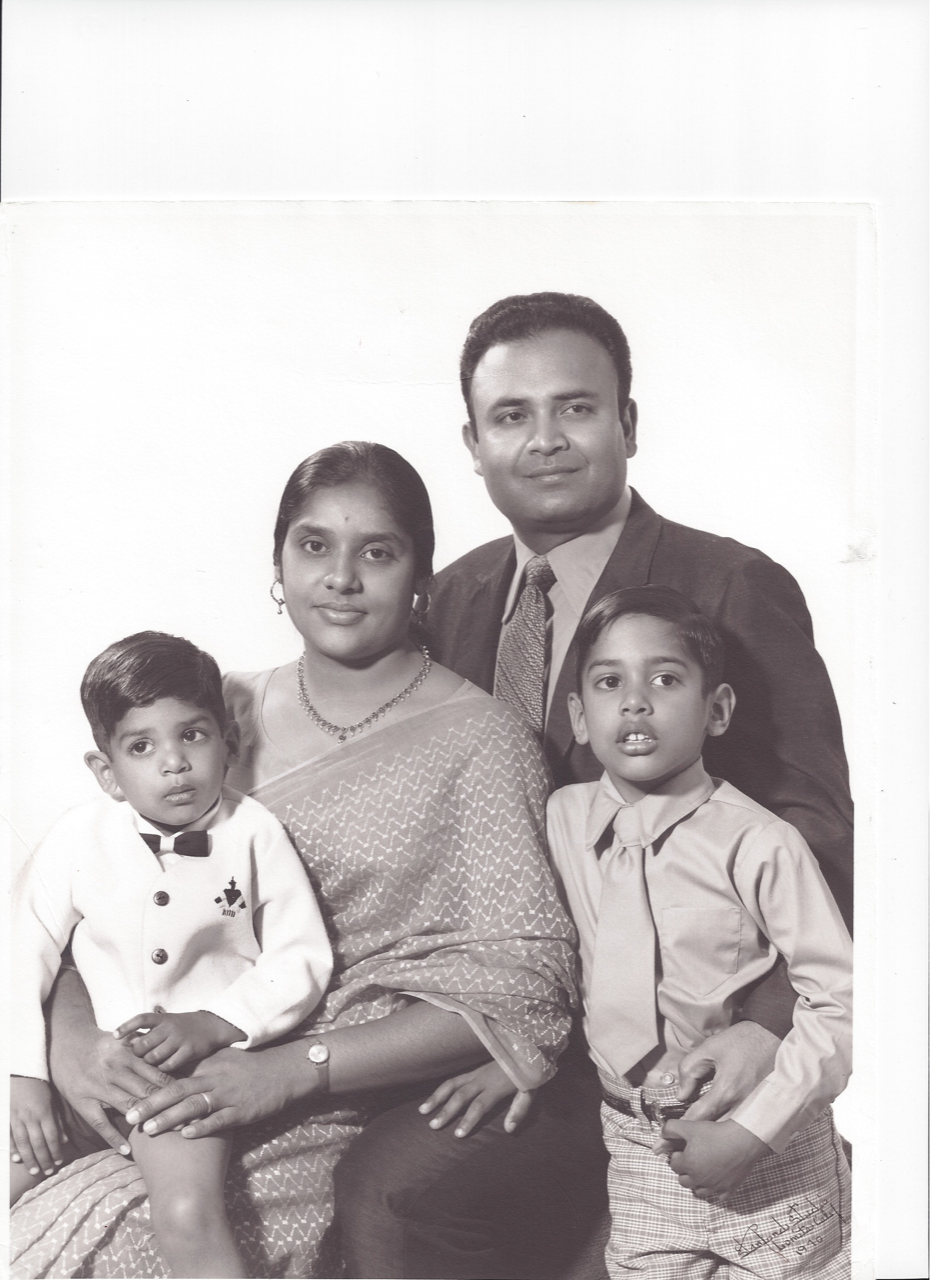 "I just love the idea of teaching kids to make good financial decisions and become entrepreneurs," he says. "Being able to tell them my story—how my family lived the American dream by doing the very things Junior Achievement is trying to teach—it's very personal."
Sheth's third institutional passion is UCLA. He'd entered as a pre-med freshman in 1985 but experienced a nauseating change of heart upon observing an open-heart surgery. He ended up majoring in business-economics—a hybrid concentration that merges accounting and finance with economics.
So enthusiastic was Sheth about the program that he started the Economics Business Student Association as a junior. He met his future wife, Kay, through that group.
A few years later, Sheth founded Bruins in Business, an alumni network for business-economics graduates. He later served on the board of the UCLA Alumni Association and the UCLA Board of Governors, and he continues to mentor current UCLA students.
As for Kay, what started as a college friendship blossomed into romance at Peterson Consulting, where she and Sheth both landed early in their careers. Since intra-office relationships were frowned upon, Sheth resigned once they became engaged. His consulting career subsequently took him to Compensation Resource Group, a small Pasadena firm he and his partners later sold to Clark Consulting.
In 2007, Sheth and his partners split off from Clark Consulting to launch VerityPoint. The firm provides nonqualified retirement programs and employee benefits consulting services to more than 100 large public and private companies across a variety of industries.
Meanwhile, the Sheth family was also growing. Kay left her position as a principal at Tucker Alan Consulting in 2001 after the birth of their second child. Older daughter Julia, 22, graduated from Columbia University last spring and is a software engineer with Microsoft based in New York City. Sabrina, 20, is a musician and artist currently studying music production and songwriting through UCLA Extension.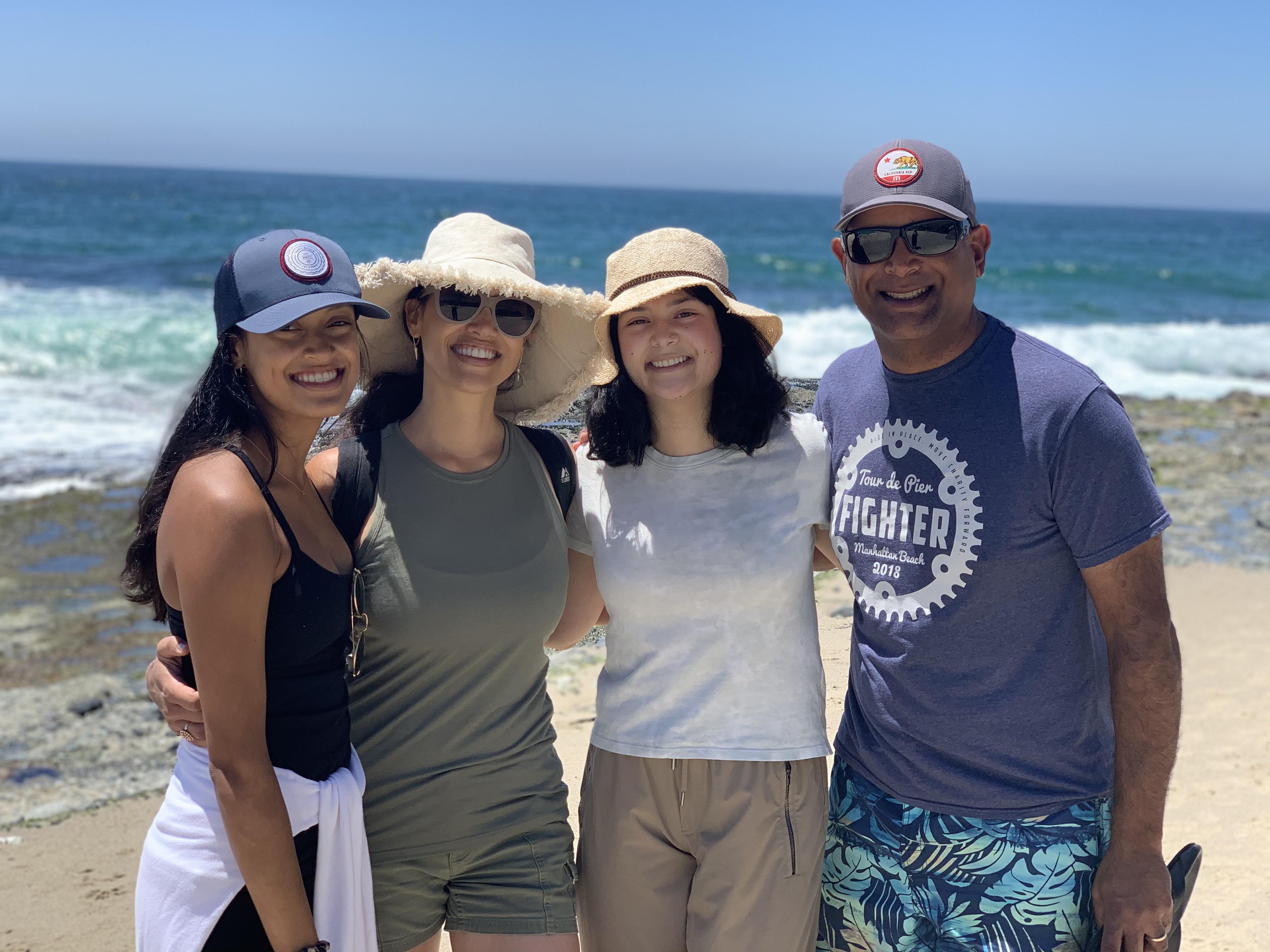 When the girls were younger, Kay was active in the Manhattan Beach schools and community, including board positions on the PTA, Manhattan Beach Education Foundation, National Charity League and TEDxMB. She now pours her energy into Planned Parenthood and other nonprofits.
And she keeps an eye out for promising new ventures. She is our family CFO," Sheth says.
The Sheths are investors with South Bay hotelier-restaurateur Michael Zislis, a longtime friend and fellow Torrance Memorial Foundation Patron. They're shareholders in Zislis' Shade Hotels, The Strand House, Rock & Brews and the Brews Hall. They have also made investments alongside other entrepreneurs. Sheth and Zislis enjoy working together to recruit other friends to Torrance Memorial's Patrons program.
"All this stuff fills my entrepreneurial itch," says Sheth, who started his first side business as a kid. "I sold gum at school," he says, with a crooked smile. "I also had a paper route. Later I started a landscaping business. My eighth-grade summer, I was making $300 a week. I had so much business, I started hiring other kids in the neighborhood to do the work."
That entrepreneurial spark makes him a tremendous asset to Torrance Memorial. And Sheth has never felt prouder of the institution where he first drew breath. "Over the years, it has gone from being a small community hospital to a world-class medical institution. We've been so impressed with the leadership," he says.
He isn't shy about sharing that perspective. "We've been educating our friends in the South Bay about all the great work going on at Torrance Memorial. I've helped recruit some very generous donors to the hospital. I tell them: 'We're not getting any younger, and it's nice to know we have a leading, state-of-the-art hospital in our community.'"