NEWS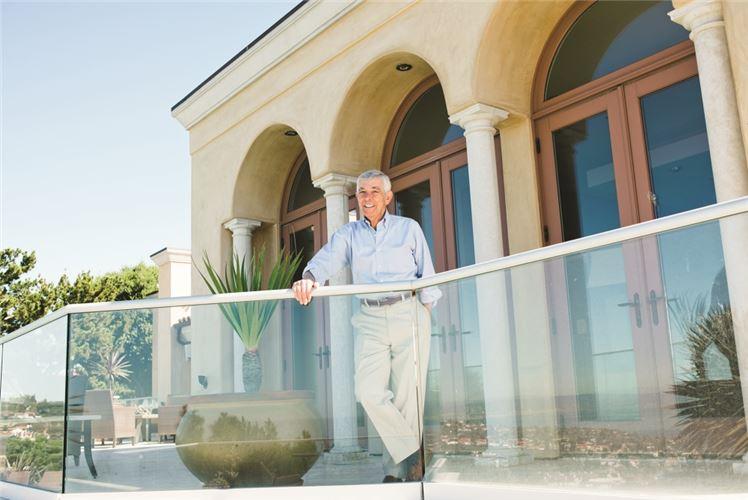 In the Name of Health: O. Allen Alpay Puts Money to Work for Local Health Care
O. Allen Alpay puts money to work to create a community health legacy.
As a boy, O. Allen Alpay's father would regularly ask his son if he could borrow back $20 he had previously paid him as allowance. His father would later return the money to Alpay, plus 100% interest.
"I thought he was running out of money, but he was trying to set an example about how money should be used and put to work," Alpay says. "I was very lucky to have great parents. More than anything else, they taught me to strive to be the best in everything—from education to life in general. I was raised to be independent, as well as self-sufficient. Back then there were no handouts."
Alpay's father would regularly assign him odd jobs, such as changing the antifreeze in the family car. As a result, Alpay learned what he calls "a must" for success in life—how to be "a doer." He did everything he could to earn extra spending money, from busing tables on Coney Island after he graduated from high school, to waiting at the gates of canneries in Sunnyvale, California at 6 a.m. to pick up work during summer breaks in college.
Today at 81, Alpay is redirecting that work ethic toward a new priority—giving back to his community. In December of 2015, Torrance Memorial Medical Center announced a $10 million gift by Alpay to name the O. Allen Alpay East Wing, which houses Torrance Memorial's Emergency Department and Labor and Delivery unit. The donation was inspired in part by a stay at the medical center following spine surgery.
"On many occasions, I—and members of our family—have used the services of Torrance Memorial. We are always very impressed with the care we receive, especially from the nursing staff," Alpay says. "When the opportunity presented itself to name the East Wing, I was very happy to do what I believed was my responsibility as a community member. Each day the East Wing celebrates the birth of a whole new set of lives in the Labor and Delivery unit, while saving many others in its Emergency Department."
He continues, "A donation to this world class organization seemed to be the right thing to do."
Alpay has always had a keen sense for the next right thing to do. He set out with "no particular dream or certain goals," but instead focused on creating success one step at a time. He excelled at virtually every subject in school, including art and architecture.
"All of my high school teachers thought I would go to medical school. I was good in biology and science, but I couldn't stand the sight of blood," he says. It was literally a coin flip that determined his future. Upon graduation, he decided to follow in the footsteps of his father, a Stanford University-educated engineer, and set out for the University of Texas in Austin to pursue a degree in engineering.
"I was a big fan of movies and westerns with cowboys playing guitars and wearing white hats," he says. "I had this romantic notion about Texas that turned out to be completely different from reality. At that time Austin was a one-horse town with just 7,000 students. There wasn't much social life."
Alpay received a scholarship to make his emphasis petroleum engineering and geology, as the prominence of oil exploration grew in the 1950s. From there, he earned a master's degree from University of Pittsburgh, followed by a doctorate from Purdue University—both in engineering.
While earning his PhD, he worked as a summer intern at Standard Oil's oil production research affiliate, Pan American Petroleum in Tulsa, Oklahoma. Upon graduation, he joined the company as a senior research engineer.
"In the '50s after World War II, oil was the future of exploration. Working in the oil industry is not thrilling. But the high degree of sophistication in every aspect of the technology, from exploration and drilling to production and refining, is mind-boggling," he says. "Safely drilling a straight hole just 10,000 feet into the ground is no small feat."
In the 1970s, Alpay realized that computers, not oil, were going to be the future. While working toward a master's degree in mathematics from the University of Tulsa, he decided to instead move to California to pursue a degree in computer sciences and joined THUMS (a consortium of the five major oil companies, Texaco, Humble, Union, Mobil and Shell) as a senior engineer. THUMS was the contractor for the city of Long Beach, tasked with the development and operation of oil deposits lying offshore. Alpay also briefly taught a graduate course in the petroleum engineering department at the University of Southern California.
Alpay's left brain interests led him to pursue literature, spanning every subject from the classics to detective fiction to psychoanalysis. But his right brain would not be left to rest. He also took up painting, which helped lead to his romantic fate. As a young engineer in Tulsa, he met a teacher named Beverly, who he instantly recognized as a no-nonsense girl. A clincher was when Beverly, an art enthusiast, took him for a serious artist, seeing influences of the cubist, Pablo Picasso, in one of his paintings.
Following Alpay's move to California, absence made the couple's hearts grow even fonder, but a health crisis would seal the deal. Following a thyroid operation, Beverly came out to California and spent the summer caring for Alpay.
"When I awoke from surgery Beverly's face was the first I saw," Alpay says. "That was really when I knew, I wanted to spend the rest of my life with her."
After their wedding, the couple went to work designing and building their Palos Verdes Peninsula home and continued to share their love of the arts, growing a collection of oils, watercolors and sculptures.
Beverly continued her career as an eighth-grade English teacher at Dapplegray Intermediate School. She later became a school administrator for the Palos Verdes Unified School District.
More than a decade following her premature passing, Alpay made a $2 million donation to the Palos Verdes Art Center in 2011 to name the Beverly G. Alpay Center for Arts Education. Beverly had volunteered at the Art Center for nearly a decade, where she served as president and chair of the board. In 1996, she received the Medici Award, the Art Center's highest honor.
Alpay's entrepreneurial side eventually kicked in and he began investing in various real estate ventures in California and Texas, which became a full-time endeavor. Always selfeffacing, Alpay says, "I'm basically a glorified janitor." However, his companion today, Ruth Anne (known as Ruthie) also a widow and a former teacher, begs to differ, noting that Alpay's involvement in his business affairs runs much deeper. After rising at 4 a.m. daily for a three-mile walk, she notes he "works like he is still 40."
It was the arts that also brought this couple together a few years ago, following an introduction by a mutual friend at the Palos Verdes Arts Center.
In addition to Alpay's work and his daily quest to complete The New York Times crossword puzzle in ink, the couple spends time viewing Alpay's collection of nearly 3,500 movies on DVD and traveling. But with friends, family and their community in mind, they are intent on leaving something greater behind.
"This gift is the legacy for which I would most like to be remembered. It also serves to honor my late wife Beverly who exemplified what volunteerism and service to the community is all about," Alpay says. "I hope it will inspire and motivate others to step up and do what they can to give back to their community in any way they can."