NEWS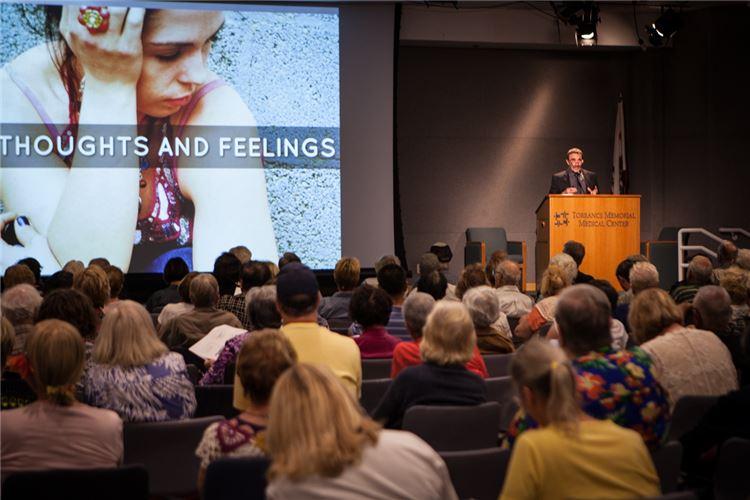 Miracle of Living Offers Access to Latest Health Info
One way to stay up-to-date on the latest innovations in health care is to become a regular attendee of the Miracle of Living health education lecture series. On the third Wednesday of each month, experienced medical professionals present credible health information to attendees.
"The lectures are one notch below what you would hear in medical school. Attending can serve as a great adjunct to one's physician visit by providing useful, reliable patient education," says Eduardo Anorga, MD, a family practice physician and chair of the Miracle of Living committee.
The Miracle of Living lecture series was born from a collaborative effort between a group of physicians and community members in 1972. The presentations are free and open to the public. The objective is to help community members understand the changes in health care and provide updates on services offered at Torrance Memorial.
The lectures encompass a broad range of topics such as heart health, diabetes, joint replacement surgery, dementia, anorexia, melanoma and more.
Moe Gelbart, PhD, executive director of the Thelma McMillen Center for Alcohol and Drug Treatment at Torrance Memorial, has presented numerous lectures through the years on a variety of psychological topics such as depression, anxiety, substance abuse, eating disorders and violence. "We provide practical health information that helps people understand more about health and to discern if something is a problem or not. The lectures reflect the commitment by the hospital to patient education and the community. I'm proud to be a part of it," he says.
Another frequent speaker is cardiologist Mark Lurie, MD, director of the Melanie and Richard Lundquist Cardiovascular Institute at Torrance Memorial. Dr. Lurie has spoken on a wide range of cardiometabolic topics such as heart disease, complications of diabetes and stroke, valve disease and peripheral artery disease.
"What's presented is extremely advanced, solid, scientifically accepted and evidence-based information that is honest and straightforward," he says. Guests at Dr. Lurie's lectures have come to expect that cookies will be available—his requirement for participation. "I feel they bring a touch of comfort," he says, "but I also have to say: Use only in moderation."
Approximately 300 guests attend each month. Guests can fill out cards during the program to write questions for speakers to address during the Q&A session. They are also asked to fill out an evaluation form for future topics.
The Miracle of Living Committee reviews the forms the week following the lecture. The topics and speakers are chosen by the committee, which is comprised of community members and Torrance Memorial staff and physicians. They choose topics by integrating requests from the community, along with ideas from committee members and hospital staff.
Two longtime committee members from the community are husband and wife, Dave and Toni Sargent. Toni has been on the committee since its inception. With a lifelong interest in health, she says she was "thrilled to become a part of this program." In 2003, after Dave's retirement, she recruited him to join.
"Satisfaction" is the most common response Toni receives from attendees. "People are thankful for this service." She recalls one attendee sharing his gratefulness for attending a lecture on heart disease. He recognized he was having a heart attack and sought care quickly. He believes his survival is a direct result of attending the lecture.