NEWS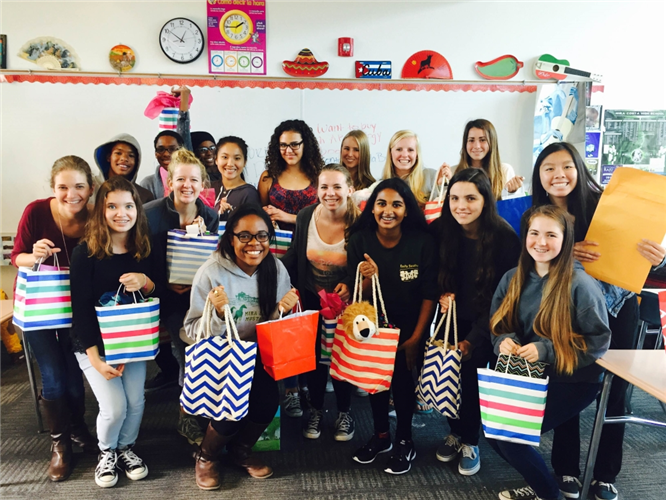 Mira Costa High School Students Receive By Giving
When 16-year-old Victoria Nwoke's aunt passed away from cancer she searched for a way to channel her grief into something positive.
After becoming president of Mira Costa High School's Pink Ribbon Club, she made it her mission to do something to help local breast cancer patients. The group's mission is fighting breast cancer and raising awareness in the South Bay.
"Making care packages for cancer patients was one of the first ideas I had as president," Nwoke said.
It took more than a year to turn her idea into reality. Because she had served as a volunteer at Torrance Memorial in escort services, she talked to Director of Service Excellence Mary Matson to see who she could coordinate with. The answers came in the form of Gina Rembert, RN, at the Vasek Polak Breast Diagnostic Center (BDC) who welcomed the idea.
Nwoke organized an army of 30 club members, who held a bake sale to fundraise and get the community involved. Many friends and parents made donations, assisted with transportation and offered their support for the project.
As a result, club members made and delivered 60 goodie bags for breast cancer patients. The bags were stuffed with items such as scarves, reusable water bottles, journals and pens, stuffed animals, blankets, knitted hats and hand creams.
Students wrote encouraging notes and added their own flair. Among the gifts was an entire box full of bags that were especially relevant to chemotherapy patients. The bags were packed with everything that one would need, such as a thermometer, artificial tears, chapstick, creams, a soft toothbrush, gum, stool softeners and more.
"I was so impressed," Rembert said of the gifts. "Their enthusiasm and thoughtfulness showed."
"We're giving patients a life-altering diagnosis, and they're tearful, anxious and scared," Rembert said. "At the very end of that consult, telling them about these gifts that students donated just lifted them up." One patient even asked for contact information so she could thank the students.
"Everyone, including a lot of parents, was eager to help out," Nwoke said. "I'm passionate about this project, and when I start something, I want to finish it. I reminded myself every day in my planner to make sure this happened."
The Pink Ribbon Club expressed interest in staying involved with the BDC, which diagnoses 400 cancer cases per year. Nwoke hopes to double the number of bake sales to raise money and awareness, and deliver two rounds of care packages this coming academic year. In addition, Rembert encouraged interested students to participate in the American Cancer Society's Making Strides for Breast Cancer Walk in September, as well as take classes for breast health information.
"There are so many things they can do," Rembert said. "They put a lot of heart and soul into the project and a lot of time and money. Making someone's day and lightening their load a little is a lesson to all of us that a little bit of kindness goes a long way."
"When I came home that day, it was the best feeling ever," Nwoke said. "Just to step outside of myself, look at the big picture, and help someone else helped me, too."