NEWS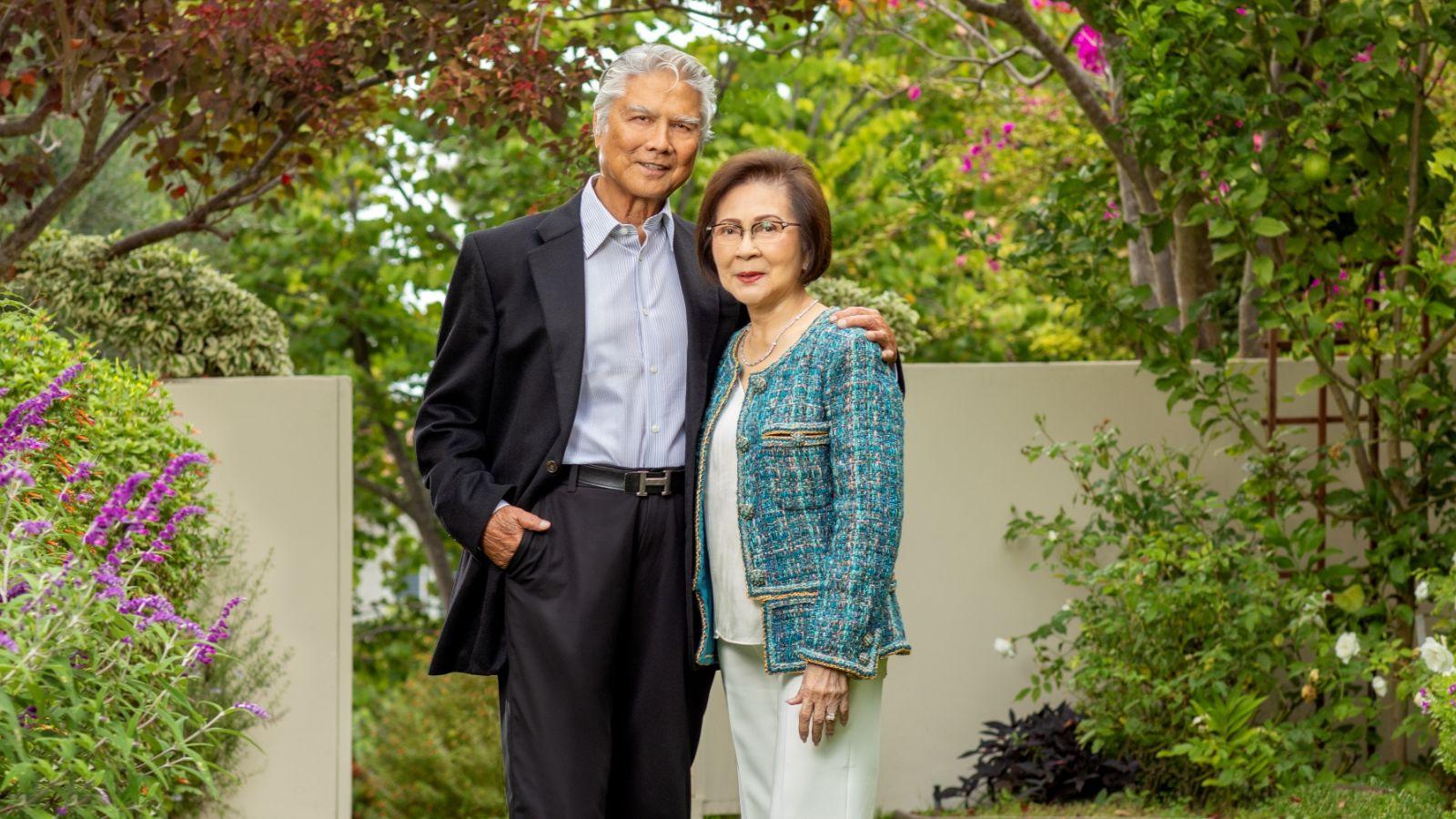 Manny and Ofelia David: Shepherds of Elder Care
For 50 years they

'

ve been watching over vulnerable seniors 

and attracting national recognition for their tender care. 
Written by Diane Krieger  |  Photographed by Micheal Neveux
Emmanuel "Manny" David beams with pride as he talks about Heritage Rehabilitation Center and Harbor Post-Acute Care Center. "We've been in the same place in Torrance since the 1970s," says the 83-year-old nursing home owner.
Manny and his wife, Ofelia, have a simple philosophy: "If you give good care, everything follows." That certainly has worked in the case of Heritage Rehab, a 161-bed facility on Vermont Avenue, and Apache Junction Health Care, a 190-bed facility located about 30 miles east of Phoenix. Both recently ranked at the top of Newsweek's America's Best Nursing Homes list, which bases its selections on performance data, peer recommendations and COVID-19 response.
"This is the only business we know," Manny says, "and we have been in business a long time."
The Davids, who celebrated their 61st wedding anniversary last Valentine's Day, have lived in the South Bay for a half-century. They've given generously to Torrance Memorial Medical Center over the years and became Patrons in 2012.
Manny and Ofelia met and were married in Manila, in their native Philippines. Successful accountants, they both taught at the university level. Manny had a faculty appointment at the prestigious Colegio de San Juan de Letran, considered one of the best in the Philippines.
Looking for new opportunities, the young couple decided to emigrate in 1966, temporarily leaving behind their three children—Raul, John and Marybeth—while they established themselves in California. Their fourth child, Brandie, was born in Long Beach.
At first Manny worked as an auditor with Bank of America. Ofelia was a bookkeeper for a Los Angeles bakery. A new job in the reimbursement department at Blue Cross of Southern California introduced Manny to the booming health care industry.
In the early 1970s, after Long Beach businessman Jack Jacob took Manny under his wing, the Davids opened a management consulting firm specializing in nursing homes. A few years later, they acquired two nursing homes of their own in Los Angeles and Torrance.
The industry has changed a lot since then. Manny laments how nursing homes have acquired a reputation for prioritizing profit over care. "Many of the operators come and go. Few are run by the same people. We are one of the very, very few—if not the only one in the South Bay—that's still under the same ownership. We have not sold out. We are still around, and we will continue to be because we have successors," he asserts with a bright smile.
By successors, he means daughters Marybeth and Brandie. All four of the Davids' adult offspring are involved in the family businesses, but Marybeth and Brandie are integral to the day-to-day operations of the nursing homes.
Like their parents, Marybeth, with husband Roy Martinez, and Brandie, with husband Roy Kaneshiro, are also Torrance Memorial Patrons. So too are Ofelia's sister and brother-in-law, Ramona and Pacifico Villaluz.
It's a tight-knit family. The Davids have nine grandchildren and one great-grandchild—so far. Some of their grandchildren work in the family business. Everyone lives in the South Bay, and not a day goes by without some family member dropping by Ofelia and Manny's place in Redondo Beach.
The last 18 months have been very hard, of course, as COVID-19 ripped into the nursing home community. Nearly a third of the Davids' residents were infected in the first wave of the pandemic. Keeping the homes going was a daily struggle as panic spread across the Southland.
"We experienced many staffing challenges," Manny says. "We are so blessed all our administrators stayed the course and continued to work, but some nurses chose not to work and that was difficult. But what can you do?"
Looking out for the needy is perhaps the central theme in the lives of Manny and Ofelia. Both are very active in their ministries. Manny is involved in Torrance Grace Missionary Fellowship, which carries out evangelical and medical missions in the Philippines. Ofelia oversees the two family foundations, which provide scholarships to Filipino students and run free health clinics, food pantries and medicine distribution sites in Calbayog.
"I was born there, in Samar Province," Ofelia explains, "and I went from elementary to high school there. I know how poor the people are."
Being Patrons of the Torrance Memorial Foundation is also important, Manny says, "because we want to support our local health care community, and Torrance Memorial is an excellent hospital."
He speaks from personal experience. In 2018, when Manny was diagnosed with prostate cancer, he went to see Garrett Matsunaga, MD, chief of urology at Torrance Memorial, who brought in radiation oncology specialist Thomas Simko, MD, as part of the team.
Manny recalls, "They gave me a very specialized treatment plan that involved hormone and radiation therapy but did not require surgery. I didn't miss a step. I just kept on with what I was doing—my daily exercises, going to work. No one even knew I was sick."
Then in January 2019, Ofelia fell at home and fractured her hip. The very next day, Torrance Memorial Physician Network orthopedic surgeon John Andrawis, MD, performed a total hip replacement at Torrance Memorial. Ofelia was up on her feet the following morning and back home the day after that. Her subsequent care was seamless, with follow-up physical therapy sessions done at home. Ofelia now walks without a trace of a limp.
"Torrance Memorial is true to its reputation. It's excellent," says Manny. "The care, the attention—it couldn't be better. •
---
Upwardly Mobile
Both Manny and Ofelia David are octogenarians who like to stay physically fit. Manny's sport of choice: stair-climbing skyscrapers, sometimes called vertical marathon.
Having discovered the activity in 2003, he competed in Los Angeles stair-climbs held at the 62-story Aon Center and the 74-story U.S. Bank Tower in 2010. Climbers are grouped by age, and Manny's finish times were surprisingly good.
"So I started to climb every new building that opened up in California," he says. "San Diego, Sacramento, San Francisco, Los Angeles—I climbed them all."
He has raced up the stairwells of skyscrapers in many other major cities since then, including Manhattan's iconic Empire State Building. His climbing time on both New York's Freedom Tower and Chicago's Willis (Sears) Tower was 50 minutes. A young man in peak condition could do it in 25 minutes, he says. 
Building closures during the pandemic have disrupted this hobby, but Manny continues to train. Every day he ascends and descends the Redondo Beach ramps and stairs. Then he walks an hour or more before heading off to work in the morning. Yes, Manny and Ofelia still work full time in their nursing home business.
Manny also enjoys outdoor climbing and bouldering. He has scrambled up Egypt's Mount Sinai, Sicily's Mount Aetna and the Flatiron in Arizona's Superstition Mountain range. He completed the four-hour predawn hike to the ruined fortress of Masada in Israel and the six-hour trek to and from the Grand Canyon's Phantom Ranch during a record-breaking heat wave.
Retracing the footsteps of biblical patriarch Abraham took Manny and Ofelia across Syria before war ravaged that country. Their desire to hear Aramaic spoken took them to remote Maaloula and included an unsettling encounter with Hezbollah militants. To meet with the reclusive Samaritan high priest—one of only a few hundred remaining members of the ancient Hebraic sect—he obtained permission to ascend forbidden Mount Gerizim near the West Bank city of Nablus.
Ofelia has accompanied Manny on some of his trips to the Middle East, Europe and Asia. "I've been to Australia many times," she adds, "and I've traveled separately with my children and my sister all over Europe—the Balkans, Kosovo, Prague, Budapest."
Since her hip replacement at Torrance Memorial, Ofelia has dialed back her travel itinerary. Still, she's no slouch when it comes to exercise.  "My doctor told me to walk at least 30 minutes a day, so I go to the mall just for the exercise."
Passionate, pious, industrious and community-spirited, these vigorous octogenarians continue to be Patrons on the move.