NEWS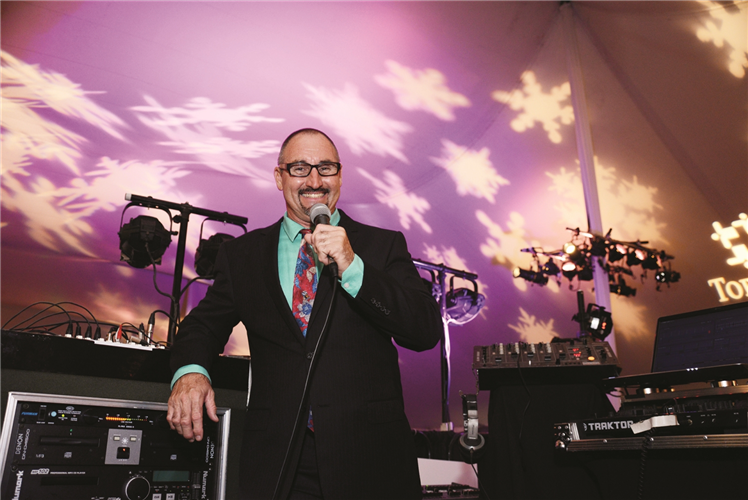 Lights, Camera, Holiday Festival: DJ Dewey
It wouldn't be a holiday party without music. For more than a decade, DJ Dewey has been there to set just the right musical tone for each moment of the Holiday Festival—from the fashion show to the gala to the public hours.
"When you are enjoying something as much as I enjoy the Holiday Festival, who counts how many years it has been? I know it is over 10, as I used to have hair," Dewey says with a chuckle.
Dewey can be easily spotted in the center of the Holiday Festival tent. His DJ booth is perched above the trees, so he has a bird's eye view of all of the action. He has become quite popular with the event's youngest guests, who stand just below him. Squealing with delight, they eagerly await regular bursts of glittery faux snow shot from a cannon.
"I enjoy meeting many sweet people, from the ones in the strollers to the elderly in wheelchairs. They all share one thing—a smile," he says. "I love the elves; they help me create energy for our guests. I love getting people involved and getting Laura (Schenasi, executive vice president of the Foundation) and the team dancing to the "Cupid Shuffle." The guests realize how passionate the volunteers and staff are about 'our hospital.'"
Dewey is in high demand in the South Bay. His schedule is booked months ahead, to cover most of the local high school events and dances. However, each year, he gladly clears his calendar to work nine days straight just prior to and during Holiday Festival. Much of this time is donated. While each of his gigs are special, for Dewey, Holiday Festival holds a personal meaning.
"I am blessed to do the Holiday Festival," he says. "This [hospital] is a large part of what keeps our community moving. I need the hospital to help me keep them [the community] dancing."
He continues, "My three children were born at this magnificent facility. My mother and father enjoyed the festival and being with me. December 2016 (festival) was the last event dad attended with me."
Dewey is particularly looking forward to this year's celebration, which follows his recovery from knee surgery. "Thanks to the doctors, surgeons and nurses at Torrance Memorial, I will be able to walk without pain."
"People should attend Holiday Festival, as you never know when you will need medical services and someday you will," he says. "You get to choose where you go, but choose the best, and tell them DJ Dewey sent you!"