NEWS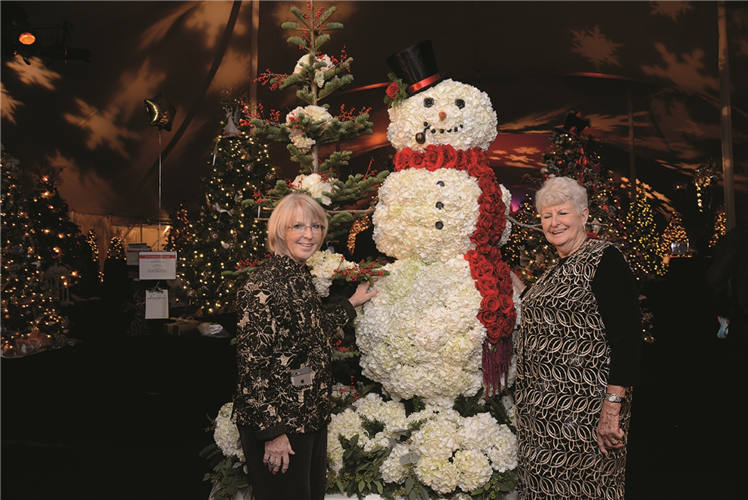 Lights, Camera, Holiday Festival: Bev George
Even while vacationing in Banff, Canada this past summer, Bev George couldn't seem to shake her pre-occupation with pending orders of hundreds of wreaths, garlands and evergreen trees.
"Four orders arrived during my vacation. My living room was a quick reminder of the work ahead," she says. "It's always great to be back home and get back to work."
George had her first taste of the Holiday Festival in 2006 as a tree designer, after friend Florence Tebbets invited her to help decorate a Raggedy Ann and Andy-themed tree.
"It was so much fun, we have been doing a tree each year since," she says. "This year's tree, 'Greetings from Santa,' will be our 12th one."
Soon after that first experience, George began volunteering in the workshop, creating handmade treasures to be sold in the Holiday Festival boutique. In 2009 she assumed the role of boutique co-chair.
Her new role meant regular trips to LAMart and the local gift shows to buy base materials and holiday décor for direct sale.
In 2011, she accepted the role of co-chair of the Holiday Festival with Carolyn Snyder.
"I did this under one condition—I would continue to run the boutique side, do the written communication and oversee the cashier system; Carolyn would handle the large theme trees, work with the tree designers and do the social part with meetings in the community," she explains. "I just wanted to be a worker bee."
George is grateful for the hundreds of volunteers who do keep coming back—many of whom share a similar motivation.
"You never know what you will be doing and we find a task for everyone—no experience needed. Our workshop theme is, 'If you don't have fun, don't come back.' And we have fun."
She adds, "All of my grandchildren were born at Torrance Memorial. The hospital is here for us and this is how I show my appreciation."
Learn more about Holiday Festival.