NEWS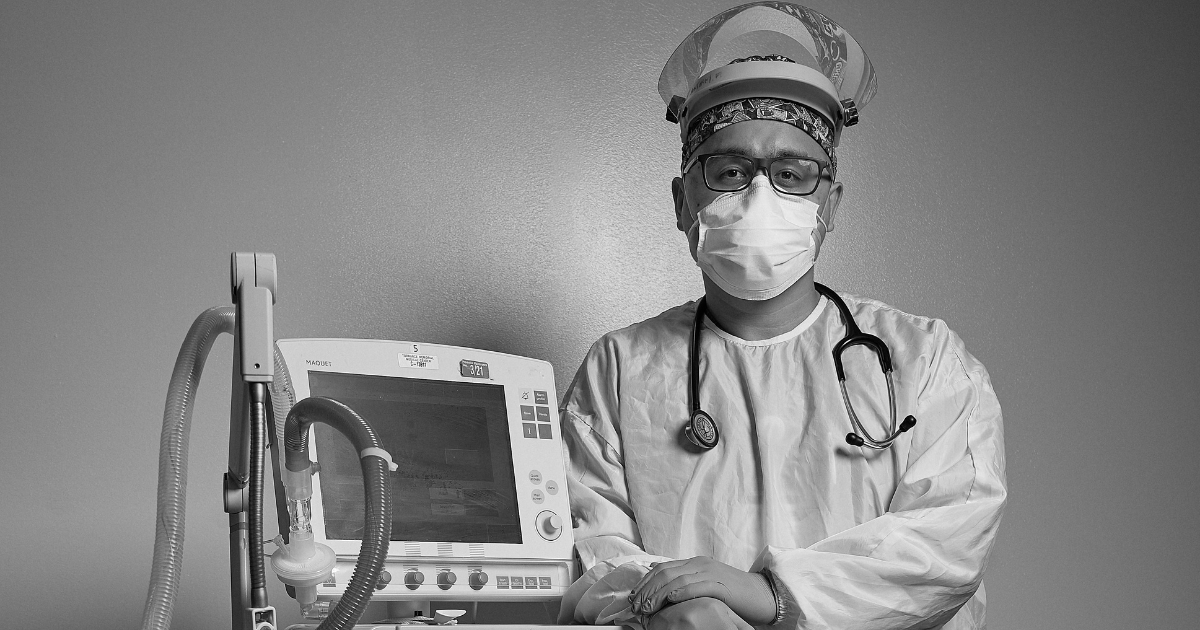 Keeping Torrance Memorial Breathing Safely
Written by John Ferrari | Photo by Vincent Rios
Breathing is the simplest thing in the world … until it isn't. That's why Torrance Memorial's Respiratory Therapy Department has more than 90 respiratory care practitioners (RCPs) on staff, handling everything from respiratory rehabilitation to code blue respiratory arrest emergencies.
Emergencies can happen every day, but when the COVID-19 pandemic reached Southern California last March, every day was an emergency. COVID-19 causes respiratory distress. At the same time, it is spread, essentially, through breath: breathing, coughing and sneezing. When the disease hit, Torrance Memorial's RCPs had to immediately adapt common procedures—from CPR to ventilation—in order to save patients and keep staff safe.
"When this started, there was so much we didn't know about, but we knew some of the procedures we did were inclined to produce aerosols," recalls director of pulmonary, sleep, and EEG services Pamela Michael, BS RRT-NPS. "We immediately went to inhalers instead of using nebulized treatments. We stopped using our small transport ventilator, because we had no way to filter the exhaled gas. We went to using the standard ventilator we use in the ICUs because we can filter the exhaled air. We also stopped performing noninvasive ventilation—again, we couldn't filter the exhaled gas. Any procedure, we adapted."
From the start, RCPs treated every patient as a potential carrier of the SARS-CoV-2 virus that causes COVID-19. With COVID-19 cases now spiking again, they continue to take this approach. Some of the most fundamental changes involved the most common procedures. For example, code blue calls bring RCPs, physicians and nurses on the run to help as needed. Now, the number of staff in the room assisting the patient has been optimized for safety and efficiency, while maintaining the highest level of care.
"We have decided we will have one physician, one RN and one respiratory therapist in the room," explains respiratory therapist Donna Tran, MPH, BS RRT. "Another person outside the room sets up equipment like the ventilator and intubation tray. That help can take a lot of the stress away." Medical director of pulmonary services Dr. Kahlid Eltawil says, "Respiratory therapists are present at the bedside for the sickest of patients and play an integral role in their treatment and care."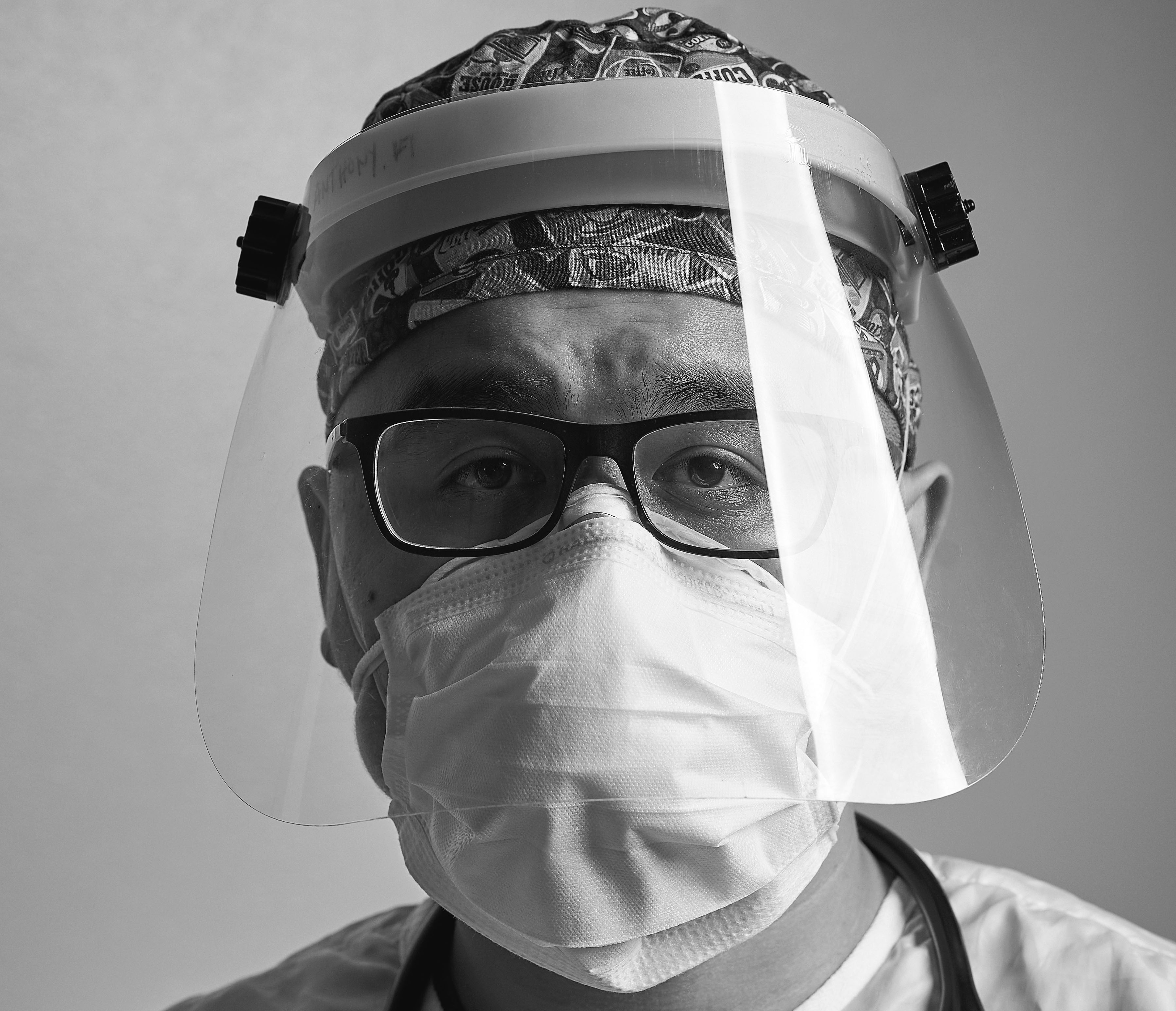 Torrance Memorial also put the LUCAS (Lund University Cardiopulmonary Assist System) chest compression system into wide use. LUCAS, a lightweight mobile system, is strapped to a patient's chest to provide compressions for CPR, eliminating the need for a person to be near the patient, performing compressions manually.
The hospital also adopted procedures designed to alleviate respiratory distress, most notably the use of proning, the position in which a patient lies flat on the stomach with their limbs unextended. Torrance Memorial was ahead of the curve, Tran notes. Even before the COVID-19 pandemic, the hospital's respiratory and nursing departments had been working together to develop and implement a proning protocol to treat patients with acute respiratory distress syndrome (ARDS). Tran says she has seen the protocol, which involves the patient resting for 16 hours in the prone position followed by 8 hours in the supine position, result in better outcomes for patients. Proning has been widely adopted by hospitals for patients with respiratory distress.
As Torrance Memorial's respiratory therapists adapted existing procedures and adopted new protocols to minimize exposure and the potential spread of the virus, a parallel effort was under way to ensure all medical staff were familiar with the changes. It added up to a shift in how caregivers interact with patients, says clinical respiratory educator Anthony Co, RCP. Respiratory therapists are staffed throughout the hospital, and Co is used to going floor to floor, making sure they are all familiar with new equipment, procedures and protocols. But COVID-19 accelerated the pace of his days.
"When it first happened, there were times when there were changes almost every hour," he recalls. "We have a better sense of it now." Co educated RCPs and the nursing staff on everything from the new procedures to new PPE. "For example, we used to have one type of filter," he says. "Now we have 10 different types in use around the hospital."
"We have ongoing education for our regular staff and make a concerted effort to educate per diem staff as well," adds Michael. The efforts didn't end with group and one-on-one training. Torrance Memorial's mock code committee ensured staff put the new procedures into practice with mock code blue calls. Going through the process of responding to a "real" code blue is a "good opportunity to talk about wearing proper PPE," Michael says. "The tendency is to just go in, but we can't do that with COVID-19."
The extra effort has paid off, she says. "We've had a really low exposure rate of our staff compared to other hospitals. It's all about safety for everyone." 
Respiratory Therapy 101
"Respiratory therapists rotate throughout the hospital," explains Donna Tran, MPH, BS RRT. "Torrance Memorial trains respiratory therapists to work on every floor. For example, I cover mainly the ICU, but I also rotate through the ER and pediatrics."
Areas covered by RCPs include:
Pulmonary Rehabilitation – Torrance Memorial's eight-week outpatient pulmonary rehabilitation program educates patients who have a chronic lung disease or compromised respiratory system on living with their condition, from nutrition and exercise to daily activities. The accredited program is "very worthwhile for the patients so they have quality of life," says Pamela Michael, BS RRT-NPS. "When I started out in this field, COPD (chronic obstructive pulmonary disease) patients didn't go out. It's a huge deal for the patients."
Neonatal Intensive Care Unit – "That's where we take care of the tiniest patients," Michael says. RCPs attend births if there is a likelihood they will be needed—for example, if the mother has a high-risk factor. They also provide care to newborns, whether that care is anticipated or not. As with any department in the hospital, "therapists get paged to the codes, and we go."
Clinical Education – Clinical educators make sure RCPs, nurses and the physicians they work with stay up-to-date with hospital policies and procedures. "A lot of the job is to train new or experienced therapists new to Torrance Memorial," says Anthony Co, RCP. "I review competency and patient safety and make sure their knowledge is on par with Torrance Memorial standards of excellence. I'll also educate other nurses on procedure updates and new equipment. If I see something that isn't meeting our core standards, I'll go over procedures with them. And I keep up with new equipment, updates to best practices, and breakthroughs and how they can be adopted to our hospital. The biggest thing here is the quality of our care."