NEWS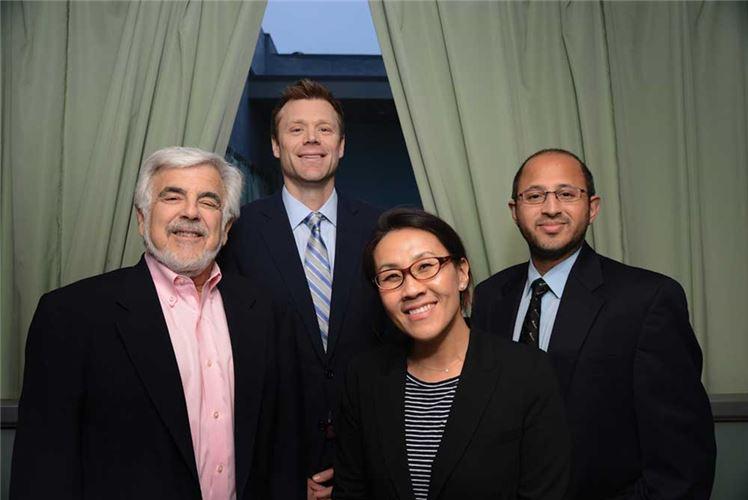 Innovation is at the Heart of the Cardiology Team
People often don't give much thought to the exhaustive work of the heart—the muscle that pumps every second of every day for an entire lifetime. That is, until something goes wrong: their heart valves become dysfunctional, an irregular heartbeat disrupts their lives, or a devastating stroke or heart attack occurs.
Torrance Memorial's cardiologists perform some of the most innovative and cutting-edge procedures, many of which have now taken the place of more invasive open-heart surgery. The team at Torrance Memorial Medical Center's Lundquist Cardiovascular Institute led the discussion at the March 21 Miracle of Living at the Beach—"Advances in the Care and Treatment of Heart Disease."
TAVR
Patients travel from all over Southern California to have their heart valves repaired by the interventional cardiology team at COR Healthcare Medical Associates, which includes Salman Azam, MD, J. Christopher Matchison, MD, and Ankush Chhabra, MD.
Speaker Azam received eight additional years of training after medical school to learn about structural issues of the heart. One of the advanced procedures he performs is minimally invasive transcatheter aortic valve replacement surgery (TAVR). The procedure replaces a patient's aortic valve narrowed over time causing stenosis, which prevents adequate blood from exiting the heart and circulating to the rest of the body.
Aortic stenosis affects 16.5 million people in the United States over 65. In the past, open-heart surgery was the only solution. In this latest procedure, a new valve is threaded through the patient's femoral artery in the groin up to the heart. After this procedure, the patient is sitting up within six hours and often discharged home the next day. Torrance Memorial has performed more than 180 TAVR procedures to date.
WATCHMAN™
Torrance Memorial recently became the first South Bay hospital to perform WATCHMAN™, the newly FDA-approved procedure that corrects a common electrical rhythm abnormality of the heart known as atrial fibrillation (AFib). The procedure reduces stroke risk in those who are unable to tolerate long-term use of blood thinners. Matthew Ostrom, MD, electrophysiologist, provided an update on this innovation. Dr. Azam, Sang Yong Ji, MD, Gene Kim, MD, and Erol Kosar, MD, also perform this procedure.
PREVENTION IS KEY
The panelists concurred that many of the risk factors that lead to heart damage can be controlled by lifestyle modifications, medications and early intervention. They aim to treat the modifiable risk factors now, so they don't have to see you later with advanced heart disease.
Controllable risk factors include high cholesterol, high blood pressure, physical inactivity, obesity, type-2 diabetes and smoking. The last two are the biggest factors. Smoking increases the risk of heart disease up to four times and diabetes up to three times.
So what's the first step in reducing plaque build-up in the heart? First off, recommends Victoria Shin, MD, interventional cardiologist, know your numbers. This means know your cholesterol, blood pressure and weight. In addition, exercise more frequently and drink less alcohol.
Dr. Shin warned the women in the crowd to be vigilant. Heart disease kills 292,000 U.S. women every year—far above the 40,000 that die from breast cancer annually. While risk factors are similar for women as men, the mortality rate for women is higher and obesity increases this risk. Also, autoimmune diseases, polycystic ovarian syndrome, history of preeclampsia or gestational diabetes, and certain breast cancer therapies can affect women's hearts.
WORKING AS A TEAM
Torrance Memorial's Lundquist Cardiovascular Institute, led by event speaker Mark Lurie, MD, medical director, keeps its eye squarely on the best possible patient outcomes. At weekly meetings, each surgical case is evaluated by a multidisciplinary team guided by R. Michael Wyman, MD, interventional cardiologist.
According to Lurie, Torrance Memorial's cardiovascular program is a force to be reckoned with, offering a Structural Heart Disease Program, Heart Rhythm Center, Diabetes Program, the Cardiac Rehabilitation Program and Healthy Ever After Kids (to prevent obesity and diabetes in children). "We work as a team," says Dr. Azam."The more minds, the better the outcomes."