NEWS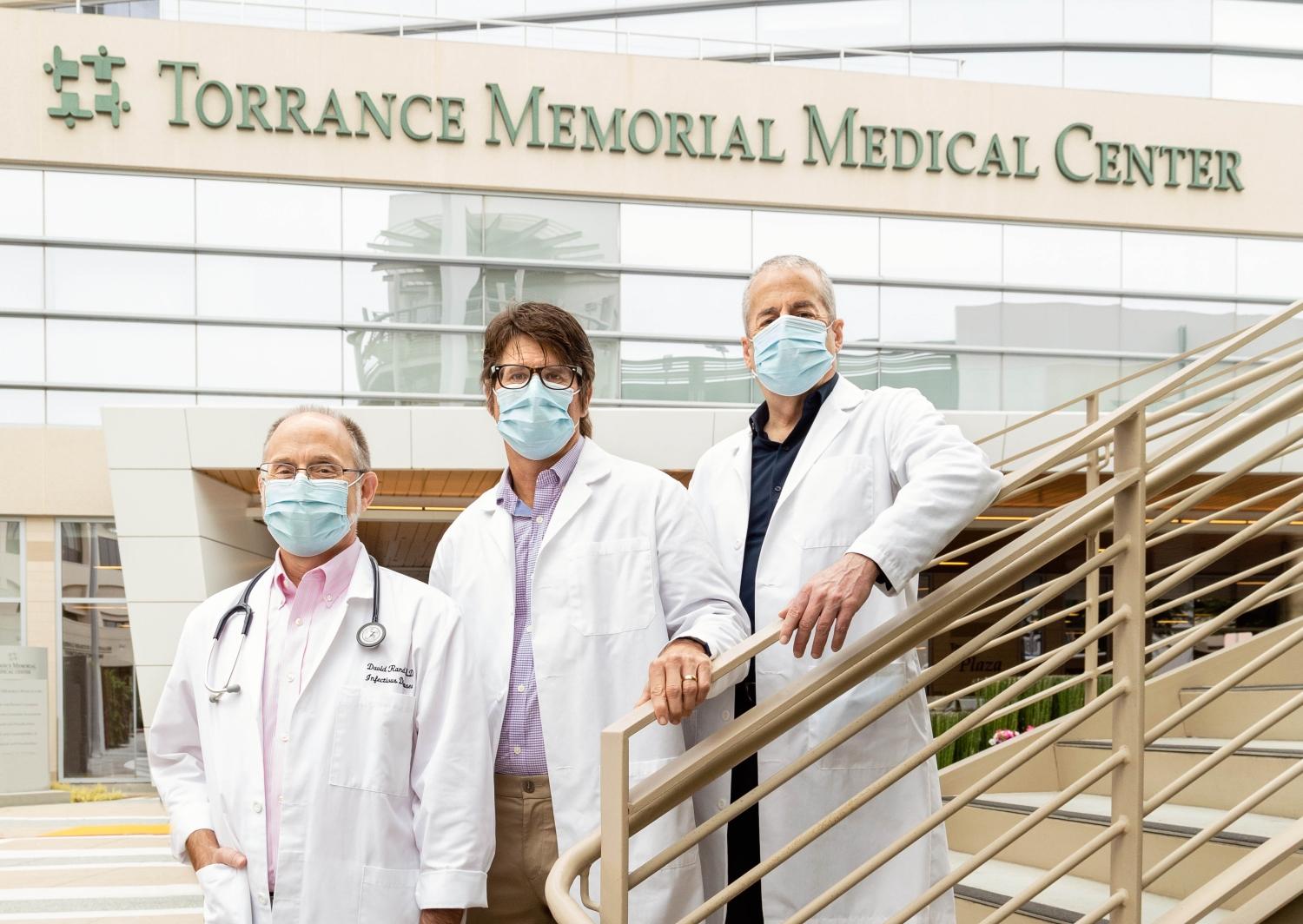 Infectious Disease Experts Promote Positive Outcomes
Written by Lisa Buffington | Photographed by Siri Berting
Since the start of the coronavirus (COVID-19) pandemic, Torrance Memorial Medical Center's infectious disease specialists, Eric Milefchik, MD, chair of infection control; David Rand, MD, chair of the special pathogens committee; and pathologist John Kunesh, MD, have been working collaboratively to successfully guide the hospital's pandemic response. During the initial pandemic surge and with the recent increase in COVID-19 cases in Los Angeles County, having an in-house team of talented, experienced infectious disease experts who are familiar with the intricacies of dealing with various aspects of emerging diseases has proved to be invaluable to the hospital and the community.
Backed by the latest scientific research and its on-staff team of specialists, Torrance Memorial has been able to manage testing resources, offer some of the latest COVID-19 treatments and protect hospital staff and South Bay residents. Torrance Memorial team members are also using their experience to assess key protocols to ensure the hospital remains equipped to handle the projected surge in COVID-19 care demands.
Learning from Experience
During the first wave of the pandemic, Torrance Memorial's team gained valuable knowledge about how to optimize COVID-19 care and develop effective safety protocols for non-COVID-19 patients and staff. Today, that knowledge is allowing team members to meet the healthcare needs of the entire community - including those who are COVID-19-positive, and those who require non-COVID-19 medical care.
"We are really prepared and have remained well below our capacity to treat COVID-19 patients," says Dr. Rand. "Also, our safety protocols work. We have had no patient-to-patient transmission and no staff-to-patient transmission."
Ongoing safety measures at the hospital include conducting training on the proper use of personal protective equipment (PPE), maintaining specialized COVID-19 units and triage areas, adjusting treatment protocols based on new data, maintaining emergency department intake procedures and travel paths, exploring clinical trials and stocking up on supplies and equipment.
Access to Testing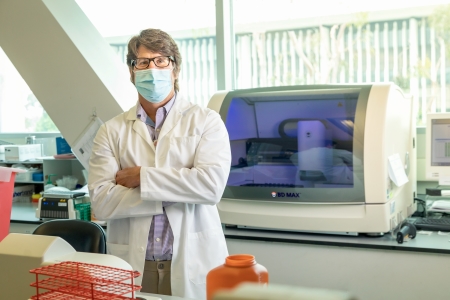 In collaboration with Dr. Rand and Dr. Milefchik, Dr. Kunesh and his team of pathology specialists continue to analyze COVID-19 data so they can adjust Torrance Memorial's testing protocols as needed and obtain the testing kits required to meet the hospital's needs.
"From day one, our goal has been to provide our patients and the community with the highest-quality testing options that appropriately utilize testing resources," says Dr. Kunesh, Clinical Laboratory Improvement Amendments (CLIA) director of the clinical laboratory and medical director of the Blood Bank and Donor Center. "We want to make sure we test people using the right test and, most importantly, get the right results."
Torrance Memorial is primarily using its on-site lab to perform inpatient and emergency COVID-19 tests that require a fast turnaround. The hospital's on-site lab is staffed by a team of highly-trained clinical laboratory scientists and equipped with specialized testing technology—including BD Max and GeneXpert instrument platforms that allow staff to perform automated molecular testing for COVID-19. Molecular testing looks for actual bits of the virus that causes COVID-19 and is used to diagnose an active COVID-19 infection.
"Getting fast, reliable COVID-19 test results for our in-hospital patient care team is a critical component of our hospital's ability to effectively manage COVID-19," says Dr. Kunesh.
Torrance Memorial is partnering with third-party testing labs to meet outpatient and presurgical COVID-19 testing needs not requiring rapid results. As more widespread testing became available, Torrance Memorial also opened an off-site, drive-through, appointment-only testing center. To date, Torrance Memorial has tested approximately 4,000 patients for COVID-19.
Patient Care Expertise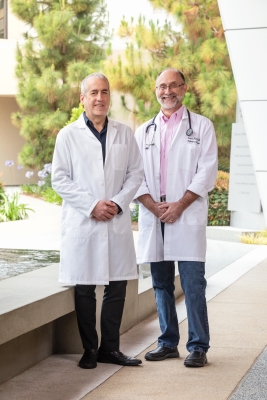 As part of their day-to-day responsibilities unrelated to COVID-19, Dr. Rand and Dr. Milefchik treat patients in their office at Torrance Memorial Physician Network's Infectious Disease Center, as well as at the hospital, for infectious conditions such as HIV/AIDS, hepatitis, meningitis, tropical diseases, tuberculosis, MRSA and Lyme disease. They also work with hospital administrators to ensure the safety of hospital staff. Sometimes referred to as Torrance Memorial's "COVID-19 Dream Team," their expertise and experience has proven to be key during the pandemic.
"We are involved in the care of every COVID-positive patient at the hospital," says Dr. Rand. "Our treatment protocols are very successful, leading to positive patient outcomes."
Dr. Kunesh, Dr. Milefchik and Dr. Rand were instrumental in bringing clinical trials for several novel COVID-19 treatments to Torrance Memorial. The hospital is currently participating in studies for the drug remdesivir, a biologic medication called tocilizumab and convalescent plasma therapy. Convalescent plasma therapy uses antibody-rich plasma from the blood of recovered COVID-19 patients to support the immune systems of patients who are experiencing severe COVID-19 complications.
Evolving Care for the Community
With community safety in mind, Torrance Memorial has maintained an active COVID-19 unit. The team is continually evaluating testing needs and supply levels and applying lessons learned during the initial surge to inform ongoing preparedness efforts.
And because the worldwide health care community's understanding of COVID-19 is constantly evolving, Torrance Memorial's experts are continually monitoring new research and data to determine the hospital's best next steps to protect patients, staff and South Bay residents.
"Over the past weeks and months, we have developed effective protocols to keep patients and staff safe, and we are prepared to move quickly to increase our COVID-19 care capacity," says Dr. Rand.
Torrance Memorial is continuing to follow ongoing procedures to keep non-COVID-19 patients safe, such as temperature checks for everyone who enters the facility, a "no visitors" policy, physical distancing and use of PPE. COVID-19 screening is also becoming an important part of ongoing safety.
"Torrance Memorial's role is to provide health care for our entire community, including people who have COVID-19 and others who require care for non-COVID-related conditions," says Dr. Kunesh. Testing is a component of the collaborative, comprehensive screening plan involving all levels of the hospital put in place to keep everyone safe so the hospital can care for all members of the community."
Collaboration, Pride and Gratitude
Despite the changes, concerns and challenges since the start of the pandemic, the entire team at Torrance Memorial is working together with one objective: providing outstanding care for all patients. "I am overwhelmingly proud of everyone at the hospital, from the administrators to the frontline workers," says Dr. Milefchik. "There was a lot of anxiety and many questions at first, but everyone worked together, took on the challenges and accepted them as a part of the job."
"The partnership between the emergency department, blood bank, pathology, critical care and infectious disease was essential to making everything work," says Dr. Kunesh.
"We couldn't continue to provide this level of care without everyone in the hosptial working together," says Dr. Rand. "It is a remarkable team effort."
The community continues to echo these sentiments, expressing their gratitude for hospital staff who go above and beyond to keep South Bay residents safe.
We all agree the community plays an important role in ongoing COVID-19 management efforts. "Wearing a mask, social distancing, washing hands and following other public health guidelines can help everyone stay safer, so it is critical the entire community remains vigilant," says Dr. Rand.
Antibody Testing vs. Molecular Testing: What's the Difference?
Molecular testing is a screening tool that looks for actual bits of the virus that causes COVID-19. This test shows an active COVID-19 infection.
Antibody testing looks for antibodies that indicate an immune response to the virus. Antibody testing only shows likely exposure to the virus and does not provide information on whether those antibodies are protective or how long any protection might last. The results cannot be used to determine whether someone is "safe" from COVID-19. Antibody testing is primarily used to provide epidemiological researchers with information about how COVID-19 has spread through the population.