NEWS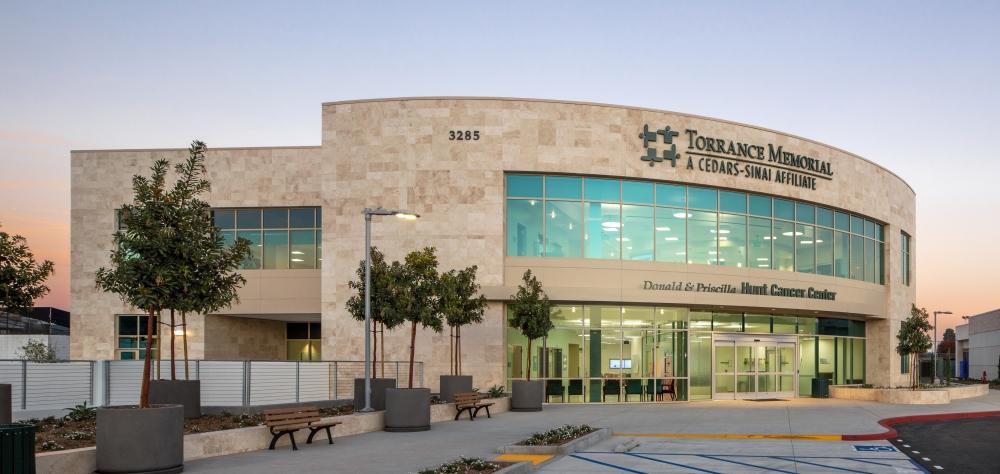 Hunt Cancer Center: One Year Later
Written By Lisa Buffington
On December 16, 2019, the Torrance Memorial Donald & Priscilla Hunt Cancer Center officially opened its doors. Now, one year later, the Hunt Cancer Center has established itself as a community cancer care focal point, providing state-of-the-art, comprehensive treatment for South Bay residents. Designed with patients in mind, the light-filled Hunt Cancer Center brings expertise, patient convenience and state-of-the-art treatments into one location.
A Partnership for Advanced Care
Torrance Memorial's partnership with Cedars-Sinai brings more cancer experts to the South Bay, providing patients with access to the expertise of renowned cancer leaders from one of the nation's premier academic medical centers.
"Cancer experts from Torrance Memorial and Cedars-Sinai hold meetings for specific cancer types to discuss patient care and ensure everyone is up to date on the latest clinical trials, guidelines, treatments and technology," said Dr. Andrew Horodner, a hematologist/oncologist at the Hunt Cancer Institute. "That means South Bay residents have access to the most advanced cancer treatments and clinical trials right at their doorstep."
Hunt Cancer Institute specialists also participate in multidisciplinary tumor boards, including tumor boards specific to breast, gastrointestinal, lung and brain tumors. Tumor boards allow physicians across multiple specialty areas to collaborate on each patient's case. That means every patient receives opinions from multiple specialists — including radiologists, pathologists, medical oncologists, radiation oncologists, surgical oncologists, geneticists and more.
"Our patients find it reassuring to know their case was presented at tumor board, where a variety of specialists will look at it from the perspective of their area of expertise," said Dr. Vanessa Dickey, a hematologist/oncologist at the Hunt Cancer Institute. "Not every cancer center has this level of collaboration and connectivity."
"Our patients get a second, third, and fourth opinion — and sometimes more — without having to go anywhere else," said Dr. Horodner.
Convenient, Coordinated Care
The Hunt Cancer Center is located on the Torrance Memorial Medical Center campus, providing patients with convenient access to comprehensive cancer care.
"The minute we find something suspicious, our patients are immediately assigned to a nurse navigator, who can often coordinate an emergency appointment with one of our specialists or an imaging test right next door," said Dr. Dickey. "It's one thing to find out bad news, but it's another to find out bad news without a plan."
"Our nurse navigators are such an important part of our program," said Dr. Horodner. "They not only get patients where they need to go, but they are also advocates who ensure each patient has the information and education they need."
In addition to nurse navigators and a full range of cancer care clinicians, patients also have access to a geneticist who can provide onsite genetic counseling and a licensed clinical social worker who can connect them with resources and support. Along with standard treatment methods, patients have access to integrative medicine modalities such as aromatherapy, yoga breathing and positioning techniques, and an oncology-trained dietitian. These therapies link together to treat the patient's overall body, mind and spirit.
More Space, Enhanced Safety
During COVID-19, cancer care at Torrance Memorial Medical Center has never been compromised.
The spacious,40,000-square-foot Hunt Cancer Center allows clinicians to safely treat patients while adhering to social distancing guidelines — which is especially crucial for patients receiving cancer treatment that could weaken their immune system.
"In our infusion suite, our patients are 12 feet apart instead of six feet, which makes people feel safe," said Dr. Dickey. "We are also able to stagger lab appointments and develop pathways to minimize contact between patients."
The additional space also allows patients to be accompanied by a support person during appointments and treatment sessions, significantly reducing stress and improving well-being. "We haven't missed one day due to COVID-19," said Dr. Dickey. "You can't close down with cancer."
'More Than Just A Job'
Although the Hunt Cancer Center is a beautiful building, it's the team approach to treatment and the patient-physician partnerships that make it such a presence in the South Bay.
"All the physicians live in the South Bay, and we are committed to supporting our community. It's more than a job. It's really personal to us," said Dr. Dickey. "Plus, it's nice for patients not to have to brave those freeways to get the latest cancer care."
"I'm proud to be a part of the Hunt Cancer Institute, and I'm honored our patients put their faith in us to deliver quality cancer care close to home," said Dr. Horodner.
Collaboration Brings Leading-Edge Clinical Trials to Hunt Cancer Center
The Hunt Cancer Institute is currently offering several clinical trials for various cancer types, including pancreatic, lung, lymphoma, and breast cancer. According to Dr. Swati Sikaria, a hematologist/oncologist at the Hunt Cancer Institute, the organization sources some of the most promising clinical trials through partnerships with Cedars-Sinai, UCLA TRIO-US Network, and pharmaceutical companies.
"We look at the available clinical trials and choose the best ones for our patient population," said Dr. Sikaria.
For example, because breast cancer is the No. 1 diagnosis at the Hunt Cancer Center, the team can select the breast cancer clinical trials that provide the most benefit to the South Bay community.
According to Dr. Sikaria, the Hunt Cancer Institute is opening a liquid biopsy clinical trial for asymptomatic patients receiving screening mammograms. The goal of the trial, she said, is to eventually develop a blood test for breast cancer detection.
The team is also looking at combining novel immunotherapy with chemotherapy treatments for breast cancer to improve cure rates, as well as interventions during survivorship.
"One of our clinical trials is looking at whether weight loss reduces breast cancer recurrence risk," said Dr. Sikaria.
The Hunt Cancer Institute is also conducting an open study for lymphoma that looks at whether oral medications are more effective with fewer side effects when compared to traditional chemotherapy.
"These are treatments many patients can only get at a National Cancer Institute (NCI)-designated cancer center, and we provide them right here in the South Bay," said Dr. Sikaria.
The Hunt Cancer Center is located at 3285 Skypark Dr., Torrance 90505. They can be reached at (310) 571-7077.