NEWS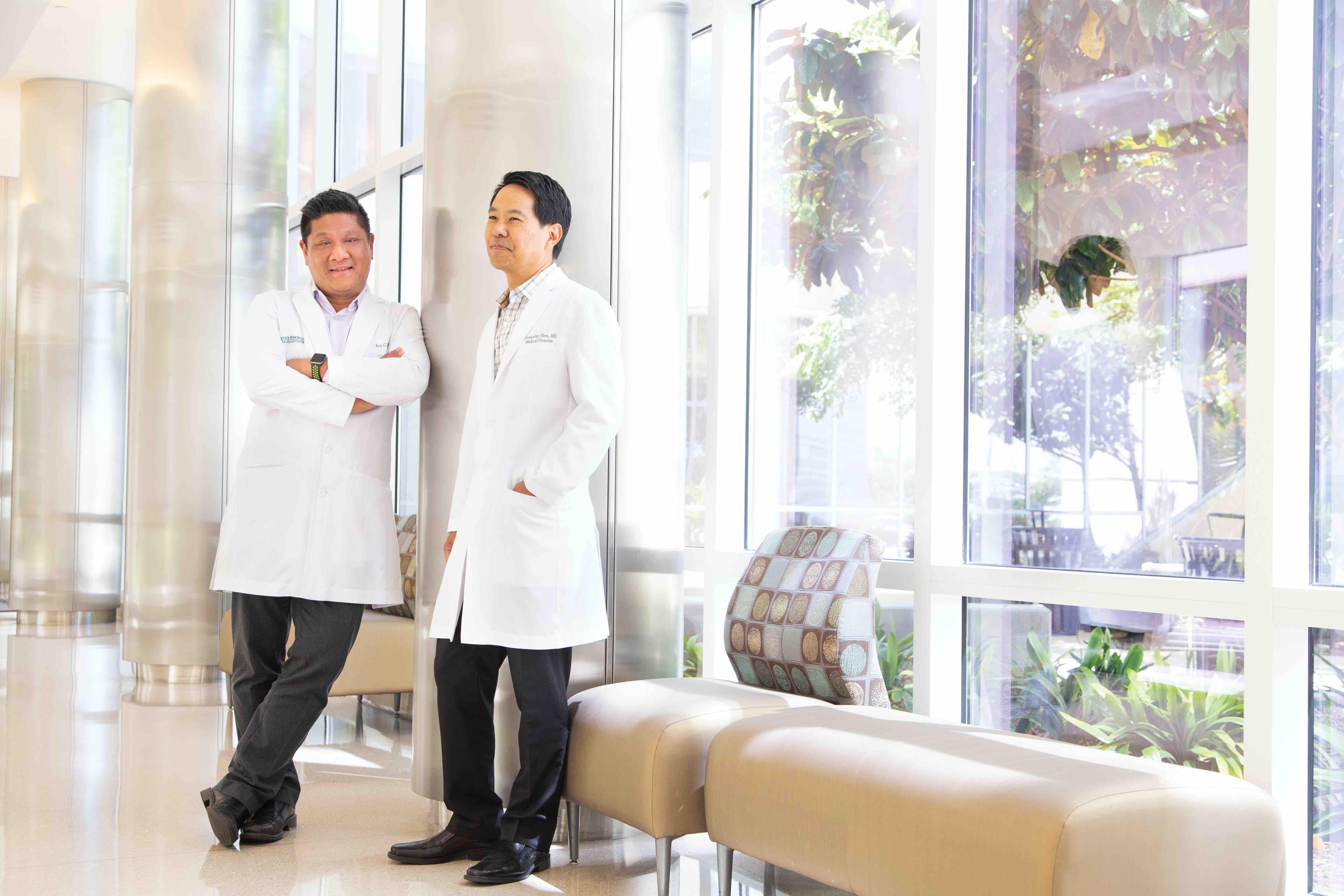 A Hospitalist's Helping Hand
Written by John Ferrari | Photographed by Shane O'Donnell
What makes Torrance Memorial Medical Center an exceptional hospital? The people. The facilities and state-of-the-art equipment are important, but it's the staff that provides the outstanding care. Torrance Memorial clinical staff are passionate about their work and about sharing Torrance Memorial with their community.
That's why hospitalists Alexander Shen, MD, and Roy Fu, MD, joined Torrance Memorial's Young Physicians and Professionals Alliance (YPPA). "A large part of Torrance Memorial is people have the best health care right in their backyard," explains Dr. Shen. "YPPA is one avenue to build community awareness of that."
Established in 2012, YPPA is an annual giving program that brings together young physicians and professionals for social and philanthropic activities. The group gives members opportunities to learn about Torrance Memorial but also to socialize, network and help their community together with like-minded members.
"I started attending YPPA events from the very first meeting," recalls Dr. Fu. "I met some interesting people, whom normally I wouldn't have run across unless they were my patients. I've been going ever since."
YPPA is a key component of Torrance Memorial's efforts to broaden the South Bay's knowledge of its resources and services. "Since I joined Torrance Memorial, they've really worked to raise awareness and increase their accessibility to the community, adding urgent care centers and office practices in Hermosa Beach and Manhattan Beach, expanding beyond just the city of Torrance," says Dr. Fu. "Lundquist Tower has done a lot to raise awareness, and the hospital has really expanded its reach through urgent care and events our neighbors can participate in."
For YPPA members, those events include social activities ranging from casino nights and beer tastings to trivia nights and group hikes. The YPPA volunteer committee, comprising both physicians and professionals, is creative in developing new events, notes Dr. Shen. "There are different venues and opportunities to meet people from various industries. I've met very impressive people—people who are leaders in the community."
That community—served by Torrance Memorial—is Dr. Shen's community. He grew up in Palos Verdes, and when he completed medical school he and his wife, Allyson, realized "there was no better place in the world for us than the South Bay."
Along with supporting YPPA and Torrance Memorial Foundation, Dr. Shen has been a trustee on the Peninsula Education Foundation for several years. He's also served on the Palos Verdes Little League Board and is an active Little League coach—his sons, he says, are "big-time baseball players."
In addition to activities open to all of the group's more than 100 members, YPPA also sponsors smaller events. Dinners at physicians' homes are especially popular. "I love the more intimate events," says Dr. Shen. "They're such a personal way to get to know people, to meet like-minded, philanthropic people. We have conversations about their families and their health care experiences, and after speaking with Torrance Memorial physicians, they come away with a personal connection to the hospital."
"YPPA is a way I can connect with people as far as being a representative of the hospital and letting them know just what a great place it is to work," agrees Dr. Fu. "In a day and age of a lot of big hospital conglomerate entities out there, it's nice to know your local hospital is a facility that provides excellent care."
YPPA also is unique in that the social and networking aspects are emphasized as much as the educational component. "I've developed a lot of close friends through the organization," notes Dr. Shen. "It's just great to make those connections." And, says Dr. Fu, "It's good to not only meet community members but also to see some of my colleagues outside of work."
YPPA actively supports Torrance Memorial through philanthropy, donating $30,000 to date for renovations and equipment benefitting the hospital's Mother/Baby Postpartum, Neonatal ICU and Pediatric departments, and most recently donating $3,000 for furniture for the NICU Family Lounge. In 2015, YPPA proudly launched its support for two awards that recognize Torrance Memorial employees who go above and beyond to make a difference with our patients and visitors.
The DAISY Award (Diseases Attacking the Immune SYstem) was created in 1999 to say "thank you for the gifts nurses give their patients and families every day." The Reason Is You award recognizes doctors and other employees providing extraordinary service in patient care and throughout the hospital.
It's no surprise Drs. Shen and Fu enjoy sharing Torrance Memorial with the community. They've both chosen a medical specialty that emphasizes patient interaction. Dr. Shen and Dr. Fu are hospitalists—in fact, Dr. Shen joined Torrance Memorial in 2009 as medical director of the center's then-new hospitalist program. Hospitalists "specialize in coordinating care and making sure care is delivered in a safe and efficient manner," he explains.
But that doesn't quite capture the scope of their work. Hospitalists are patients' primary "touchpoint" while they are hospitalized. Essentially, they serve as primary care physicians for hospitalized patients.
Torrance Memorial recognizes the increasing complexity of medical care requires a physician team dedicated to inpatient care, coordinating with patients and their specialists to analyze and interpret test results and provide treatment quickly and efficiently. "It's a lot of work," Dr. Shen says, "but it's also very rewarding."
Hospitalists prioritize communication with their patients. "I try to take the time to explain to them in layman's terms what's going on with them," says Dr. Fu. "We're sort of the patients' stewards through the hospitalization. We manage their medical care but also guide them through the hospitalization and answer any questions they might have.
"Straight out of residency I decided being a hospitalist was more rewarding than being a primary care physician," he adds. "I often reflect on my career choice, and I truly enjoy what I do… I get a sense of satisfaction out of my job. To this day I enjoy what I do as much as I did when I finished my residency, if not more."
Between his roles as a hospitalist (he's also a physician advisor, helping doctors new to Torrance Memorial) husband and father, Dr. Fu has a full schedule, but his involvement with YPPA is an outlet, not a chore. "I enjoy working at Torrance Memorial so much," he explains. "This is my way of investing and giving back."
For more information about how to join YPPA, visit torrancememorial.org/YPPA or contact Sophia Neveu at 310-257-7266 or sophia.neveu@tmmc.com