NEWS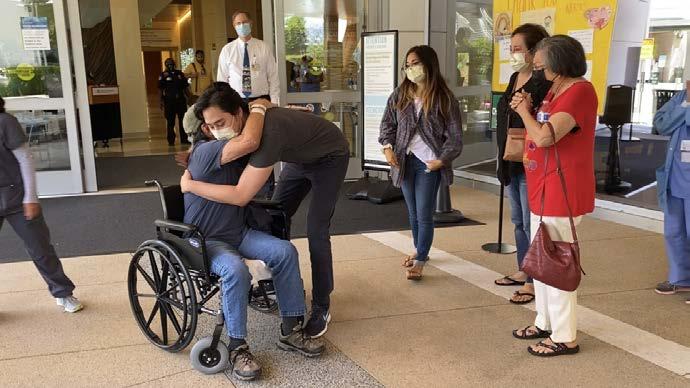 From Hospital Bed to Son's Wedding-On the Same Day
Written by Nancy Sokoler Steiner
North Torrance resident Alan Satow doesn't remember much of his 50-day stay at Torrance Memorial Medical Center as a COVID-19 patient, nor even what led up to it. His wife of 30 years, Chris, saw her husband slip off his chair and fall to the ground, banging his head in the process.
Chris called the paramedics, who took Satow to Torrance Memorial to check for a possible head injury. Instead, they determined he had COVID-19 and admitted him to a COVID-19 unit. It was March 31.
Satow, who has a history of high blood pressure and diabetes, continued to deteriorate. Intensive care physician Brian Sherman, MD, moved Satow to the ICU. "His oxygen levels were decreasing, and he was struggling to breathe—even on maximum oxygen therapy."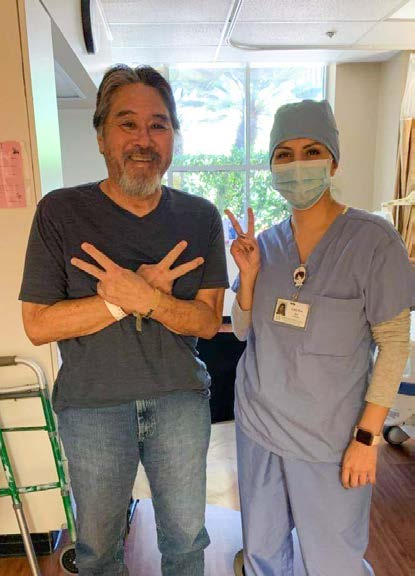 Dr. Sherman recommended Satow be put on a ventilator and placed in an induced coma with the hope his body could recover. "Alan was still aware and able to communicate, so we discussed the risks and benefits of the procedure," says Dr. Sherman, who also spoke with Satow's wife and adult children. "Alan couldn't survive without a ventilator, but there was no guarantee he would survive even on it."
When Alan and his family spoke by video to make the decision, they knew it could be their last conversation. It should have been a happy time for the family. Satow's son, Matthew, was engaged to Julie Bower, a nurse floater at Torrance Memorial. The couple had planned to wed on April 15. They postponed the event, not knowing whether Alan would live to see them married.
The Satows placed their trust in Dr. Sherman and Torrance Memorial. Alan was intubated and placed in the induced coma. Julie's mother, Beth Bower, is an ICU nurse at Torrance Memorial. Although she was not assigned as Satow's nurse, she kept an eye on him and visited him—often accompanied by Julie—during lunch hours and breaks.
After 16 days on a ventilator, Satow's condition improved and he was no longer in grave danger. Dr. Sherman felt confident taking Satow off the ventilator and bringing him back to consciousness.
Although the crisis had passed, Satow would need to remain in the hospital to regain strength. He was unable to stand up or walk. Julie and Beth helped him start to move his limbs, which had severely weakened during his intubation. Satow moved to the Transitional Care Unit, where he continued to get stronger and receive physical therapy.
On May 20, Satow was discharged. As his family greeted him at the hospital doors, Julie and Matthew told him, "We're getting married right after you get home."
So after a short nap, Satow witnessed his son and daughter-in-law wed. It was a brief ceremony, attended by the bride, her parents and grandfather, along with the four Satows and his daughter's boyfriend, who performed the ceremony. They celebrated with a meal of hotdogs and beans, followed by flan in lieu of wedding cake.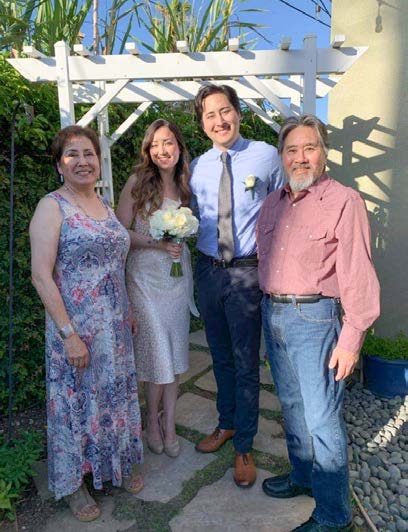 "I felt very weak but very happy," says Satow. "There was a lot of joy from getting out of the hospital and seeing the kids moving on to the next stage. I couldn't wait for Julie to become part of our family."
"Torrance Memorial is a wonderful hospital," he says. "It feels like a community hospital because of the personal care you receive, but they also have the expertise and equipment you'd find in a much bigger place."
Satow still deals with post-COVID-19 syndrome, which causes shortness of breath even upon mild exertion. But when his son and daughter-in-law have their wedding reception sometime next year, Satow plans to be there. And not fresh out of the hospital.