NEWS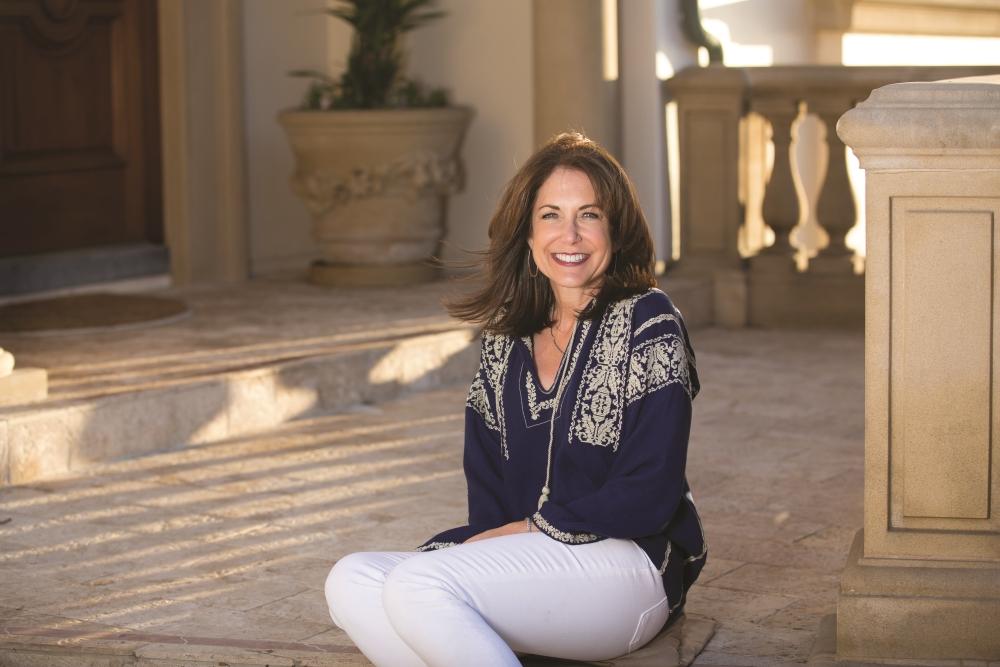 Harriet Bailiss-Sustarsic: Fashion-Forward, Health Focus
With a picture book highlighting the iconic creations of famed Hollywood costume designer Edith Head resting on the coffee table before her, Harriet Bailiss-Sustarsic leans forward from the sofa of her airy North Manhattan Beach home and thoughtfully ponders the current state of the retail fashion industry, with many established brands now working to reinvent themselves.
"Denim has lost a lot of cache. Women no longer want to spend $200 or more for a new pair of jeans," she says. "Millennials are less motivated by brand recognition and are more concerned with authenticity. As a result, many of the junior big box retailers are struggling."
She continues, "Malls are also now being challenged to enhance the shopping experience through the addition of elevated food and spa environments. Everything is changing."
After a successful 35-year career in fashion, Harriet is also undergoing a metamorphosis.
"I'd like to reinvent myself," she says. "I'm looking to apply my experience to create the next opportunity. What is the next thing?"
Her passion for her chosen industry can't help but shine through. It's one that despite her mother's apprehension, guided Harriet as an undergraduate at California State University Long Beach away from her original path of becoming a school psychologist. Following her graduation with a bachelor of arts in psychology and French minor, she joined the executive training program at the now defunct Broadway Department Stores.
"Back in high school, I was always saving my lunch money and using it to go shopping," she says. "I was very interested in the latest trends and products."
Her zeal led to steady success. She rose through the corporate ranks in merchandising positions at '80s and '90s shopping mall fixtures Contempo Casuals, Rampage, Charlotte Russe, Guess and Wet Seal. Her climb continued through the 2000s with senior-level and consulting positions at denim heavyweights True Religion and J Brand, among others.
"It was fun and gratifying, but hard work too," she says. "I have never had a dull day." Harriet shares her love of fashion with her 24-year-old daughter Lindsay, who would accompany her to shop the competition and attend fashion shows in Europe while growing up.
Harriet and her only daughter have always been close, so during high school, when most young girls are developing their fashion sense, the two also began to notice concerning symptoms in Lindsay that couldn't be ignored.
"She started getting very sick. I didn't understand how serious and specific it was," she says.
Lindsay was eventually diagnosed with several autoimmune diseases. It began with celiac disease, where the ingestion of gluten (proteins found in wheat and related grains) leads to damage in the small intestine. Following this, a visible butterfly rash on her face, led to the discovery of lupus, a chronic inflammatory disease that occurs when the body's immune system attacks its own tissues and organs. She also had developed vasculitis, where blood vessels become inflamed. Most recently, doctors are calling her condition mixed connective tissue disease, a combination of diseases, also known as mixed lupus.
In 2011, a routine procedure to have her wisdom teeth removed was complicated by Lindsay's weakened immune system. "It got to the point where she could barely talk. Lindsay knew something wasn't right," Harriet says.
Not given antibiotics following the procedure, Lindsay had become gravely ill due to an infection. Following a trip to the Emergency Department, she spent two weeks in and out of Torrance Memorial Medical Center's Intensive Care Unit fighting for her life. With a sense of urgency, Eric Milefchik, MD, an infectious disease specialist, ordered a test of her blood levels. It revealed she was battling sepsis, a potentially life-threatening complication. Sepsis occurs when chemicals released into the bloodstream to fight infection trigger inflammatory responses throughout the body. This inflammation can trigger a cascade of changes that can damage multiple organ systems, causing them to fail.
Lindsay was on the road to recovery from sepsis in the Pediatric unit, when she began complaining of shoulder pain. This led to the diagnosis of empyema, a condition during which fluid accumulates in the area between the lungs and the inner surface of the chest wall. Radiologist Albert Grabb, MD, made the discovery after viewing images from Lindsay's computerized tomography (CT) scan. A spinal tap confirmed the diagnosis.
Lindsay recovered from both challenges. The lasting impressions made by the staff at Torrance Memorial led Harriet to want to find a way to express her gratitude. Around that time, Harriet's long-time friend Wendy Klarik introduced her to Christy Abraham, a Torrance Memorial Foundation board member. Abraham suggested that Harriet join the Ambassadors, a Torrance Memorial support group, to which she readily agreed. Through gifts to the Torrance Memorial Foundation, the group's mission is to educate and save lives by helping to sustain programs and services provided by the medical center's Burn Center, Hunt Cancer Institute, Turpanjian Rehabilitation Services and Health Education Center.
"We were very impressed with the staff, and the level of care was amazing," Harriet says. "They saved Lindsay's life and I wanted to give back. Subsequently, I became aware of the programs supported through the Ambassadors, such as the Burn Center and Oncology Services. I've had people very near and dear overcome breast cancer at Torrance Memorial."
Today Lindsay is making progress toward controlling her health issues through close monitoring and a health-conscious organic and gluten-free diet. After graduating from George Washington University with a marketing degree, like mom, Lindsay already has several big-name brands on her resume.
Meanwhile, as she has in fashion, Harriet continues to trust her instincts when it comes to her next career move and her support of local health care.
"Lindsay and I have learned through our journey that you have to follow your intuition and be your own advocate when it comes to navigating the health care system," Harriet says. "I feel very comfortable knowing we have a really good hospital in our own backyard."