NEWS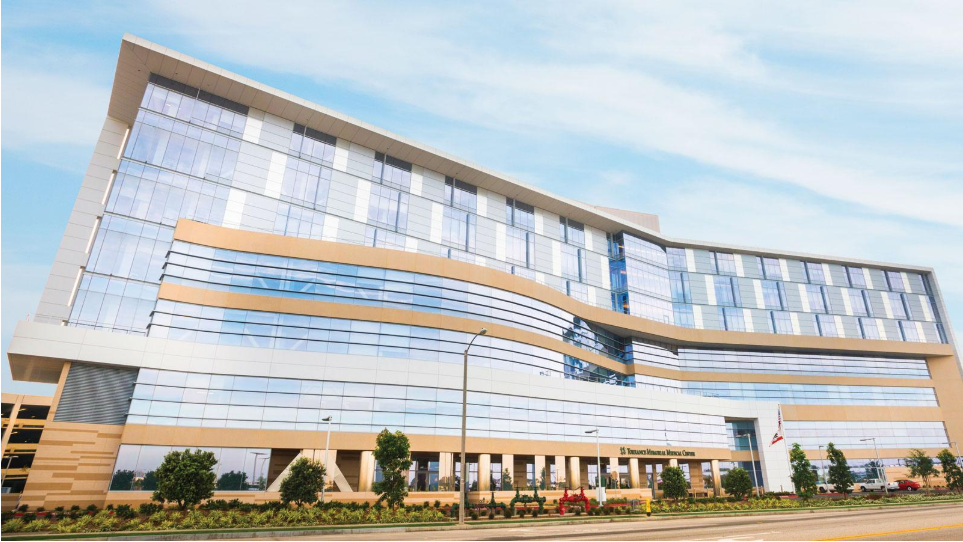 Happy One Year Anniversary
What a difference a year makes. February 1 marked the one-year anniversary of a strategic alliance between Torrance Memorial and Cedars-Sinai. The two organizations joined forces with very big goals to create new opportunities to enhance medical care in the South Bay.
So how is it going? Torrance Memorial president and CEO Craig Leach elaborates on what has changed in the past 12 months, which expectations were met (and in some cases exceeded) and what's coming in the near and long-term future.
Craig, in your mind what were the main goals for the affiliation between Cedars-Sinai and Torrance Memorial?
We all saw the potential to expand clinical talent and expertise here at Torrance Memorial. Even though the South Bay has tremendous health care resources, there have been gaps in some clinical areas. The affiliation brings in Cedars-Sinai's specialists and programs to fill in those gaps. From oncology to neuroscience, cardiac surgery to advanced medical research, the partnership expands our community's access to world-class care.
What has changed and what has impacted South Bay residents the most?
It has been a very positive and productive year. Prior to the affiliation, specialists from both organizations had worked together successfully in treatment programs for stroke and congestive heart failure. We had a nice head start. Now, a year into our formal affiliation, the most significant impact has been our ability to offer even more expertise and treatment options for our South Bay community.
For example, we now have specialists from Cedars-Sinai coming here to perform specialized procedures that, in the past, might have made it necessary for patients to leave the community for that level of care. Cedars-Sinai faculty in cardiac surgery, neurosurgery, cardiology, oncology, stroke care and thoracic surgery now provide services as needed at Torrance Memorial, supplementing existing Torrance Memorial specialists.
Have you seen actual improvements in care?
Yes, we have seen results. For instance, Cedars-Sinai physicians are working together with the Torrance Memorial stroke specialists to provide new capabilities to prevent the devastating impact of strokes. Cedars-Sinai and Torrance Memorial have jointly recruited a new neuro-endovascular surgeon who performs these very complex procedures to retrieve clots from the brain. All of this has allowed us to provide expanded options for treatment at the Torrance campus that we couldn't provide before.
You can read about a patient who experienced this level of care in this issue: Stephanie Bezner, an attorney and mother of two based in Palos Verdes, had a rare type of brain aneurysm. She was able to be seen immediately at Torrance Memorial by a Cedars-Sinai neurosurgeon, Dr. Michael Alexander, who had just added medical staff privileges at Torrance Memorial.
Prior to the partnership we would have had to refer her to another hospital to deal with such a case. Stephanie recovered beautifully and credits the alliance for not only saving her life but also keeping her close to her family and people she loves during the ordeal (read Bezner's story).
What about access to clinical trials?
As you know, access to clinical trials is especially important for our cancer patients. Our collaboration with Cedars-Sinai includes bringing on an expanded array of cancer clinical trials. In our new Hunt Cancer Center we will also provide space for cancer subspecialists from Cedars-Sinai.
Again, what's most important to emphasize is the expansion of clinical talent and expertise—built on a foundation that was already strong. Our patients can continue to receive personalized attention and services from Torrance Memorial doctors and, if needed, will have access to Cedars-Sinai expertise and experience—without having to jump through hoops.
Have there been any unexpected outcomes?
For one thing, we can offer our staff new opportunities for professional development and more specialized Continuing Medical Education training, such as the recent sessions on maternal-fetal medicine and specialized care for very sick newborn babies.
Also, working together this past year we've already seen about $5 million in collective cost savings without any negative impact on patient care. We did well last year in our cost saving efforts, and we expect that success to continue. Whatever we are able to save will go back into patient care, programs and services. This kind of efficiency gives us the flexibility to do more for our patients.
How do the physicians at Torrance feel about the affiliation?
Our doctors seem extremely optimistic about the future and working with Cedars-Sinai. They recognize the increased opportunities to fill clinical gaps in our community and are proud to be aligned with such a prestigious institution. The key success factor really has been the openness and collegiality between the people at both institutions. I've not heard one negative word.
What about the South Bay community?
The reaction has been overwhelmingly positive. While it's hard to measure in a community of almost 900,000, we have heard a great deal of enthusiasm from community members, staff and volunteers. People like what we're doing with Cedars-Sinai and are pleased that they can get that level of care and research here at Torrance Memorial and stay in the South Bay.
At first when this alliance was announced, there seemed to be concern that Torrance Memorial might lose its independence. How has that been avoided?
First of all, we were not sold. But I recognize that there was some confusion about what "an affiliation" means to our individual organizations, so it's important as we progress and grow to keep things transparent.
The current leadership—namely myself at Torrance Memorial and Tom Priselac, who is president and CEO at Cedars-Sinai—remain in our roles. Each institution is retaining its respective board of directors who will focus on that organization's community mission. But we affiliated under the new parent organization, which is Cedars-Sinai Health System, of which Tom also serves as president.
Finally, what can people expect in 2019 and beyond?
The first and most visible outward change to the South Bay community will be the use of our new company logo linking our two institutions. And starting in February the new logo will appear on off campus building signage.
Then this fall, the Hunt Cancer Center will open, which will provide a personalized, patient-centered environment for our oncology patients. The center will consolidate Torrance Memorial's existing cancer treatment services—including nurse navigators, genetic counseling services and clinical research trials with Cedars-Sinai—to one location. It also will relocate Torrance Memorial Physician Network-Cancer Care medical group from its Redondo Beach office to the medical center's main campus.
We believe with the progress we've made this year, our alliance will continue to benefit our community and both of our organizations greatly for years to come.