NEWS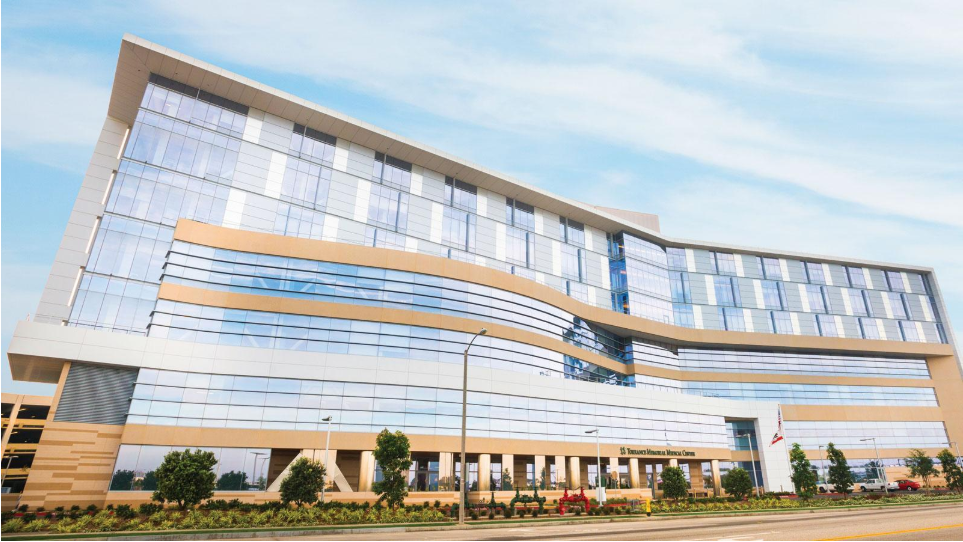 Flower Power
For local family-owned business, it's lights, camera, flowers at Holiday Festival.
The moment Chelsea Gaudenti anticipates all year has arrived. Linens are on the tables. The centerpieces are in place. Final touches to the entrance arrangement are complete. The lights are just right. It's the final minute of calm.
"That is a moment of excitement and happiness I look forward to," says Chelsea. "It's several months of work finally coming together. There's a feeling of relief and relaxation, but also of pride."
This year marks the Gaudenti family's 15th year of contribution to Torrance Memorial Medical Center's annual Holiday Festival Gala and Fashion Show. Chelsea was only 10 when her mom started to design flower arrangements for the show. She assisted for many years and has stepped up to co-plan the event by her mom's side during the past three. They talk often about the event's importance to their family and business and why it remains their largest charitable contribution each year.
"We've always said, 'What's one thing we can contribute to that everybody can use?'" says Chelsea. "We don't want to just pick and choose favorites. We decided on the hospital. Obviously everybody needs it. At one point, somebody's always going to need something from the hospital, especially Torrance Memorial because they're amazing. We want to give back to that. We love the staff there and we love the vision. We felt like we were with our people."
Chelsea, the 25-year-old manager of Rolling Hills Flower Mart, grew up watching her mom, Christine Gaudenti, run the family business.
Chelsea can remember hanging out at the store as a young child—sweeping up, trying her hand at arrangements and learning how to make customers feel special.
"I started with her here when I was 7," says Chelsea. "I would come in and scrub all the floors and clean the flowers in the back and stay late any time she had weddings or events or parties. I learned from watching her."
After high school, Chelsea attended Loyola Marymount University and earned a bachelor's degree in Spanish with a minor in business and ethics, but she was quickly drawn back to flowers.
Today she runs the business, which includes a two-store operation in Redondo Beach and Manhattan Beach. Mom Christine started the business out of the family's garage in 1992, but her hobby soon expanded.
"She spent so much time designing flowers that my father (Bob Gaudenti) finally put his foot down and said, 'Enough! Let's open a store. No more flower production in the house!'" says Chelsea in a blog featured on the company's website.
Christine has recently taken a step back to ease into retirement. But when the holiday season rolls around, there's no rest for mother or daughter. They team up to create something special and unforgettable for the Holiday Festival.
The Gaudentis became involved in the annual event after Torrance Memorial Foundation Senior Director of Development and Principal Gifts Judith Gassner invited Christine to attend the fashion show. Gassner had admired Christine's work for years, and over time the two had developed a friendship.
After the event, Gassner asked what Christine thought of it. She loved it, but felt there was an opportunity to make it even more festive and special with floral decorations. Thus began more than 14 years of charitable contributions in time, design and materials. The next year, the Gaudentis stepped in to design the floral centerpieces for the fashion show and the gala, as well as the linens and chandeliers.
The Holiday Festival Gala and Fashion Show are so important to the Gaudenti family they plan for it year-round, scoping out floral trends and gathering design ideas.
"We have to pay attention to what's seasonally available, what's going to be available in bulk because it's such a large event and then make sure it's going to be the right color, the right quality, come in the right size," explains Chelsea.
From the selection of the flowers, mother and daughter move on to the design. Rolling Hills Flower Mart is known for its artistic touch. The fanciful, "how-did-they-do-that?" elements one might see on a Tournament of Roses Parade float are done on a smaller scale in their stores. Every year is different. Gassner says there have been countless showstoppers—from a classic winter wonderland sea of silver and blue to a sleeveless dress form made entirely of flowers.
But her favorite designs to date were floral bustier centerpieces for the fashion show and a family of dogs with top hats that greeted guests at the gala last year.
"Pink hydrangeas and roses were creatively used to style the beautiful bustier centerpieces. At the gala, everyone wanted a photograph taken with the debonair dogs," Gassner says. Rolling Hills Flower Mart is synonymous with unique and distinctive designs. We are grateful to the Gaudenti family."
She continues, "The Las Amigas volunteers created something really special when they founded Holiday Festival in 1983. The flowers have added another spectacular visual dimension."
Rolling Hills Flower Mart has also provided their floral expertise for other hospital events, including "Denim and Diamonds," the ground-breaking for the Lundquist Tower and the building's 2014 opening gala.
To Chelsea the real treat is to be able to work closely with her mom to prepare for the event and engage in such a creative process together.
"It's a privilege, because I don't know anyone who has the opportunity to do something that cool and that interesting and that fun with that much creative freedom too," says Chelsea.
"It's not just any event," she continues. "For me, it means so much more, because when you can give back, you want to. It makes you feel good and it makes everybody around you feel good too."