NEWS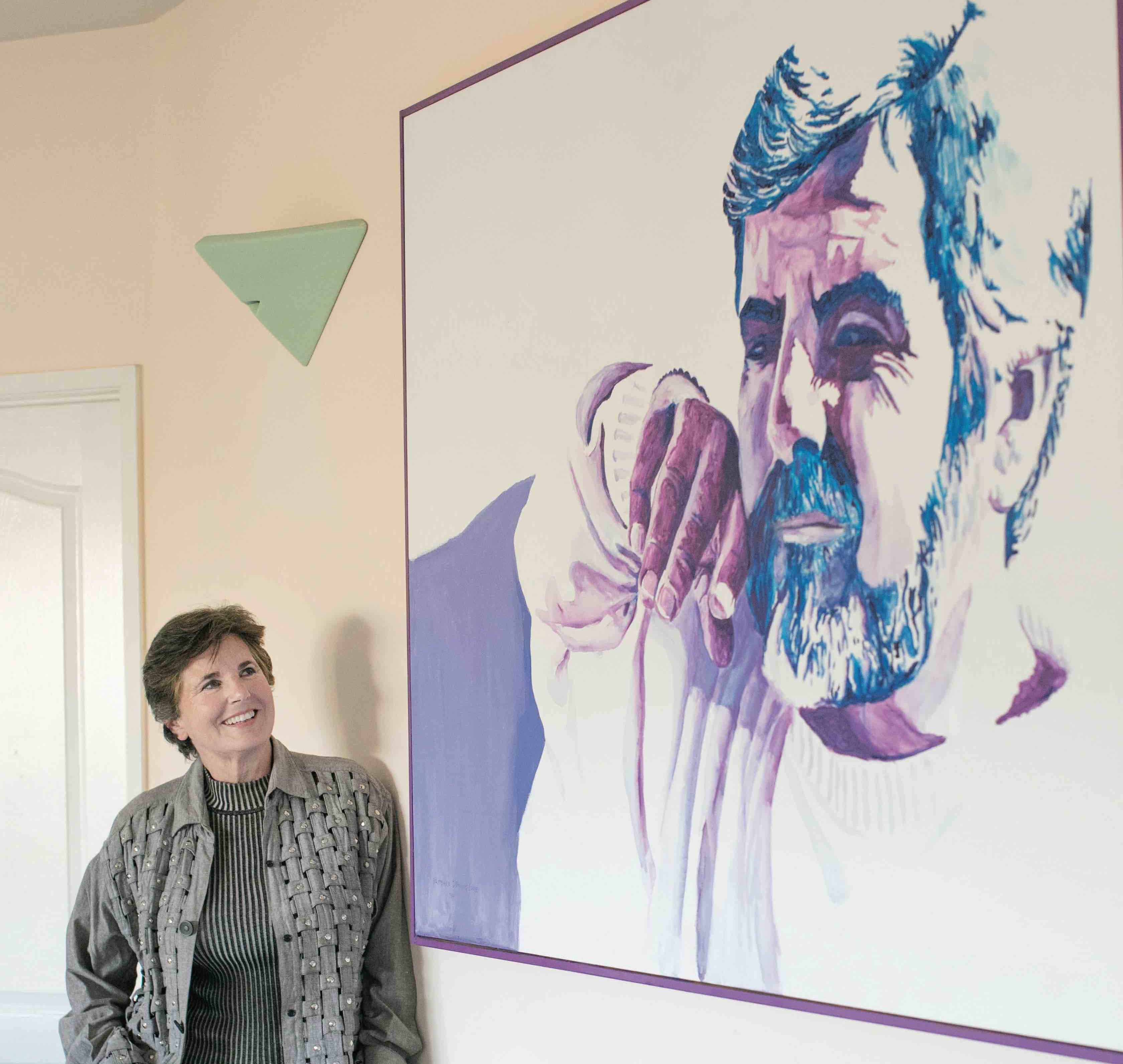 Don't Pin Her Down
Barbara was one of 23 runners featured on an iconic work by famed urban muralist Kent Twitchell, which spanned a wall adjacent to the Century Freeway off-ramp for years. "I'm one of the runners, but I don't run. In fact my hero is Calvin Coolidge, who once said, 'I do not choose to run,'" she deadpans.
"The artist was looking for volunteers," she recalls, providing few details on how the opportunity came about. But such is a day in the life of Barbara Lurie—a life that personifies the quote from Roman philosopher Seneca: "Luck is what happens when preparation meets opportunity."
The mural appearance seems slightly less serendipitous in light of another of her passions—freehand portrait painting.
"If I have a friend whose parent or spouse has passed away, I generally do a portrait and give it to them," she says. "I also look in the newspaper, and if I see a young person has died and I can figure out where their parents live, I do a portrait and give it to them. Sometimes I think I freak people out, but I've gotten some lovely responses."
Among her favorite portrait subjects is her husband, Torrance Memorial cardiologist Dr. Mark Lurie. Despite having attended K through 12 together in Cleveland, Ohio, the couple didn't meet until college at Ohio State. When a mutual friend introduced the pair, it took three asks before Barbara finally accepted a date.
"It wasn't that I wasn't interested. I was just busy," she says. Her busyness included graduating Summa Cum Laude with distinction in psychology and being a member of Phi Beta Kappa honor society. After earning her bachelor of science in psychology, she earned a master of science in clinical psychology from the University of Wisconsin.
Despite Mark being "very supportive and a great guy," Barbara resisted giving up her freedom for what she calls the "M" word. She finally gave in because her mother had begun to spread the word that the couple was planning nuptials. "So I figured OK, I have to bite the bullet," she says.
Forty-six years later, it appears everything has worked out. But the couple still celebrate the anniversary of their first date, instead of the "M" word.
The Road to Torrance Memorial
After Ohio State, Mark attended medical school at Rush University in Chicago. A residency at County USC Medical Center prompted the couple's move to Los Angeles, which led to his board certification in cardiovascular disease and a fellowship at UC Irvine Medical Center. His first private practice job would follow in Torrance, where he was instrumental in building Torrance Memorial's heart program and eventually became its co-medical director. He also serves as a team doctor for the University of Southern California football team.
Meanwhile, Barbara followed her passion. For more than two decades, she was a bureau director for the Los Angeles County Department of Mental Health. "After 24 years I thought it's time to turn the page," she says.
She landed a position as the entertainment industry's liaison for the Voice Awards, a federal government-funded enterprise that recognizes the entertainment industry for positive depictions of substance abuse and mental health. She also served as assistant director of a program that awarded grants to community care clinics to integrate mental and physical health.
One day on a whim, Barbara responded to an ad seeking a food critic. She landed the job and spent the next 20 years writing restaurant reviews for The Easy Reader and later the Daily Breeze. A mention of the gig during a vacation in Florida led to another invitation. Now each year the couple serve as judges in the American Pie Council's National Pie Championship Contest in Orlando, televised on the Food Network.
To give back to the medical center, Mark and Barbara are actively involved in the Torrance Memorial Foundation—Mark, as president, and together, as members of the Ambassadors, the premier support program for Torrance Memorial, which raises funds for the burn center, Turpanjian Rehabilitation Services, Hunt Cancer Institute and the health education program.
"For 45 years Ambassadors have been a vital link to the community" she says. "Torrance Memorial has given us so much in terms of Mark's job, but we're also appreciative for what they do for the community. They rebuild lives, help people regain independence, and protect and enhance the health of South Bay residents."
To express gratitude for Mark's work in building Torrance Memorial's cardiovascular program, Melanie and Richard Lundquist surprised the couple in 2017 by announcing it would be renamed the Lundquist Lurie Cardiovascular Institute.
In addition to their involvement at the medical center, the couple also volunteer for the Partnership Scholars mentoring program, where they introduce academically motivated, but economically disadvantaged students to educational and cultural experiences, to promote future success. "I get a kick out of it. I'm kind of a camp counselor at heart, so it's very fulfilling to me," Barbara says. She also volunteers to teach a weekly art class for the blind. What's next for Barbara is anyone's guess.
"At this age I'm a winter chicken, so I'm thinking what boards can I be on, what more volunteer work can I do to give me more purpose? How can I make my life more worthwhile?" she explains. "I would like to be busier. I want to be a verb, not a noun."
For more information on the Ambassadors annual giving program, visit torrancememorial.org/ambassadors or call Judith Gassner at 310-517-4704.
Written by Colleen Farrell
Photographed by Kristin Anderson