NEWS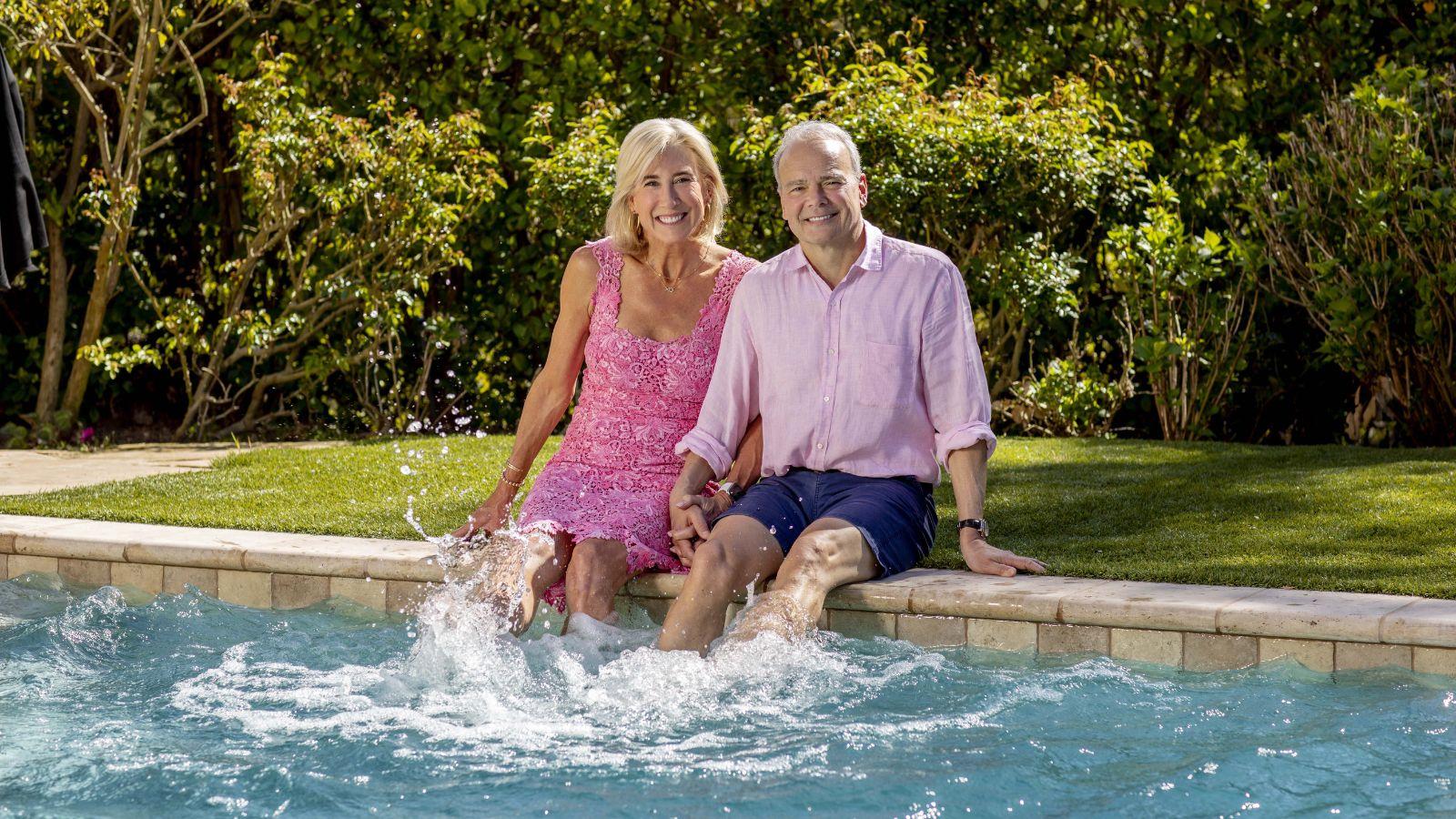 COVER STORY: Luke and Randy Dauchot: Making a Difference—From the Midwest to the South Bay
Written by Lisa Buffington  |  Photographed by Micheal Neveux
Luke and Randy (Manning) Dauchot first met in 1985 through mutual friends at a party at a community pool in Shaker Heights, Ohio, where Randy was a lifeguard and Luke a former lifeguard. Less than two years later, they married.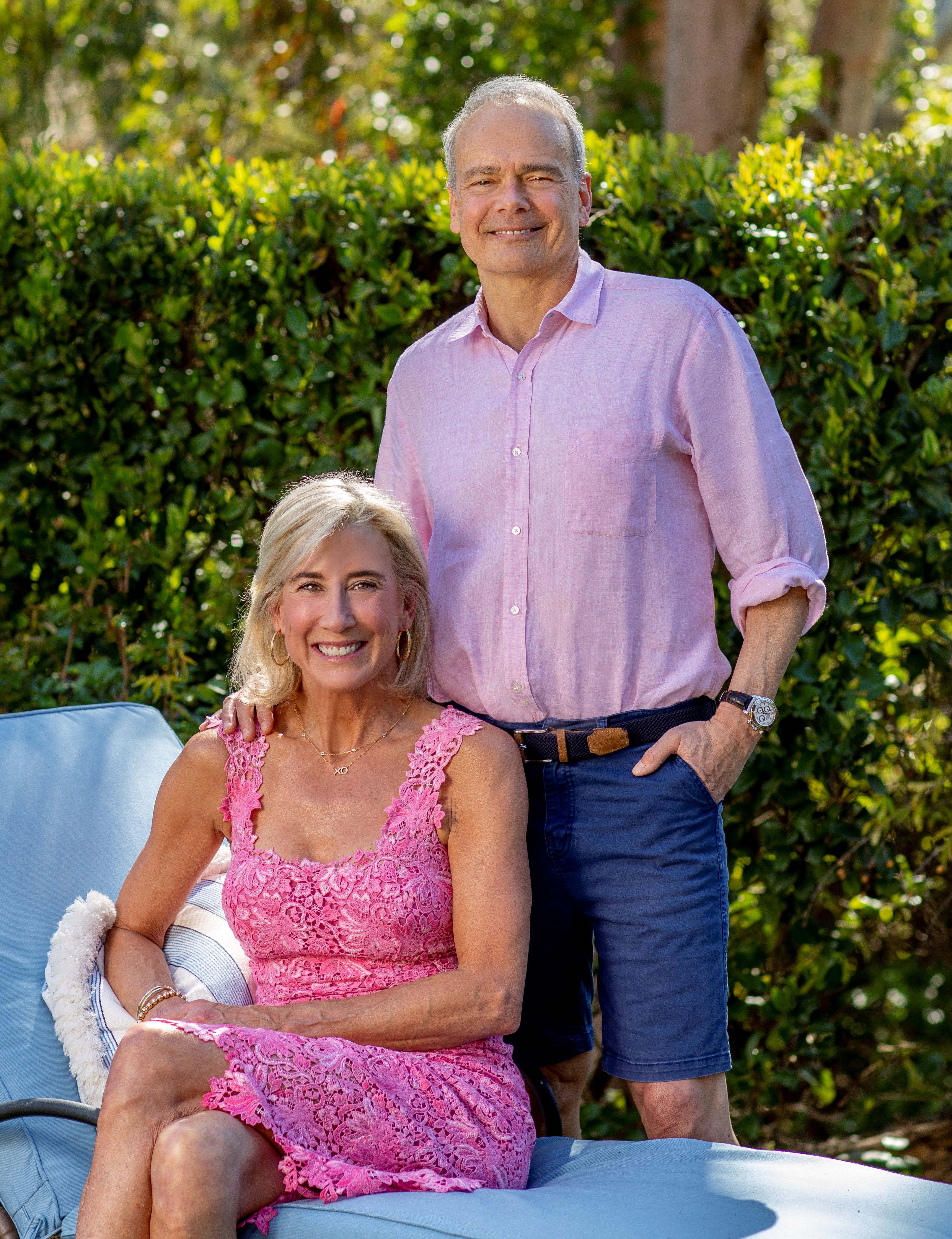 Since then, the Dauchots have balanced raising three children, successful careers, travel, athletic pursuits and hobbies with a commitment to philanthropy that continues to change lives at Torrance Memorial Medical Center, in the South Bay community and beyond.
Randy grew up in Shaker Heights, and Luke's family hailed from Ghent, Belgium. In 1972, when Luke was around 10 years old, his father, anesthesiologist Paul Dauchot, MD, moved the family from Belgium to Cleveland, Ohio, so he could practice medicine and engage in academia at Case Western Reserve University and its affiliated hospitals, where he became a tenured professor of medicine.
Randy attended high school at Purnell, an all-girls private boarding school in New Jersey, before earning an undergraduate degree at Hillsdale College in Michigan. Luke attended Saint Ignatius High School in Cleveland, followed by Case Western Reserve University, where he earned his undergraduate and law degrees.
"The Jesuits at Saint Ignatius taught me to question convention and think critically, a skill set that has served me well as an attorney. I was also fortunate to have professors in law school who were invaluable mentors," says Luke. "After graduating from law school in 1986, I started my practice in Chicago. The evening before moving there, I proposed to Randy."
GROWING FAMILY, CAREERS AND COMMUNITY INVOLVEMENT
The couple married in 1987 when Randy was 23 and Luke was 25. They lived in Chicago for about a year before moving back to Shaker Heights when Randy became pregnant. Explains Randy, "Friends and family were back in Cleveland, and the city has a first-rate legal community. So the move back made much sense to us both."
While living in Shaker Heights, Randy and Luke welcomed three children: Nicholas (Nick), Christopher (Creefer) and Elise (Ellie). 
"By the time I was 29, we had three kids," says Randy, "so I had my hands full as a mom—a job I had dreamed of as a young girl." But Randy also had an entrepreneurial itch to scratch. "I think I got that from my father, who was a very successful business executive in Cleveland."
Randy balanced the day-to-day activities of the couple's young family with running a successful business called EVENTions, LLC. The company specialized in coordinating corporate events and facilitating experiential marketing-style team-building activities, such as a memorable, life-size Monopoly game complete with huge dice and a giant fill-in-the-blank contract.
"I started the business with a friend who also had three kids, so we hired a sitter to take care of them at one house while we worked out of the other," says Randy. "We figured out how to make it work, and we loved it. Our husbands even helped with some of the events. One time, much to their chagrin, we dressed them up as costumed characters."
Randy's event-planning experience made her an ideal choice for chairing various charity events, including Cleveland Clinic and Rainbow Babies & Children's Hospital functions, golf tournaments, galas and fashion shows.
Meanwhile, Luke's law career continued to grow. In 2003 he was recruited by Kirkland & Ellis LLP as a trial attorney in its intellectual property practice. Although the firm has offices in various cities relatively close to Cleveland, the two decided to leave the Midwest for sunny Southern California, where they relocated to Palos Verdes Estates. Although the couple knew virtually no one outside Luke's work, that changed quickly.
"I connected with active women in the community and became involved with Vistas for Children, A Window Between Worlds, Las Madrecitas and Childhelp," says Randy, who served as chair of many events for these organizations. She is particularly passionate about supporting women and children who have experienced trauma.
"We also became involved with Torrance Memorial—our local hospital—and supported their annual Holiday Festival fashion show luncheon and dinner gala, an event Luke and I look forward to enjoying with close friends every year," she shares.
MAKING TIME FOR ESSENTIAL DISTRACTIONS
With the unwavering support of Randy and their children, Luke took and passed the California bar examination and set off to build his national intellectual property and complex business trial practice. Since then, he has tried many jury trials across the country. In 2020 Luke was inducted as a Fellow in the American College of Trial Lawyers, considered among the most prestigious honors bestowed on trial lawyers.
"I travel a whole lot—probably about 80% of the year—so Randy deserves a lot of credit for holding down the fort," says Luke. "To put Randy's patience and commitment in perspective, I've logged roughly 3 million flying miles in my career so far. She more than anyone else can attest to the old adage that trial practice is a 'jealous bride.'"
Although Luke concedes his work-life balance has been far from ideal, he always made time for his family, exercise and hobbies. "I coached my kids' basketball teams, and I've always enjoyed exercise," says Luke, who was a collegiate swimmer and later ran marathons. Among his other "essential distractions" are playing music and reading, much of it about notable historical figures. "I majored in history and still find it a rich source of inspiration and wisdom."
Randy is also an athlete—a skier, scuba diver and racquet sports enthusiast who can be found playing beach tennis in Hermosa Beach and serving on the board of the Beach Tennis Association. She also enjoys playing pickleball at the Palos Verdes Tennis Club and golfing at the Palos Verdes Golf Club, where she serves on the Women's Board and the Membership Committee. 
TRANSFORMATION THROUGH RENOVATION AND EDUCATION
After the couple's move to California and the subsequent three renovation projects of their home, Randy founded CMD Development LLC, a real estate development business that specializes in home renovations and rebuilds. "We renovated our home in 2007, added on in 2009 and again expanded in 2011," she shares, "and I realized during the experience that I love construction—the smell, the process and watching the transformation of a space. But after nearly doubling the size of our home over a four-year period, I decided it was time to leave my house alone and start a real estate development business."
Randy began by purchasing homes in foreclosure and renovating them for sale. After she had cut her teeth on that, she started buying homes and renovating or rebuilding them. Today she has established a team that includes her trusted contractor, who has been with her since the beginning, along with an architect, project manager, designer and Realtor.
"It's amazing to take a home that has suffered neglect and turn it into something beautiful for another family," says Randy, who finished her most recent project in early 2023: the construction of a South Bay coastal farmhouse that was purchased by a current Los Angeles Dodger.
Luke has also found ways to ground himself in the SoCal community beyond his law practice. He served as an adjunct professor at the Marshall School of Business at USC, where he launched the first intellectual property course for undergraduates, titled The Entrepreneur's Guide to Intellectual Property.
"The course was the brainchild of a friend and client of mine, Gary Michelson, a retired spine surgeon and inventor who is now engaged in a wealth of philanthropic causes. He correctly deemed intellectual property too important a subject to relegate to postgraduate studies," says Luke. The elective course became one of the more popular ones at USC.