NEWS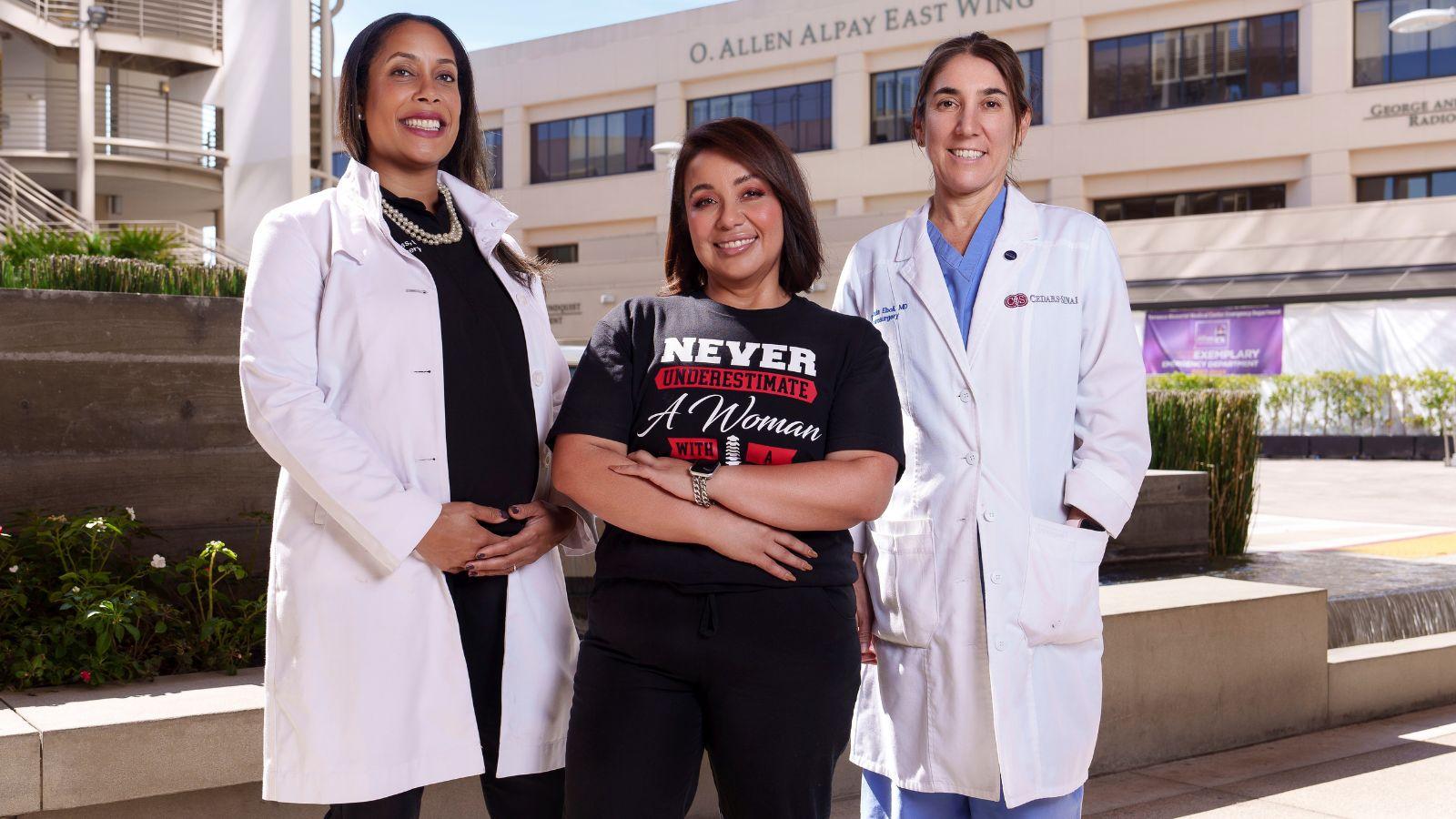 Clinical Spotlight: Torrance Memorial Employee Receives Second Chance to Walk Pain-Free
(Photo above: Lindsey Ross, MD, Mina Diaz and Paula Eboli, MD)
After complex spine surgery to treat a genetic condition, Mina Diaz, 44, is back at work and grateful to the team of clinicians who made her recovery possible.
Written by Lisa Buffington  |  Photographed by Vincent Rios
In her 22 years working as a unit secretary in the Torrance Memorial Medical Center Emergency Department (ED), Mina Diaz has never called in sick. But in March 2021, she began to experience nerve pain that radiated down the back of her leg, making it difficult for her to walk, work and perform her normal activities.
As a member of the ED's Stroke Committee, Mina worked closely with Paula Eboli, MD, medical director of Torrance Memorial's Lundquist Neurosciences Institute Neuroendovascular Surgery Program. Dr. Eboli is a neurosurgeon who provides general spine care and specializes in treating neurovascular conditions such as aneurysms and stroke.
"I told Dr. Eboli, 'I think I have to come and see you'," says Mina, who had already tried anti-inflammatory medications and physical therapy to manage her pain.
A Surgical Solution for a Genetic Spinal Condition
Mina scheduled an office visit with Dr. Eboli, who ordered an MRI. The MRI revealed Mina had a genetic, degenerative spinal condition called pars defect/spondylosis, which causes the spine to become damaged and leads to stress fractures, muscular weakness, and problems with spinal discs and joints.
"Not everyone with this condition has pain, but Dr. Eboli told me if you're going to have problems, they usually occur in your 40s," said Mina, who is now 44. "I was miserable."
"We decided to try a nerve block and steroid injections to see if that would help relieve Mina's pain," says Dr. Eboli, who referred Mina to Torrance Memorial interventional radiologists Donny Baek, MD, and George So, MD.
Although Mina's nerve block and injections helped for a few months, the relief didn't last. By this time, she was unable to bear weight on her left leg, causing it to drag when she walked.
Dr. Eboli referred her to Lindsey Ross, MD, who specializes in complex spine surgery. Dr. Eboli and Dr. Ross are Cedars-Sinai neurosurgeons who bring their expertise to South Bay patients through the affiliation of Cedars-Sinai and Torrance Memorial.
"I needed to have surgery, and when Dr. Eboli referred me to Dr. Ross, I knew she would take the best care of me," says Mina. "I was also relieved to be able to have my surgery at Torrance Memorial—close to home and among familiar people and surroundings."
"When I met Mina, I could see the problem in her spine right away, and I knew the surgical solution I was offering was going to help," says Dr. Ross.
Complex Surgery Yields Outstanding Results
Three days before her birthday, Mina underwent a two-stage, minimally invasive anterior lumbar interbody fusion procedure. By her side, were Dr. Eboli, Dr. Ross, vascular surgeon Amir Kaviani, MD, and anesthesiologist Ronald Rothstein, MD. "Mina's surgery was complex because we had to access the spine in two stages—from both the front and the back of her body—to make the repair," says Dr. Ross. "Having Dr. Kaviani on our team was critical because we needed him to move Mina's major blood vessels out of the way so we could access her spine through her abdomen."
And although Mina says she was nervous before her procedure, she felt confident that her surgical team would take excellent care of her.
Gratitude for a Second Chance
Mina came through the seven-hour procedure flawlessly and was able to walk a few steps the next day. She spent five days in the hospital before returning home, where she received several weeks of occupational and physical therapy. She wore a back brace and used a walker for a month, followed by a cane for another month.
Throughout her recovery, Mina says the encouragement she received from her Torrance Memorial coworkers and prayers from family and friends kept her going. She says there wasn't a day that went by when she didn't receive a text from someone asking how she was doing. Although it was tough to be away from work and her normal activities, Mina's experience gave her a new appreciation for things she previously took for granted.
"By month three, I was walking a mile a day," she says. "By month five, I was able to come back to work, and today, at month six, I am back to my everyday activities and exercise routine with only a few restrictions."
"Mina was an excellent patient, and she did really well. Her story illustrates how the Torrance Memorial team takes care of every patient in our community who needs our help," says Dr. Ross, who points out Mina's complete recovery will take a year or 18 months. She will continue to follow up with Mina until the two-year mark.
"I would choose the Torrance Memorial team all over again," says Mina. "They gave me a second chance to walk without pain, and I will forever be thankful to all the surgeons who made this possible. I am so blessed." •