NEWS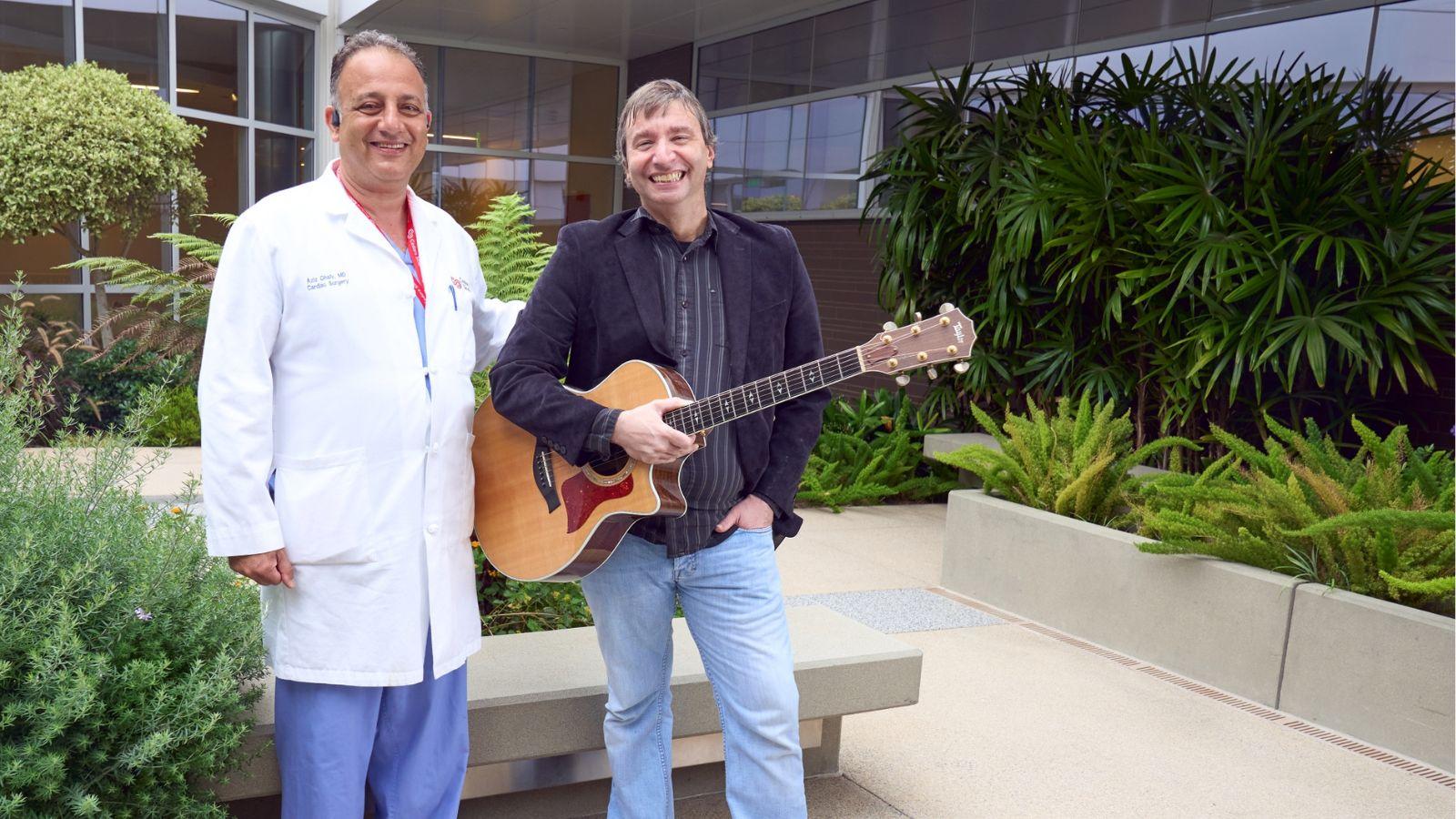 Clinical Spotlight: The Latest Heart Technology is a Lifesaver
Written by John Ferrari
What is the heart of the Lundquist Lurie Cardiovascular Institute? Skilled medical professionals and the knowledge they bring to their diagnoses and procedures? Advanced technology that allows surgeons and other specialists to perform lifesaving procedures? Generous Torrance Memorial Foundation supporters who help ensure the Institute has the resources to attract expert physicians and equip its state-of-the-art facilities?
The truth is, it's the people, equipment and facilities together; each plays a role in bringing the Institute to life, and together they save lives. When skilled cardiovascular surgeons have the latest medical technology, they have more options to help critically ill patients. This includes ECMO and Impella—two medical systems that can assist the heart in the most serious cases.
In the South Bay, says Lundquist Lurie Cardiovascular Institute medical director Aziz Ghaly, MD, they are only in use at Torrance Memorial. And that is thanks to Foundation donors who understand having the latest technology can be a lifesaver.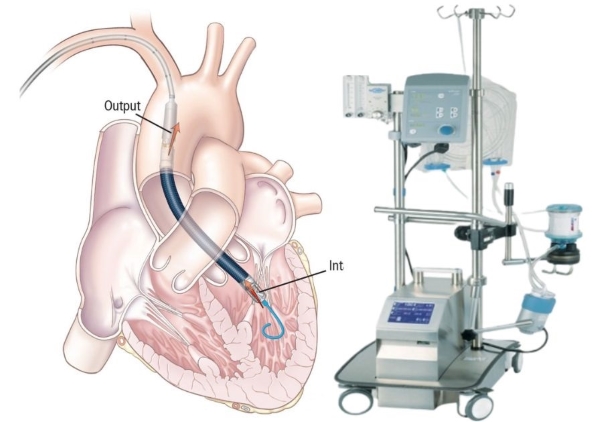 ECMO
What is it? Extracorporeal Membrane Oxygenation is an emergency life support machine.
What does it do? "ECMO takes blood from the body, removes carbon dioxide, adds oxygen, then pumps it back into the body," explains Dr. Ghaly. "It's used on patients who have serious heart and lung injuries."
Why is that important? "It gives the patient's heart and lungs time to rest and heal. For example, we've used it on extremely ill COVID-19 patients whose lungs were compromised by the disease. It's also an extremely important addition to the hospital in general. It allows us to perform more complex cardiac operations because we know we have a backup."
How does it improve on previous technology? "ECMO is used in emergency situations to support the functions of the heart and the lung together. It can be applied very quickly on patients who have no other option to survive. ECMO is a rarity outside major academic medical centers. Torrance Memorial has several ECMO machines and can use them to support up to five patients."
Who is a good candidate for ECMO? "Patients who have a failing heart after a cardiac arrest or who fail to recover after open-heart surgery," Dr. Ghaly says. "We also use ECMO for lung conditions like severe lung diseases that are not responding to traditional measures, and on patients awaiting heart or lung transplants."
What's the bottom line? "ECMO is a lifesaving device. It's not a treatment; it's a support device that can improve a critically ill patient's chances of recovery substantially. It gives patients more time."
Patient story
21-year-old Katherine Vasquez arrived at Torrance Memorial's ER in July 2020 with terrible stomach pain. It was a recurrence of COVID-19, which she'd had in June. The second time around, it put
her in the hospital. She doesn't remember the experience of being on the ECMO device because she was in a coma for three weeks.
"When I woke up," she recalls, "I cried because I was happy but also scared. I was very grateful that all the pain was gone and I was alive, because the doctor had told my family I only had a 10% chance of living. I was very close to death."
Vasquez was the first COVID-19 patient at Torrance Memorial to be placed on ECMO's lifesaving support, and it made the difference.
Impella
What is it? Impella is a small but powerful heart pump normallyused to assist the heart during interventional and surgical procedures but can be used for longer periods if needed.
What does it do? "It's a temporary assist device that can support a patient's heart for hours, with the hope either his heart can recover or we can bridge him into a heart transplant or permanent pump," Dr. Ghaly says.
Why is that important? The Impella 5.0 can pump more than 5.0 liters of blood per minute—essentially the full amount of blood a normal heart pumps. That assistance allows the heart to rest and recover in patients who are ill or have suffered a cardiac arrest or other condition.
How does it improve on previous technology? Because the Impella heart pump is smaller than other temporary heart pumps, Dr. Ghaly says, "it requires a much smaller operation, which means there's much less blood loss and much less pain." When Impella is used for extended periods, the smaller incision needed to insert the device (via an artery) means there's a lower risk of infection, and its compact size makes it easier for recovering patients to move about.
Who is a good candidate for Impella? Potentially anyone with heart disease too severe for stenting and too high-risk for surgery, or anyone who has had a severe disruption to heart function, Dr. Ghaly says. Because Impella is a minimally invasive device—the implanted portion is just 4.5 inches long and about .25 inch in diameter—inserting the device is not a major procedure.
What's the bottom line? Impella provides a new option for patients needing short- or longer-term aid in pumping blood during cardiac surgery or while recovering from cardiac conditions. Torrance Memorial is the only hospital in the South Bay that offers the Impella 5.0 as a treatment option.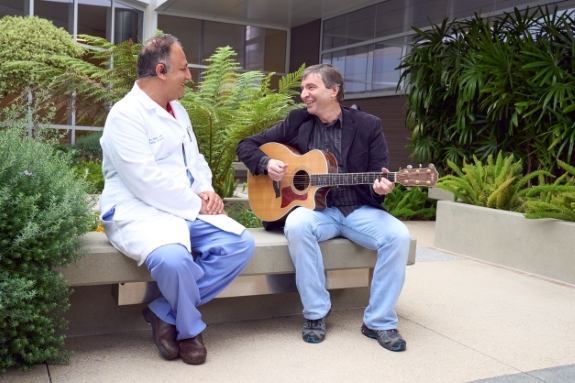 Patient story
Torrance resident Mark Crenshaw doesn't remember much about the cardiac arrest that landed him at Torrance Memorial last November. He spent the next six weeks in a coma. After receiving immediate, lifesaving care from interventional cardiologist Ray M. Wyman, MD, Crenshaw was admitted to the intensive care unit and Dr. Ghaly implanted the Impella 5.0.
"Mark's heart was weak due to the cardiac arrest," explains Dr. Ghaly. "We needed to support Mark's body until his cardiac function returned."
While Crenshaw was in the hospital, he experienced a cascade of symptoms including kidney failure, liver deterioration and respiratory failure. After more than 50 days of care, relying on Impella and other supportive technologies, he woke up from his coma. Crenshaw credits Dr. Ghaly for believing in his recovery, even when his condition didn't look good.
"Dr. Ghaly was the man of confidence, and he believed I was going to make it," Crenshaw says. "He's exceptionally smart, has a great sense of humor, and we are very much alike—he's a kindred spirit." •