NEWS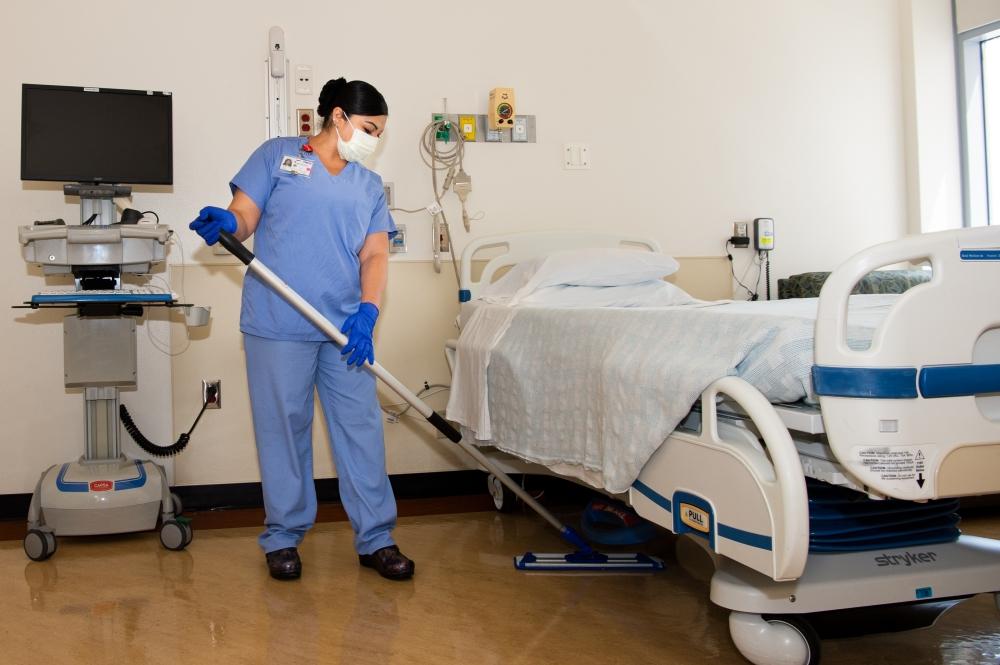 Cleaning 'Round the Clock
Written by John Ferrari | Photographed by Philicia Endelman
How often do you clean your house? Once a week? Every other week? That's enough to keep a home as clean as it needs to be, and it takes time and effort. Now imagine cleaning your house methodically, top to bottom, continually. That's what Torrance Memorial does—all day, every day.
Of course Torrance Memorial is a medical center, and it needs to be kept sanitized to avoid any potential spread of infection. The hospital's Environmental Services (also known as EVS) department employs 120 full-time staffers to make sure every space—from waiting areas to operating rooms—is kept spic-and-span … and the process is much more methodical than any house cleaning.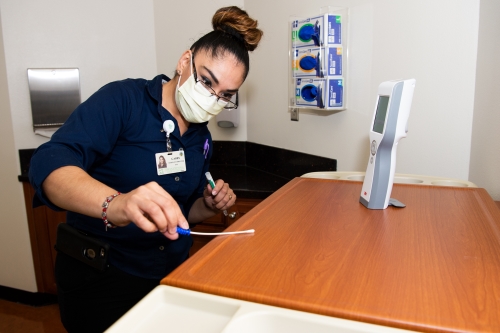 "If I go into my house and I do some cleaning, some days I do this first and some days I do that. Some days I may clean this, and some days I may clean that," explains vice president of Ancillary/Support Services Debby Kelley. "Not in a hospital. Everything gets totally tip-to-toe cleaned. There's a seven-step process for cleaning rooms, and that process itself is highly regimented."
"The seven-step process has proven to be effective in preventing hospital-acquired infection," adds director of Environmental Services Jesse Castañeda. In each patient room and bathroom, for example, a member of Castañeda's staff removes trash and linen, dusts high areas and then, working clockwise from the entrance all the way around the room, wipes down all furniture and walls with a disinfectant, dry mops the room (to collect dust), wipes down all surfaces, mops the room with a disinfectant and, finally, double-checks the procedure and reports any issues.
That, says Castañeda, is a daily room cleaning. It happens every 24 hours, at a minimum. When a patient leaves the hospital, the room cleaning is even more thorough.
Torrance Memorial's Environmental Services practices are guided by the hospital's Infection Prevention Committee, comprising infectious disease specialists—doctors and nurses—as well as Environmental Services staff and others. When the COVID-19 pandemic began, the hospital intensified its cleaning regimen even more. The infection prevention director "went into high gear, basing decisions on recommendations from the CDC," says Castañeda. "We were all having daily—literally daily—communication with the infection prevention director, making sure what we were doing was in line with the latest CDC guidance."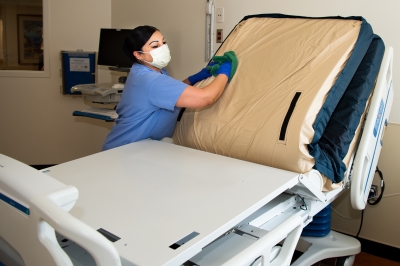 Much of that guidance reinforced what Torrance Memorial already had been doing: using the seven-step process and approved disinfectants. "We were already ahead of the curve," says Kelley.
As the pace of elective procedures slowed, Environmental Service staff members spent more time in critical areas. For example, "We put extra resources in the Emergency Department," Castañeda says. "We wanted to make sure that area of the hospital, although it was being cleaned effectively and thoroughly, was being thoroughly cleaned three times a day. We reallocated resources to areas we felt needed some additional support to ensure COVID-19 did not spread to other areas of the hospital."
The hospital also incorporated cleaning time into every staff member's daily routine: Every two hours, in every area of the hospital, every employee cleans his or her work area. "We've continued to up the ante on wiping frequently touched surfaces, from doorknobs and railings to elevator call buttons," says Kelley.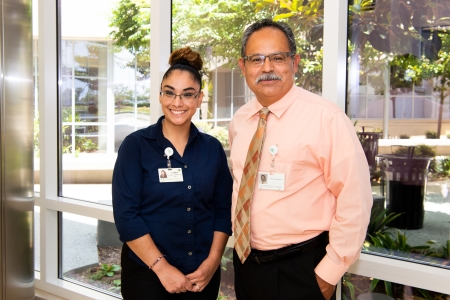 Environmental Services staff were given daily refresher training on the use of personal protective equipment (PPE) to further ensure they didn't spread any infection or contract COVID-19 themselves. And it's worked, Castañeda says. "The outcomes in my department? Zero cases of COVID-19."
"We have been diligent about maintaining our PPE supply and distributing it to our staff," Kelley says. "Not only are we following CDC-approved procedures for the use of PPE and cleaning, we're taking it higher than CDC guidelines."
While the COVID-19 virus continues to circulate, "Don't delay your health care. If you need our care, please come to the hospital. It's far safer there than anywhere else," says Kelley. "Preventing infection or spread of infection is what we do."
Torrance Memorial's Seven-Step Cleaning Process
(happens every 24 hours, at a minimum)
Remove trash and linen
Dust high areas
Wipe down all furniture working clockwise from entrance; wipe down all walls and furniture with disinfectant
Dry mop room (to collect dust)
Wipe down all surfaces
Mop room with a disinfectant
Double check the procedure and report any issues