NEWS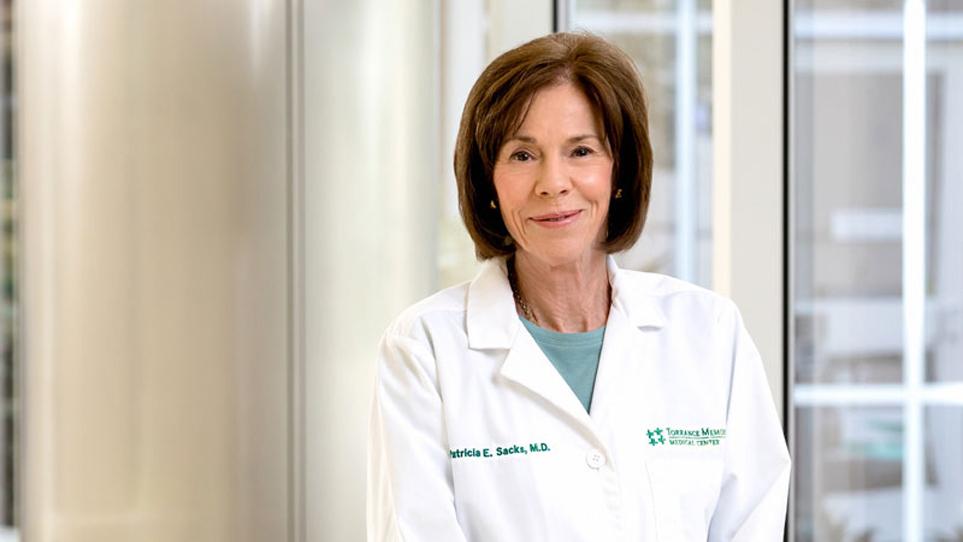 Charting a Course for Women's Health
Thanks to Dr. Pat Sacks' perseverance and leadership, Torrance Memorial Medical Center boasts the finest Breast Center in the South Bay. So much of what we take for granted today is thanks to her vision. As we thank her and bid her a bittersweet farewell, we recognize how Dr. Sacks traversed uncharted territory and blazed new trails in the course of her career.
Dr. Sacks' medical journey began at Tufts University School of Medicine, where she was one of five women in a class of 90. As the only woman on rounds, she faced patronizing questions like "Are you still here?" "Are you pregnant yet?" "Did you bake us some cookies?"
"In those days you had to just stand there and take it," she says.
While serving as the first female house officer in internal medicine, she met a woman radiologist who inspired her. "I was fascinated," she says.
She earned board certifications in nuclear medicine and radiology, and began practicing in Medford, Oregon, one of two women practicing among 250 physicians. In 1981, after 11 years in Oregon, Dr. Sacks joined the Torrance Memorial department of radiology as a partner and the Medical Center's only female radiologist.
"When I arrived, this was the time that people were starting to acknowledge that women's health issues were different than men's," she recalls. Seizing upon that idea, Dr. Sacks set up the first mammography center in a physician office on Madison, eventually moving to the hospital campus and at multiple satellite locations in the community. Today, the Breast Center screens nearly 35,000 women and diagnoses approximately 400 cases of breast cancer annually.
"Not only did Dr. Sacks provide the clinical leadership to the breast diagnostic program, but she also forged the relationship with Vasek Polak, then owner of local foreign car dealerships in the South Bay," says Sally Eberhard, Sr. Vice President of Planning and Development for Torrance Memorial Health System. "She convinced Vasek to donate funds to support the purchase of state-of-the-art breast imaging technologies, adding new locations to accommodate the growing demand for breast cancer imaging. After Vasek's death, Dr. Sacks continued to build the relationship with the trustees of the Vasek Polak Charitable Foundation, which ultimately led to donations of over $20 million for the medical center's breast diagnostic and imaging capabilities."
Among other South Bay "firsts" during Dr. Sacks' tenure:
Obtaining the single-insertion mammotone biopsy system in 1997; the ultrasound guided mammotomy system in 1999 and digital breast tomosynthesis (3D mammography) in 2014
Earning recognition as a Breast Imaging Center of Excellence by the American College of Radiology
Creating the first breast cancer tumor board
Establishing a high-risk breast clinic
Also under Dr. Sacks' leadership, Torrance Memorial opened three satellite breast diagnostic centers, in Carson, Manhattan Beach and Rolling Hills Estates. She's particularly proud of the 3D mammography technology, available at all locations, noting that it is 41% more accurate at diagnosing breast cancer than the previous technology and reduces call-backs by 40%.
"When we go to breast conferences and they're talking about new procedures, processes or systems, we're usually already doing them," says Tiffani Zanelli, director of the Polak Imaging Center. "We're already ahead of the curve. And that's because of her."
In addition to championing advanced technology and practices, Dr. Sacks built a team of excellent physicians, nurses and technicians who unfailingly put patients first.
"She's very passionate about patients always receiving the best care," says Zanelli "We had a nurse who would give results, check on the patient, and answer questions before the term navigation came about. She already saw the need for navigation before the idea became widespread."
Dr. Sacks goes above and beyond the call of duty. She'll call insurance companies to demand coverage for patients and give patients her home phone number.
"She's been an amazing visionary leader for the Breast Center," says radiologist Rachel Knopoff, MD. "She has great respect and love for all of the people she works with and truly cares about them and wants to make them better professionally."
Julie P. Sim, MD and Sarina Brar Pai, DO, will take the reins from Dr. Sacks, continuing her legacy of excellent patient care delivered compassionately and with the most advanced technology available.
Dr. Sacks says that two things bring her the most satisfaction from her work. The first is her colleagues at the Breast Center. "They're another family to me," she says. "They are really dedicated people who truly care about our patients."
The second is the patients she helps. Describing a letter of thanks she recently received, Dr. Sacks says, "This is what life is about. Doing things for other people."
Looking back on all she's accomplished, both the trials and triumphs, she says, "I would do it all again. I've had a wonderful time."
The feeling is mutual, Dr. Sacks. Thanks for a marvelous journey.