NEWS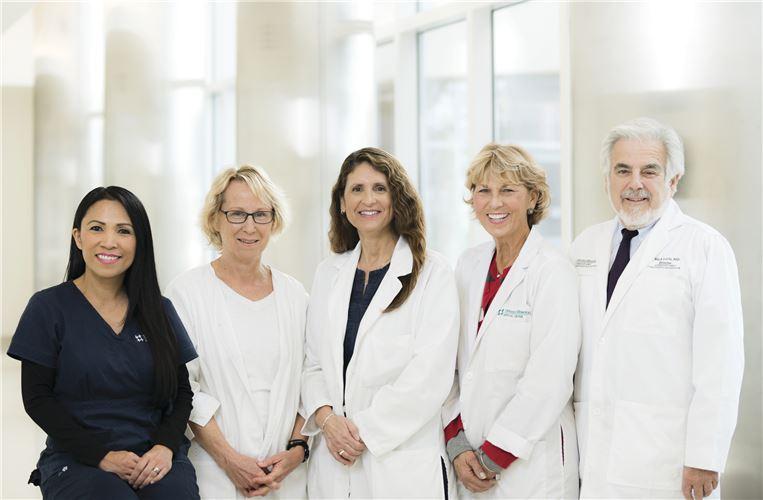 Champions of the Heart
Torrance Memorial is now partnering with Cedars-Sinai to provide the most comprehensive heart failure care in the South Bay. This affiliation formalizes what has been a growing collaboration over the last several years between the heart failure teams at both hospitals. The goal of the partnership is to provide advanced, life-saving treatment for even the sickest heart failure patients.
Comprehensive Heart Failure Treatment, Right Here in South Bay
More than five million Americans are living with heart failure, a progressive and chronic condition that significantly affects a person's quality and length of life. The good news is major advances in treatment—new medications and implantable devices, as well as catheter-based minimally invasive surgical procedures—have not only improved symptoms in people with heart failure but have also increased life expectancy.
When combined with patient education and long-term follow-up care, these important breakthroughs offer hope for people at all stages of heart failure, helping them live longer, fuller lives.
The staff of Torrance Memorial's heart failure program is committed to providing each patient with the most effective treatment plan, tailored to the severity of their condition, their overall health and their personal goals. The addition of Cedars-Sinai experts to the heart failure team is an extension of that effort.
One Team, Two Locations
The congestive heart failure program at Torrance Memorial, under the guidance of Medical Director Mark Lurie, MD, is already one of the leading centers for treatment of heart failure in the area, offering comprehensive inpatient and outpatient care.
Directed by Program Coordinator Roxanna Balter, NP, the program uses a team approach that includes cardiologists, nurses, dieticians, pharmacists and case managers. In addition to medical care, patients and families receive important supportive services such as patient education, home visits and monitoring, and ongoing follow-up care. This comprehensive approach, along with access to the latest in medical treatment, helps patients manage their illness, stay out of the hospital and lead healthier lives.
The Torrance Memorial affiliation with Cedars-Sinai builds upon that excellence, providing patients with the most advanced treatment options—all while still under the care of their Torrance Memorial physician. Experts from both hospitals make care decisions as a team, and communication with the patient and family is a primary focus. As Dr. Lurie explains, "The Torrance Memorial-Cedars-Sinai relationship is symbiotic. It really is one team in two locations."
Access to the Most Advanced Care, for the Most Complex Patients
Cedars-Sinai has one of the best-developed advanced heart failure programs in the world, as well as the largest heart transplant program in the United States. Led by Jaime Moriguchi, MD, Jon Kobashigawa, MD, Michele Hamilton, MD, the team at Cedars-Sinai works collaboratively with Torrance Memorial cardiologists to offer:
The latest medications to relieve symptoms and improve heart function, even for patients in the later stages of heart failure
Ventricular assist devices (VAD) that help a failing heart pump blood through the body. These can be used while a patient is waiting for a transplant or as a "destination therapy," meaning the VAD is a permanent form of treatment
Extracorporeal membrane oxygenation (ECMO), which is a temporary in-hospital life support system that bypasses the heart and the lungs to supply oxygenated blood to the body.
Surgery for high-risk patients to correct aortic or mitral heart valve disease
Heart transplant services from a high-volume program
Cedars-Sinai cardiologists see patients at Torrance Memorial once a month, where they work closely with their Torrance Memorial colleagues to develop treatment plans for patients who need this specialized care.
As Dr. Kobashigawa points out, "This relationship and collaboration works well because the Torrance Memorial physicians know which patients need this level of care and when they need it. The timing is incredibly important. If we see these sick patients too late, we can't help them."
Dr. Lurie adds, "If a patient's health deteriorates an additional advanced procedure such as a heart transplant is needed, the patient can be seamlessly transitioned to Cedars-Sinai right away."
Another key benefit, according to Dr. Lurie, is providing patients access to the clinical trials available at an academic medical center. "This relationship allows Torrance Memorial to leverage Cedar's research and clinical trial resources. That means we can offer our patients every possible alternative to help them live a longer, higher-quality life."
A Winning Combination
What makes this collaboration so successful? It's a focus on teamwork and a shared commitment to always putting the patient first. "Many of us have worked together for quite some time. We communicate well and we follow through together," says Dr. Hamilton. "Both teams believe in looking at the whole picture to find the best solution for that individual patient. That's really what's important."
Written by Michelle Abt