NEWS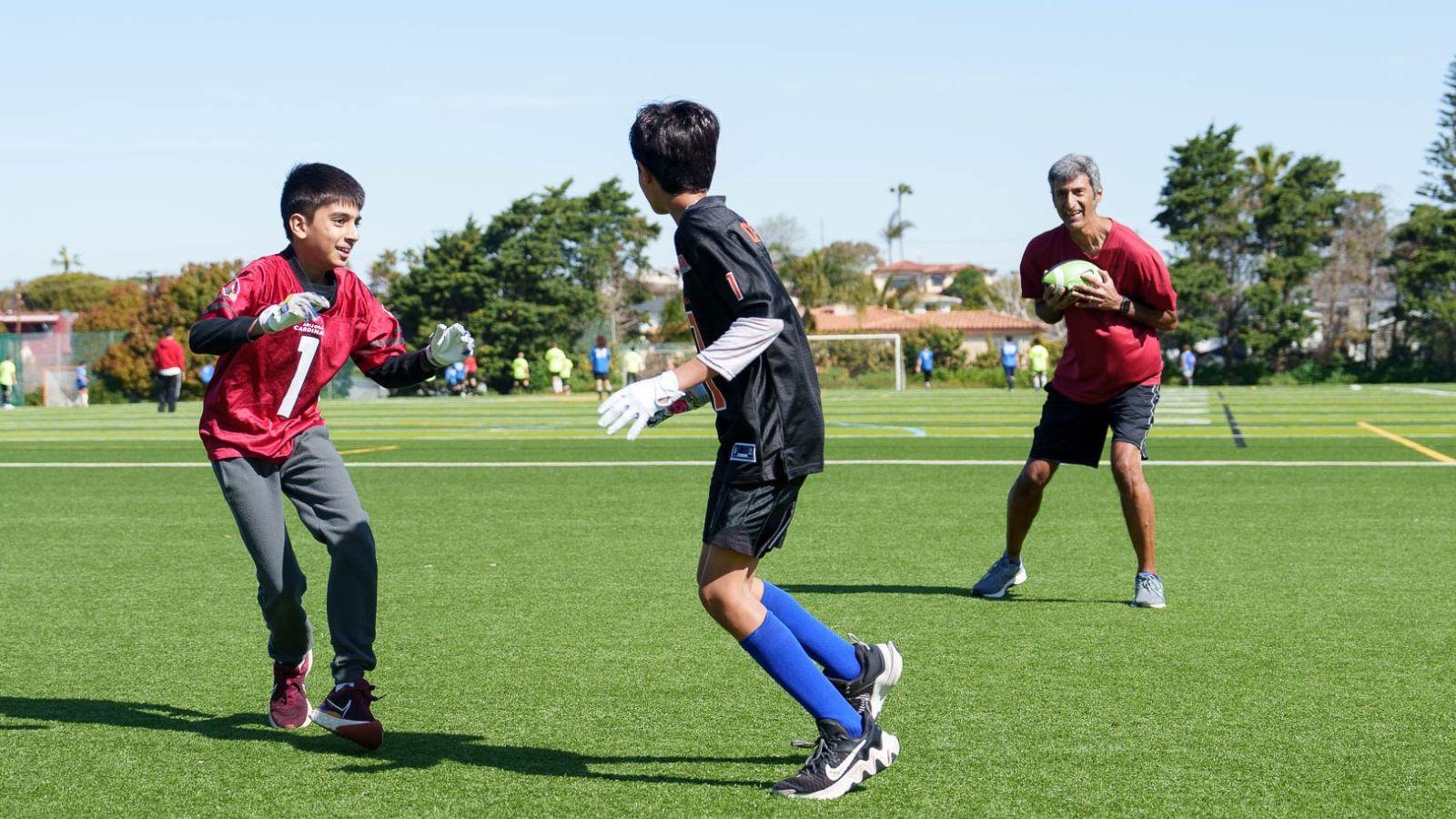 AMBASSADORS CORNER--A Double Beat in Cardiology
Written by Diane Krieger  |  Photographed by Vincent Rios
Ankush Chhabra, MD, leads a double life. "I spend 100% of my time as a working cardiologist, and another 100% of my time as a medical administrator," he jokes.
The Torrance Memorial Medical Center physician hasn't cloned himself. He just works twice as hard.
During the day he performs peripheral vascular or endovascular interventions, "and after hours, before hours, between patients and over lunch, I do a lot of the administrative stuff," says Dr. Chhabra, who is the codirector along with Mark Lurie, MD, of the Lundquist Lurie Cardiovascular Institute. The institute is a signature program of the hospital and a major beneficiary of funding through Torrance Memorial Foundation's Ambassadors program.
Dr. Chhabra also shoulders administrative duties as managing partner of COR Healthcare Medical Associates, the largest cardiology group in the South Bay, with 22 cardiologists.
The Lundquist Lurie Cardiovascular Institute, however, is the jewel in Dr. Chhabra's crown. Founded in the early 2000s with a $10 million gift from Melanie and Richard Lundquist, it's the centralized hub for all cardiology-related "service lines" across Torrance Memorial.
"You could say it's the tent under which all of cardiology lives," he says.
It's a very large and dynamic tent, spanning everything from aggressive interventional cardiology and electrophysiology to preventive care and managing lipids. "Through the institute, we have metrics and quality standards to make sure we're at or above national standards and achieving the highest quality of care," Dr. Chhabra explains.
Without such an umbrella, hospital-based cardiology programs can be fragmented and susceptible to miscommunication. Thanks to the institute, all aspects of cardiac care are well integrated at Torrance Memorial.
"Everybody is aware of what's going on in all the other service lines," Dr. Chhabra says. That includes emerging interdisciplinary niches where cardiology overlaps with other medical specialties.
One such niche is cardio-oncology. Because chemotherapy agents can be toxic to the heart, close guidance and even alternative therapies are needed for this special patient population, Dr. Chhabra explains. Torrance Memorial is exceptional in housing both the Hunt Cancer Institute an affiliate of Cedars-Sinai Cancer and the Lundquist Lurie Cardiovascular Institute. Together, the two entities operate a cardio-oncology program run by Brenton Bauer, MD, that is nationally recognized and participates in major clinical trials.
Another exceptional interdisciplinary niche is cardio-obstetrics. As women delay pregnancy until later in life, cardiac complications may affect their health and the health of their babies. Cardio-obstetrician Nadia Jafar Curran, MD, directs the Lundquist Lurie Cardiovascular Institute's Women's Heart Health Clinic at Torrance Memorial.
Dr. Chhabra's niche is interventional cardiology, a minimally invasive option using catheters to repair damaged or weakened vessels and narrowed arteries. He also specializes in the treatment of peripheral vascular disease, where blood vessels outside the heart—usually in the legs and feet—are narrowed or blocked.
Within interventional cardiology, Torrance Memorial is a magnet for high-risk patients with chronic total occlusion, a condition involving 100% blockage of coronary arteries. People travel long distances, often from out of state, to receive expert care from Ray Michael Wyman, MD, who specializes in this niche. "Chronic total occlusion interventions are the pinnacle of interventional cardiology," Dr. Chhabra says. "The vast majority of highly trained interventional cardiologists are not equipped to fix these blockages."
Torrance Memorial is also noted for its structural heart program, which focuses on minimally invasive repair of valves and chambers. In terms of volume, Torrance Memorial ranks among the top three nonacademic hospitals in the Los Angeles area for these procedures. Salman Azam, MD, director of the nationally recognized structural heart program at Torrance Memorial, often proctors and teaches doctors at other hospitals to perform these procedures. 
The Lundquist Lurie Cardiovascular Institute has also advanced Torrance Memorial's reputation in electrophysiology, the specialty responsible for pacemakers and defibrillators. Led by Matt Ostrom, MD, this program currently serves 90% of all South Bay patients needing such implants. Data from these procedures is uploaded to a national registry, and Torrance Memorial consistently charts excellent results.
"And I can keep going," Dr. Chhabra says. "Across the board, our programs are fantastic. We are a nationally recognized institute."
Last year the American Heart Association acknowledged Torrance Memorial's cardiology excellence with five Mission: Lifeline achievement awards. The year before, the cardiovascular institute elevated Torrance Memorial onto Newsweek's list of the world's best specialized hospitals for cardiology.
Dr. Chhabra was born in Arkansas and grew up in Bartlesville, Oklahoma—the corporate headquarters of Phillips Petroleum, where his dad was an engineer. Almost everyone in his hometown worked for the oil company.
An honors high school student, Dr. Chhabra studied biology at Johns Hopkins University and earned his medical degree at Vanderbilt University. After completing his internal medicine residency at the University of Michigan, he received advanced training in cardiology and interventional cardiology at UCLA, and in peripheral vascular cardiology at Harvard University/Massachusetts General Hospital.
 Medicine aside, Dr. Chhabra is a self-described sports fanatic. He played varsity tennis in high school and continues to play recreationally. Dr. Chhabra spends free time with his family: his wife, Sheena, a data analyst with Abbott, and two boys, Sachin, 11, and Sahil, 10. He enjoys spectating his sons' games and attending other sporting events with them.
"Sahil loves baseball, football, basketball—and he plays all three," Dr. Chhabra says. "Sachin is our tennis guy. His thing now is sports commentating, maybe because of all the ESPN I've exposed him to." On Saturdays during football season, the cable sports channels run all day in the Chhabra household, starting at 6 a.m. with ESPN's College GameDay.
"Growing up in Oklahoma, a love for college football was deeply ingrained in me," Dr. Chhabra says. He roots for many teams, including Michigan and UCLA. But his deepest loyalties lie with the Oklahoma Sooners. "Everyone in my family went to the University of Oklahoma—my sister, my cousins. I'm the black sheep who didn't go there, but I'm their craziest fan," he says, laughing.
Dr. Chhabra also enjoys traveling, both with his family and with a handful of Manhattan Beach buddies. He recently returned from a guys trip to New Orleans, which involved "an alligator swamp tour, lots of jazz and good Cajun food."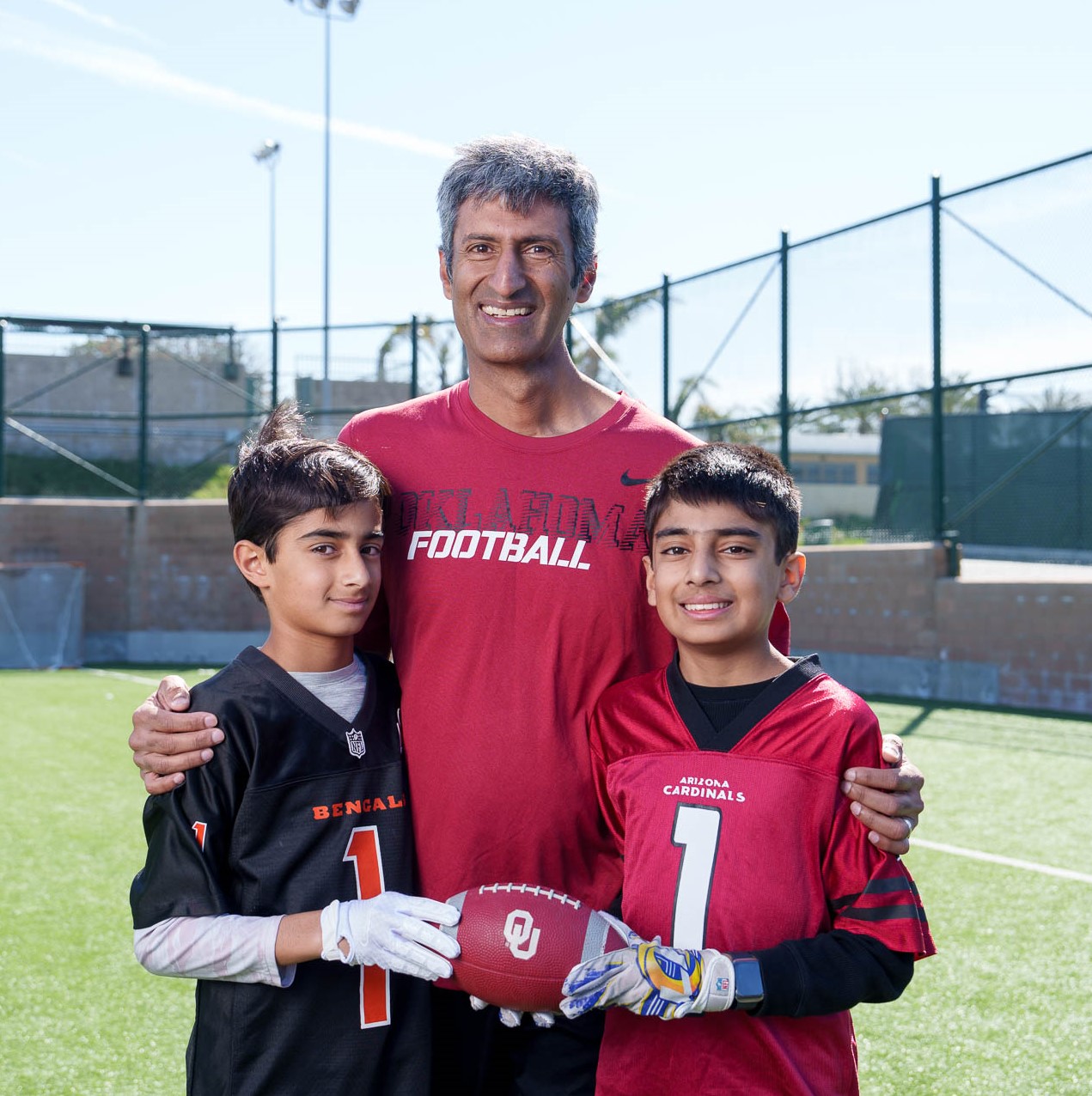 Other interests include election politics and presidential history. Throughout high school and college, he volunteered with presidential campaigns. During his last semester at Johns Hopkins as an undergraduate, he interned for U.S. Rep. Dave McCurdy of Oklahoma, splitting his week between Congress and classes in Baltimore. 
Dr. Chhabra enjoys reading presidential biographies, which he calls "more fun than fiction." He says, "My wife thinks it's weird, but I also love going to presidential libraries and museums. I still have three or four left on my list to visit."
He doesn't drag his family on these political pilgrimages. But the boys are eager to accompany him to America's baseball stadiums—the next travel series on his itinerary. •
---
FUN FACTS
Why is there an extra "h" in Chhabra?
"In the Indian alphabet, there are two ch sounds--chh is actually a little bit longer and phonetically a different sound."
Who is your favorite president?
"Harry Truman, because in the midst of chaos, storm and uncertainty, he always kept his cool."
Did you meet your wife in Oklahoma?
"No, I grew up in Bartlesville, and she grew up in Tulsa. We met in Los Angeles, and it was only after we got married in 2010 we discovered our paths had crossed much earlier. My dad loves going through old photo albums. One day he says, 'Oh, look. Isn't that Sheena in the background?' It was a picture of me at some random kids birthday party in fifth grade. and there's Sheena standing behind me. Isn't that crazy?"