NEWS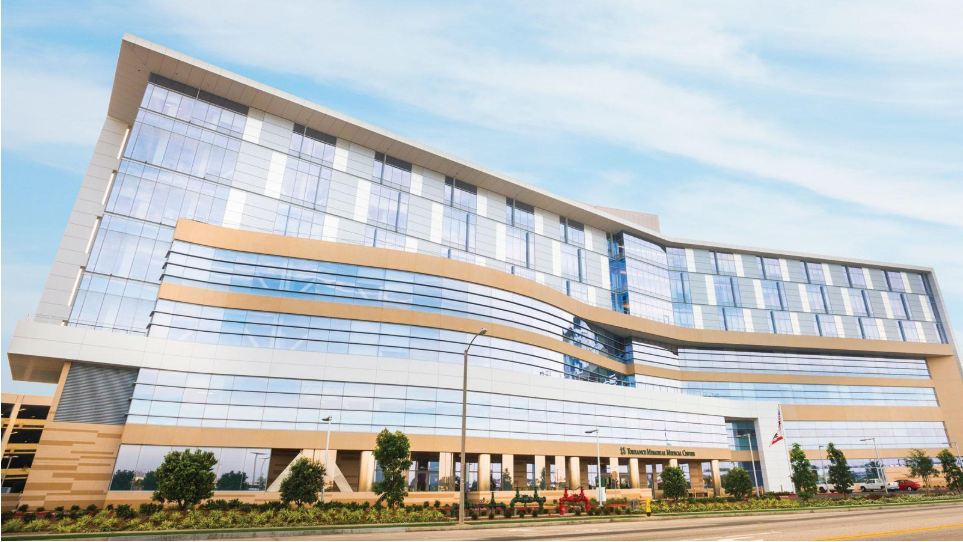 10 Whiz-Bang Technologies Changing the Patient Care Game
Torrance Memorial Medical Center is committed to providing the families and community of the South Bay with the most advanced care available. According to Dr. John McNamara, chief medical officer, the medical center is continually looking for ways to improve patient outcomes, and technology is an integral part of that effort.
"We want to make it possible for families to get top-notch care without leaving the South Bay, which means making investments in the latest and most effective approaches to surgery, diagnostics and other types of treatment," Dr. McNamara says.
In the last several years, Torrance Memorial has added to its technological capabilities in several key areas of treatment and diagnostics, including breast cancer, other cancers, cardiovascular care, stroke treatment and its neonatal intensive care unit (NICU).
1. State-Of-The-Art Cancer Treatment with The Truebeam® Radiotherapy System
The Hunt Cancer Institute at Torrance Memorial offers the latest in radiation cancer treatment with the use of the TrueBeam® Radiotherapy System, a stereotactic radiotherapy treatment that can be used to treat tumors anywhere in the body. The system is very precise—down to the submillimeter—as well as flexible, allowing doctors to target extremely small tumors with less damage to the surrounding tissue. It is particularly useful for tumors close to other organs. It also allows for the treatment of patients who have inoperable tumors or who previously underwent irradiation.
2. Highly Advanced 3-D Mapping to Treat Arrhythmias
Torrance Memorial electrophysiologists use a 3-D electroanatomical mapping system to create a three-dimensional model of any chamber of the heart. That model is then used to perform an ablation procedure to treat arrhythmia. Torrance Memorial recently acquired highly advanced technology specifically designed for the mapping of complex atrial and ventricular arrhythmias, making ablation treatment even more precise and effective.
Additionally Torrance Memorial's electrophysiology department uses the Topera® 3-D Rotor Mapping Solution for rotor mapping of persistent atrial fibrillation (AFib). The Topera mapping makes treatment of ongoing AFib much more effective.
3. Earlier Diagnosis of Breast Cancer Made Possible with 3-D Mammography
The Torrance Memorial Vasek and Anna Maria Polak Breast Diagnostic Center was the first medical center in the South Bay to offer 3-D mammography technology (Digital Breast Tomosynthesis, or DBT). Women who have routine breast cancer screenings using 3-D digital mammography are more likely to discover disease in its earliest stages when there is the best chance for successful treatment.
"DBT allows radiologists to examine breast tissue one layer at a time, making it possible to detect early-stage tumors previously undetectable with 2-D mammography alone," Dr. Patricia Sacks, MD, medical director of the breast diagnostic center, explains. "This is critical for women with dense breast tissue because their breast cancer risk is three times higher than those with lower density tissue."
4. Expanding the Use of Robotic Surgery to Improve Outcomes and Reduce Recovery Times
Six years ago, when Torrance Memorial began using the da Vinci ® Robotic Surgical system to improve patient care, the system was used primarily for urological and gynecological surgery. This innovative medical technology advanced certain minimally invasive procedures and enabled surgeons to perform extremely delicate techniques using small incisions with a high level of precision and accuracy. The result for patients has been less downtime, shorter hospital stays, reduced blood loss and less scarring.
Torrance Memorial continues to stay at the forefront of robotic surgery by applying these techniques to other surgical specialties, including cardiothoracic, gastrointestinal, ear-nose-throat and oncology surgery.
5. State-of-the-Art Hybrid Operating Room Advances Minimally Invasive Surgical Options for Cardiac Patients
The use of minimally invasive, catheter-based techniques for complex cardiac procedures is becoming increasingly common, and these approaches are improving and saving lives. The cardiac surgeons at Torrance Memorial can do both minimally invasive procedures and traditional open surgeries in its state-of-the-art, hybrid operating room (OR) at Lundquist Lurie Cardiovascular Institute.
Like other interventional cardiology (catheterization lab) rooms, the hybrid OR features sophisticated imaging systems for catheter-based procedures. The OR also meets the sterility and equipment standards of a traditional operating room. This allows providers to perform minimally invasive procedures and switch to open surgery if necessary, all without transferring the patient.
The hybrid OR is used to perform a full range of endovascular services, including abdominal aortic aneurysm repair, carotid artery stenting and transcatheter aortic valve replacement (TAVR).
6. Telestroke Partnership with Cedars-Sinai Offers 24/7 Access to Advanced Stroke Care
Recognized by Los Angeles County EMS as a designated Comprehensive Stroke Center, Torrance Memorial has one of the most comprehensive stroke programs in the South Bay. To further improve stroke care, Torrance Memorial has partnered with Cedars-Sinai Medical Center to develop a Telestroke program that offers 24/7 access to stroke specialists.
In place since 2016, the system uses teleconferencing technology to allow neurologists who are on call at Cedars-Sinai to diagnose patients at the Torrance Memorial emergency department. This 24-hour coverage is critical to saving lives and protecting patients' quality of life.
"When patients are having a stroke, minutes matter," Dr. Shlee Song, associate director of the Cedars-Sinai department of neurology stroke program, says. "The telestroke program is designed to get patients diagnosed and treated as quickly as possible, without having to be transported to another hospital."
7. Improved Diagnosis and Treatment for Vestibular Conditions with Balance Goggles
The vestibular organ is a small structure in your inner ear responsible for helping you balance. When the vestibular doesn't function properly, it can cause vertigo, dizziness and balance problems. Rather than use medicine to treat the symptoms of vestibular disorders, many doctors and rehabilitation specialists are successfully treating vestibular disorder through an exercise-based approach called vestibular rehabilitation therapy (VRT).
The specialists at Torrance Memorial use infrared goggles—the very latest technology—to determine the origin of the vestibular disorder. Since vestibular organ and eye reflexes are closely connected, examination of abnormal eye movement with the goggles helps accurately detect the specific type of problem. Once an accurate diagnosis has been made, this information allows the rehab specialist to create an appropriate, individualized treatment plan.
8. Surgical Precision for Breast Cancer Patients with MarginProbe® Technology
The breast surgeons at Torrance Memorial use the MarginProbe during lumpectomy procedures to test the edges, or margins, of the removed breast tissue. The system can detect the presence of ductal carcinoma in situ (DCIS), which is a non-invasive breast cancer. It also detects invasive breast cancer.
Based on this real-time information, the surgeon is able to make an immediate decision about whether to remove additional tissue from the tumor site or complete the lumpectomy procedure—rather than waiting for a pathology report, which could take hours or even several days.
The use of MarginProbe results in 56% fewer women needing a second surgery. Other benefits of MarginProbe include a higher likelihood of cancer-free or "clean" margins, resulting in reduced patient worry and anxiety.
9. Advanced CT Imaging Improves Heart Procedure Outcomes
Traditionally CT scanners have been used for the noninvasive diagnosis of cardiovascular disease. In a major upgrade, Torrance Memorial will be acquiring a CT scanner that goes well beyond diagnosing and evaluating aortic stenosis (narrowing of the aortic valve). This new technology can identify different types of plaque, assess blood flow through the heart and even evaluate the molecular processes causing coronary atherosclerosis (hardening and narrowing of the arteries).
10. A Level III NICU That Keeps Our Tiniest Patients Close to Home
Torrance Memorial has made ongoing investments to provide advanced methods of care to sick infants in its level III neonatal intensive care unit (NICU).
High-frequency ventilators to rescue infants experiencing respiratory failure on a conventional ventilator
Noninvasive (nasal) mechanical ventilation, which has been shown to reduce long-term lung problems and shorten hospital stays
Inhaled nitric oxide therapy (INO) for newborns experiencing severe respiratory distress syndrome and severe respiratory failure not responsive to conventional ventilator care
Therapeutic hypothermia (whole-body cooling) for newborns who have experienced severe fetal distress and are at risk for brain damage
Additionally the recent NICU renovation offers 23 private rooms, each fully equipped to provide a complete range of newborn intensive care and each large enough to accommodate the baby's family. These private rooms provide babies and their families with a quiet, controlled environment, leading to better outcomes for sick or premature infants.
The NICU rooms include a webcam system that continuously streams live video of the baby 24/7 so parents can check in anytime. This allows parents to introduce the new baby to siblings who may be too young to visit the NICU or to out-of-town family members.
Written by Michelle Abt