NEWS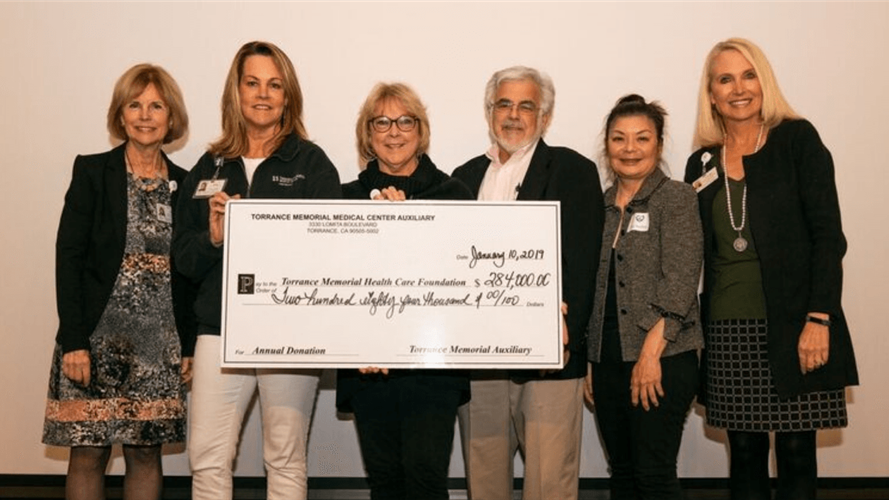 Torrance Memorial Medical Center Volunteer Auxiliary Raises $284,000
900-Member Auxiliary Installs 2019 Board of Directors
Torrance, Calif., Jan. 10, 2019 – Torrance Memorial Medical Center's Volunteer Auxiliary presented a check for $284,000 to the Torrance Memorial Foundation at its 2019 Auxiliary Board Installation Lunch. The donation will benefit Torrance Memorial's Neonatal Intensive Care Unit (NICU), which relocated to a new space in the Hunt Tower in August of last year.
The more than 900-member Auxiliary collected much of the money through proceeds from the Torrance Memorial Auxiliary Gift Shop. The Auxiliary also raised money through various events such as bake sales, restaurant fundraisers and fundraising trips.
"We are extremely grateful to Torrance Memorial's volunteers for committing their time toward helping patients and families," said Mary Matson, director of Torrance Memorial's Volunteer Services department. "In addition to providing more than 155,000 hours of service each year, Auxiliary volunteers top off their service with an annual donation to the Torrance Memorial Foundation."
In addition to the check presentation, the Auxiliary announced the installation of its 2019 Board of Directors: Stuart Wilson, president; Tracy Isenberg, president elect; LeAnn Ayres, 1st vice president, Hospital Services; Linda Redgrift, 2nd vice president, membership; Betty Broughton, secretary; Keith Lent, treasurer; Mimi Brody and Sharon Goodberry, Gift Shop co-chairpersons; Kathryn Joiner, special events chairperson; Lynn Allen, public relations chairperson; Valerie Punzal, programs chairperson; Michelle DiMarco, parliamentarian; Pat Wedlock, legislative issues chairperson; and Jill Slutter, historian.