NEWS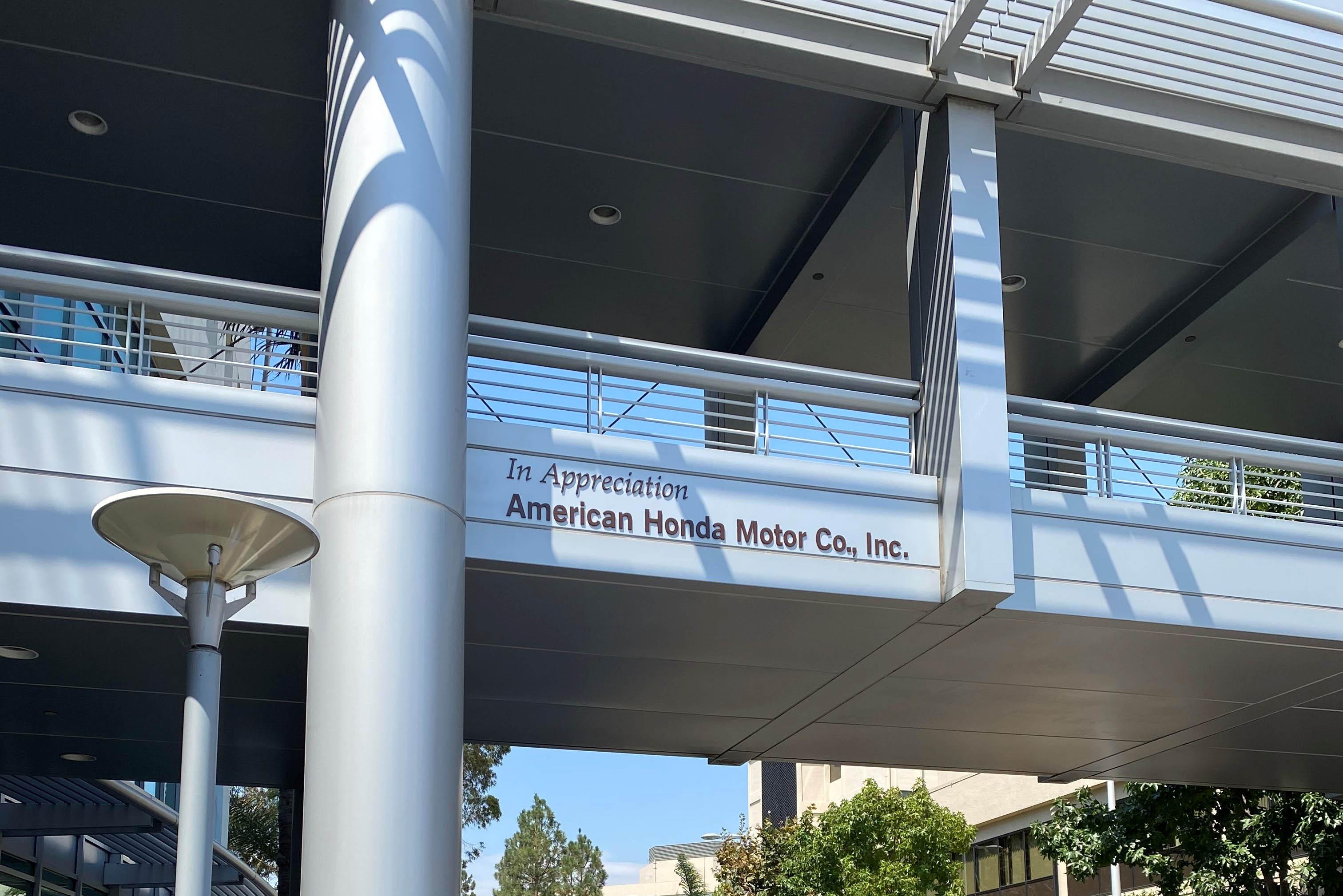 Supporting Healthcare Through a 30-Year Partnership
Written by Robin Heffler
When American Honda Motor Co., Inc. moved its corporate headquarters to Torrance in 1990, it became both a neighbor and a partner of Torrance Memorial Medical Center, beginning a three-decade history of supporting the medical center.
Located just three miles apart, they share both a neighborhood and a dedication to serving their community. "Over the years, we developed a wonderful working relationship," says Laura Schenasi, executive vice president of the Torrance Memorial Foundation. "They are one of our largest corporate donors over the longest period of time. We are grateful and appreciative for their generous support."
The company's most recent donation to Torrance Memorial was a $1 million gift in 2019 to support overall operations, which the medical center acknowledged by placing the words "In appreciation, American Honda Motor Co., Inc." on a pedestrian bridge that connects the medical center's West Tower and the hospital, Schenasi says.
It's the second $1 million gift from Honda. In 2014, the company gave the same amount to help build the Lundquist Tower, a seven-story building that houses state-of-the-art technology and patient care.
"Our community relations are extremely important to us," says Alexandra Warnier, manager of corporate social responsibility for Honda, who notes the company supports hospitals nationwide. "The first $1 million pledge was to help support the cause and vision of exceptional care while also providing stability for Torrance Memorial, because when organizations depend only on year-to-year donations, it makes it difficult to plan."
The $1 million donation in 2019, Warnier explains, was to "continue the partnership by supporting the medical center, the patients and the community. Good health care is how communities thrive and become strong."
Honda has contributed to Torrance Memorial in other ways too.Beginning in 2006 and continuing through 2019, the medical center was the recipient of the $100,000 to $200,000 raised each year at the Evening Under the Stars Gourmet Food & Wine Festival, held at Honda's corporate campus on Torrance Boulevard near Western Avenue. The event featured well-known musicians, including Kenny G, Peabo Bryson, David Benoit and the Torrance Symphony. It was also a way to spotlight and support local restaurants. Proceeds benefitted children's health care at Torrance Memorial.
Honda has also supported the medical center by providing a Honda Odyssey minivan to the security services team, and volunteer members of the Honda Community Action Team have presented holiday toys to children in the hospital.
Children's health and education are among Honda's largest areas of community support. "Our motto is 'the power of dreams,'" Warnier says. "Nothing is greater than children's dreams. By supporting those dreams and what they want to accomplish, we're supporting how they can make us better and where society will go in the future. Health care and education are extensions of that focus on young people."
Continuing to partner with Torrance Memorial is particularly needed now. "We're always working to innovate, grow together and give back, which is especially important during these challenging and changing times," Warnier concludes.