NEWS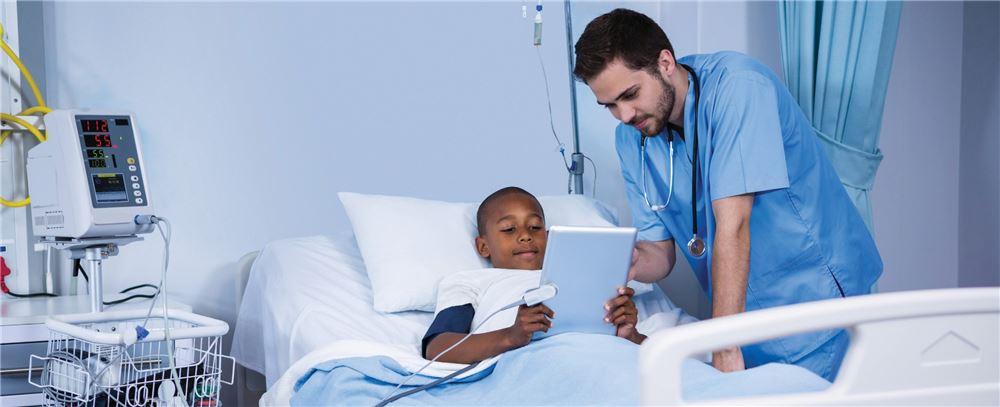 Staying Connected
We live in a wired society. Most people use cell phones and tablets throughout the day to conduct work and school-related business and to stay connected with cherished family and friends. Donor and former board member of the Torrance Memorial Foundation, Jeffrey Neu recognizes the value of maintaining a connection to others.
Last fall, he went to visit the young daughter of a family friend who was hospitalized in the Torrance Memorial Burn Center. While medically she was making progress, on an emotional level she felt miserable, Neu recalls. Neu and her family realized the young girl missed talking with her friends on the internet and streaming her favorite shows and movies. She no longer felt linked to her life outside of the hospital.
To remedy this, she received a tablet to use, but the connection was slow, so she was still frustrated. Neu wanted to provide the young girl with a high-speed connection to brighten her spirits.
He met with Judith Gassner, senior director of development and principal gifts for the Torrance Memorial Foundation, to find out what could be done to avail the child temporary access to a high-speed connection during her hospital stay. Gassner then contacted Steve Lantz, director of IT infrastructure and operations at Torrance Memorial Medical Center, for assistance.
"That night, I had one of our technicians deliver a mobile hot spot to the room," Lantz says. "This provided an alternate method for connecting to the internet through our distributed antenna system in the Lundquist Tower."
Soon after enabling the high-speed connection, the young patient was able to communicate better with her friends and access her favorite websites.
"We saw a tremendous improvement in her mood and outlook. She began to feel a lot better. When I saw her response, I felt the urge to provide a high-speed internet connection for all patients at Torrance Memorial," Neu says.
Neu's next step was placing another call to Gassner to inform her of his intent to make a donation to the hospital to enhance the Wi-Fi network for patients and guests. The following month, Neu, Gassner, Lantz and Bernadette Reid, vice president of information technology and chief information officer, had their first meeting to discuss Neu's vision and different options for making this IT project become a reality.
After several more meetings and review of various product solutions, Neu agreed to fund a dedicated 1 Gbps (or billions of bits per second) internet circuit and a firewall for exclusive use by patients and guests for three years. "This will make for quicker access and improved internet experience for patients and guests. It's a separate internet connection from that used by staff, so both will benefit from less congestion getting to and from the internet," Lantz says.
Launched in August 2017, the new Wi- Fi network is available in all patient areas on campus, including the hospital and outpatient centers. The system will work via more than 800 different wireless access points placed in the majority of Torrance Memorial's buildings.
"We've simplified the accessibility process, have rules to restrict unwanted activity, and have the capability to filter and monitor the internet traffic to look for suspicious activity," Lantz explains.
Lantz says that according to Bernie Reid, vice president of information technology and chief information officer, this upgrade would have eventually been considered for a project in the future, but Neu's donation raised awareness of the importance of the internet to Torrance Memorial's guests and patients and elevated the priority of the initiative.
Lantz adds, "I'm very appreciative of the donation. In the six years I've been working at Torrance Memorial, it's the first donation targeted for an IT project. It's very exciting!"