NEWS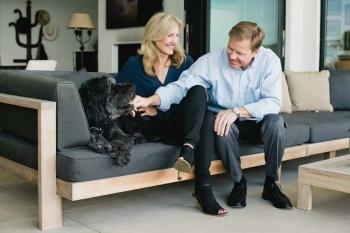 A Heart for Babies and Children
Blessed with the birth of four 9-pound children more than two decades ago, with the youngest now finishing college, it would be reasonable to expect that Kim and John Whitcombe's thoughts and energy would shift toward typical empty-nester pursuits, such as travel or a home remodeling project.
But upon learning of an opportunity to help new, local parents bond with their hospitalized infants when they cannot be at the bedside, the couple immediately stepped up to offer their support.
"We have been so blessed with healthy kids," John says. "Not everyone is so fortunate. Our philosophy has always been to look at what other people don't have and ask, 'What can we do?'"
The Torrance Memorial Foundation recently accepted a donation from the Oarsmen Foundation, a private foundation founded by Kim's parents, to fund the purchase of 23 Panasonic NICVIEW Camera Systems. Each system will provide an individual camera, which when mounted over NICU incubators in the Neonatal Intensive Care Unit (NICU), will allow parents to watch their babies 24/7 from any location that has an internet connection with a computer, tablet or smart phone. Parents are provided a user name and password to share the viewing experience with other family members at their discretion.
"Often infants will stay in our NICU for prolonged periods of time and parents have to go back to work, care for other children or may live a distance from the hospital," says Elizabeth Lowerison, RN, nurse manager, NICU/Pediatrics. "The NICVIEW Camera System will allow families more peace of mind by being able to see in real time that their infant is well and being provided with excellent care."
She continues, "The cameras will assist parents, siblings and relatives to remain as close to their newborn as possible, by watching their daily activities and progress."
Through the past decade, the Oarsmen Foundation has routinely made donations to the Torrance Memorial Foundation. But after a recent surgery and overnight stay by Kim's mom, the family began looking for additional areas to help. John's mom, Jo Whitcombe, had already spent decades giving to Torrance Memorial as a 30-year Auxiliary member. Her primary role was working in the Gift Shop, helping to select the merchandise to sell and raise funds for the Foundation.
"My mom had such great care (at Torrance Memorial) and my dad spent the night (in the room with her), so when she left, we really wanted to contribute," Kim says. "My family has always had a heart for babies and kids. Since I was a little girl we have been doing things to help local health care."
Kim was born at Torrance Memorial when it was at its original Old Torrance location on Engracia Avenue. She grew up in Palos Verdes Estates. Fifteen years ago, her parents George and Dee Schuler founded the Oarsmen Foundation with their children with the mission of "rowing together to do great things for the world through Christ." Through the years, the foundation has worked to support churches, children, education and health, with Kim at the helm as its president.
John, whose dad was a physicist for the Aerospace Corporation in El Segundo, was also born at the original Torrance Memorial and grew up in Manhattan Beach. The two met when Kim was showing space at a strip mall while working post-college for her dad's Torrance development company. At the time, John owned a business that manufactured and sold satellite dishes and was looking for space to rent as a retail outlet.
"I paid over-market price and there were no improvements made on the property, but I thought she was really cute," John says in jest. "We haven't been apart since."
John later returned to school to earn his law degree and a Master of Business Administration. After working for several mid-size law firms, John joined Greenberg, Whitcombe, Takeuchi, Gibson and Grayver, LLP, 22 years ago as a partner. The firm represents a number of large public companies, such as Toys "R" Us, Airgas and Air Liquide, as well as many South Bay residents in business and real estate matters.
Since their marriage, both have taken on numerous additional philanthropic pursuits. Kim has served on the board of Peninsula Committee for Children's Hospital (PCCH), which organizes and sponsors the annual Portuguese Bend International Horse Show at Ernie Howlett Park and the Seahorse Classic Golf Tournament at Palos Verdes Golf Club.
She also used skills learned while earning her Bachelor of Science degree in interior architecture at the University of Oregon to help Rolling Hills Covenant Church with recent expansion projects. One of these projects was expanding the "Beacon of Light" men's shelter in Wilmington, by assisting in the development of the neighboring site into the "Doors of Hope" women's shelter.
John is a founding board member for the Torrance Police Foundation, a newly formed 501c3 that raises money for law enforcement equipment. The foundation recently purchased in-vehicle defibrillators that treat cardiac arrest and drone cameras used in crime scene investigations.
The Whitcombes have also encouraged their children to participate in these endeavors, to instill in them the meaning of hard work and giving back. They hope this latest gift inspires others to support local health care.
"We really want this to be a community that attracts and supports the absolute best health care you can get," John says. "If you're penny wise and pound foolish with your local hospital, you're not going to get a lot back from it when you need it."
He continues, "We are basically living the dream and we are constantly pinching ourselves. How can we not do something to help?"