NEWS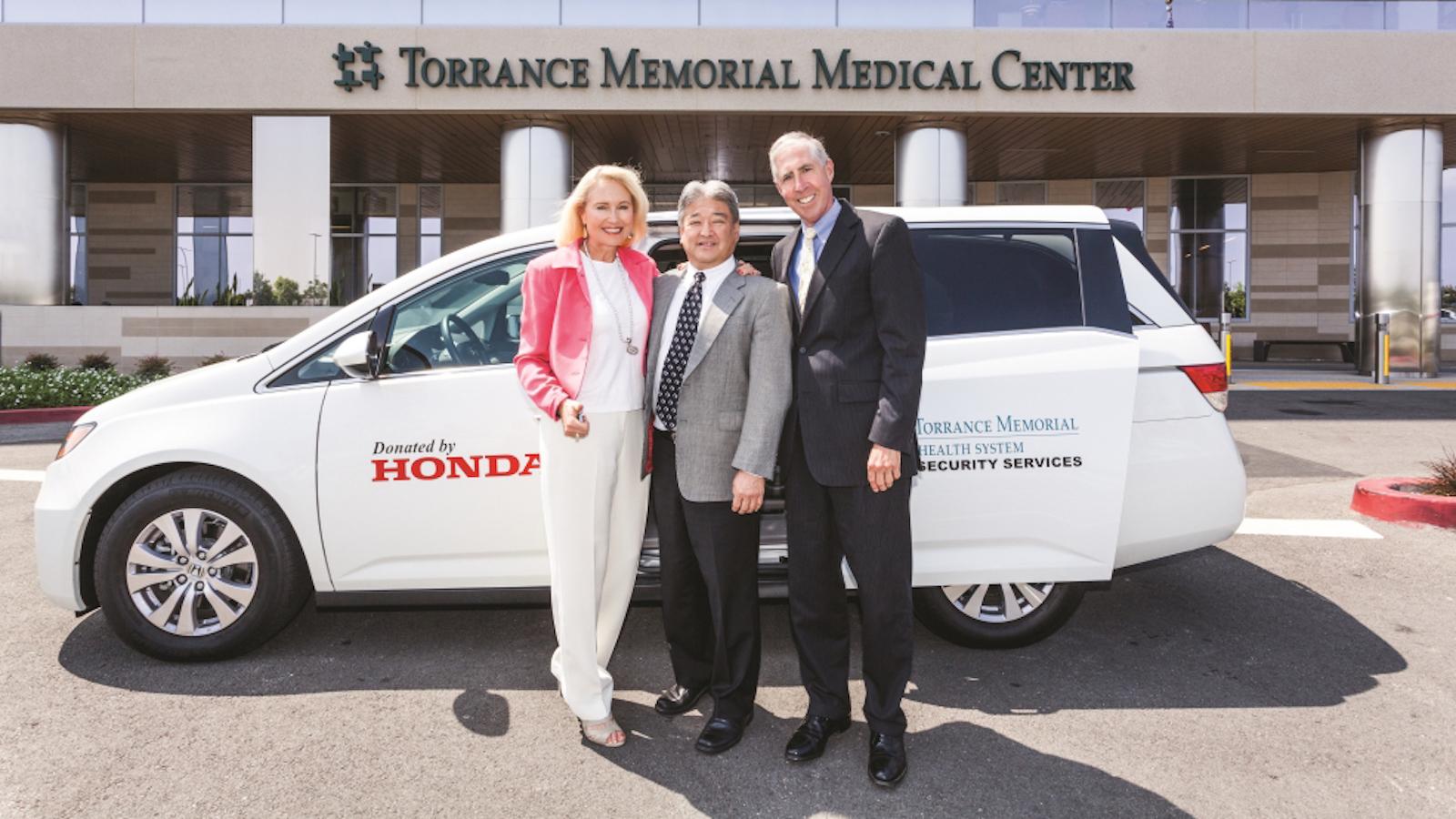 A Half Century of Good Citizenship
If you think the "random acts of helpfulness" stories you hear on the radio or see on TV are limited to the folks who receive an impromptu phone call or visit from a representative of the Southern California Helpful Honda Dealers, think again. Ever since American Honda first established offices in the United States back in 1959, American Honda founder Kihachiro Kawashima impressed upon his SoCal staff members the importance of contributing to the surrounding community.
"Wherever Honda establishes an office, we need to be a part of the community," says Stephan Morikawa, vice president of Corporate Relations & Social Responsibility for American Honda Motor Co., Inc. Recounting American Honda's corporate policy of more than a half-century, Morikawa—a Honda employee since 1978—states, "We want Honda to be a company that people want in their community."
Honda has sponsored the Honda Campus All-Star Challenge (HCASC), a national academic college quiz competition, since its inception in 1989. Through HCASC it has donated more than $7 million in grants to the universities.
Its contributions to youth, education, the arts and science, health care and technology include the creation of Eagle Rock School and Professional Development Center; a tuition-free alternative high school in Estes Park, Colorado; Ride for Kids, a national ride program that raises money for pediatric brain tumor research; and the National Youth Project Using Minibikes (NYPUM), which partners with juvenile justice agencies to support at-risk youth. It also sponsors the National Hockey League's Anaheim Ducks, whose home arena is the Honda Center, as well as the Honda Classic PGA Golf Tournament, which raises funds for children's health care in South Florida.
Elevating the theme of helpfulness to a whole new level, this year, American Honda Motor Co. announced an unprecedented $1 million donation to nonprofit Torrance Memorial Medical Center. Much of the donation will go toward the Melanie and Richard Lundquist Tower, which is named after the long-time area philanthropists who contributed $50 million to the 390,000-square-foot tower. The Lundquist Tower was completed ahead of schedule and at $10 million under budget.
Morikawa says a team of American Honda executives were impressed during an early walk-through of the Lundquist Tower prior to its completion. American Honda wanted to support the new wing because it features state-of-the-art facilities and advanced diagnostic technology.
The seven-story tower that opened in November 2014 boasts a new MRI machine, a CT scanning unit and three ultrasound rooms. It provides area residents an additional 256 beds, increasing the hospital's total bed count to 446. The tower also features interventional radiology and 12 new operating rooms that are 35% larger than those in other parts of the hospital. Additional features include 12 high speed elevators, 112 rooms offering in-room dialysis, plus 88 rooms with built-in patient lifts.
Laura Schenasi, executive vice president of the Torrance Memorial Foundation, says American Honda clearly understands the health needs of the growing community's nearly 1 million residents. "We were honored by the $1 million donation. Without community partners like American Honda, we would never have achieved our $200 million goal," Schenasi says. "It's difficult to achieve anything in life if you don't have your health. We're so grateful that Honda also recognizes health care as a critical cornerstone of this community."
The major gift is in addition to the $100,000 in proceeds raised from this year's Honda Evening Under the Stars 29th Annual Gourmet Food & Wine Festival, which took place at American Honda's corporate campus in Torrance. At this year's festival, Honda also announced the donation of a brand new 2015 Honda Odyssey. The van will be used to transport the medical center's ambulatory patients.
While proceeds from the annual festival were once distributed to many area nonprofits, American Honda decided in 2005 to narrow its focus to health-related nonprofits that would best serve the community. This year marks the 10th consecutive year it has selected Torrance Memorial as the beneficiary.
"We feel health care is very important to the South Bay and the community," Morikawa says. "Health care is the foundation to a community. It's something that everyone is going to need."
The annual Gourmet Food & Wine Festival, originally launched by Honda nearly 30 years ago as a way to stay connected to the community, offers community residents a unique opportunity to sample some of the area's finest cuisine and 80 varietals of wine. Over the past decade, the evening event has raised $1 million in proceeds for Torrance Memorial.
The annual festival has featured star talent such as jazz legends David Benoit, Kenny G and Hawaiian crooner Daniel Ho. This year's performance was delivered by Grammy Awardwinning American R&B vocalist Peabo Bryson.
When it comes to planning Evening Under the Stars, the "giving back" extends even further into the community. For example, a committee of 19 members representing local businesses and the Torrance Area Chamber of Commerce begin meeting in early June to work on securing the participation of restaurants and auction items, as well as the advertisement and promotion of the event. Those involved repeatedly point to the dedication of area restaurants and volunteers.
"These annual events are a collaborative effort," says Morikawa. "The restaurants donate food, beverages and services. Volunteers donate their time. That's their gift to the community. These [community] partners that we have—it couldn't be done without them."
Torrance Memorial president and CEO Craig Leach has been with the medical center since 1984, just six years less than Morikawa has been employed with the legendary automotive corporation. Even in separate interviews, the two executives nearly echo the other's sentiments.
"The fact that Honda does this every year is unique," Leach says. "This event is not just about supporting Torrance Memorial. Honda is supporting Torrance Memorial, so we can support the community. I challenge you to find someone who will say something negative about Honda in this community. Honda is greatly admired and we're extremely grateful and proud to have it as a partner."