NEWS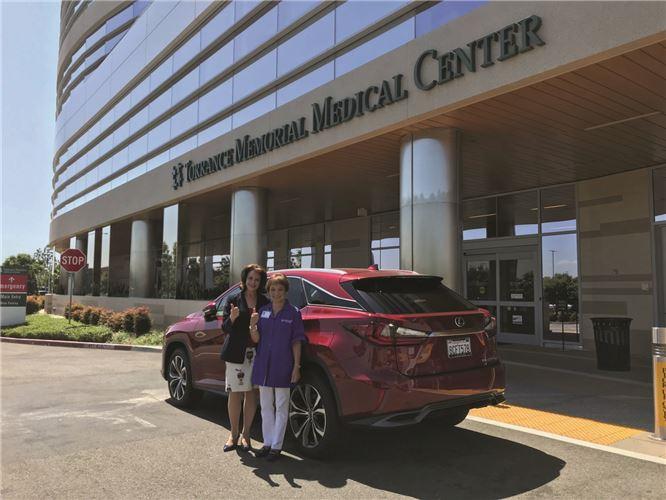 Generosity Pays in Spades For Opportunity Drawing Winner
Candy Isidro, a volunteer in Torrance Memorial's Employee Health Clinic since 2011, is still learning to master all the features of the red Lexus RX 450H she won by entering the opportunity drawing at Torrance Memorial's Holiday Festival last year.
"I've never won anything before," says Isidro. "Winning this car was an absolute surprise for me and my family."
Isidro has long ties to Torrance Memorial Medical Center. Prior to working as a volunteer, she was an employee for 22 years. She started in 1988 as a part-time unit secretary in 5 North, a medical surgical unit. Next she moved into a full-time position in the oncology unit from 1989 to 1990. The next year, she transferred into the orthopedic department and retired from there in July 2010.
Last year, for the second straight year, Isidro decided to make a donation to the Torrance Memorial Foundation through the purchase of five Holiday Festival opportunity drawing tickets, for a total of $150. Little did she know her generosity would pay off—big time.
Not present at the time of the drawing, Isidro received a call from Judy Gassner, senior director of development, who informed her that she was the winner. "My husband and older daughter were with me at the time; we were thrilled!" says Isidro.
Because it was the end of the year, it was a bit challenging to find the color she had her heart set on. "Judy Gassner was very helpful in finding a dealership with the color combination I liked—Matador Red Mica," Isidro explains. "We picked up the car from Newport Lexus in January 2018."
"After winning the new Lexus RX 450H, I gave my 15-year-old Lexus RX300 to my 18-year-old grandson," she adds.
As for her new set of wheels, Isidro gushes, "I love this car; I am thankful, happy and blessed to have won it. I believe in the mission of the Foundation and have such a long history with Torrance Memorial. Winning such a beautiful car was icing on the cake. Thank you Torrance Memorial Foundation and Toyota Motor Sales!"
Enter the 2018 Opportunity Drawing
Tickets are now available to purchase for the 2018 Holiday Festival Opportunity Drawing. Proceeds benefit Torrance Memorial's Hunt Cancer Center. This year's grand prize is a 2018 Lexus GS 300 (estimated value it $50,687) donated by Toyota Motor North America, Inc. Second prize is a Specially Designed Festival Tree. Third prize is $500 cash. Purchase one ticket for $50, three for $100 or five for $150. The drawing will take place on Sunday Dec. 2 at 1 p.m. The winner need not be present. For more information, please call Torrance Memorial's Foundation at 310-517-4703.
Written by Carole Jakucs