NEWS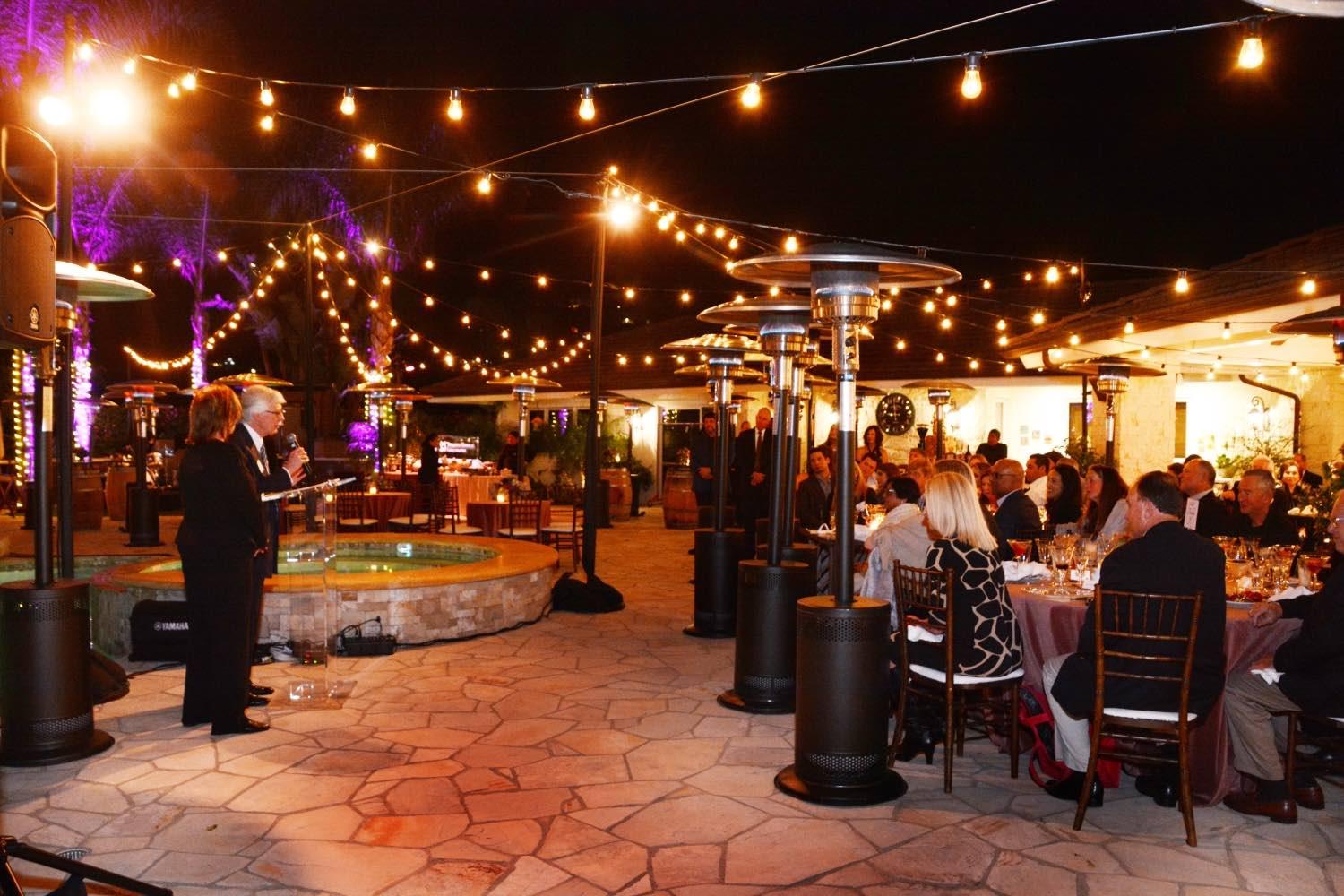 A Gathering for Giving, Gratitude
By Melissa Bean Sterzick
Joe and Laura Gregorio's beautiful Rolling Hills home was the perfect setting for a recent Torrance Memorial Foundation fundraiser benefitting the Lundquist Lurie Cardiovascular Institute on February 29. The hilltop and panoramic views of the South Bay reflected the broad scope of the evening's purpose: to support the Institute and continue the best possible heart care for the Torrance Memorial community.
Members of the Foundation gathered for cocktails, hors d'oeuvres and live music on the Gregorios' terraced patio, then took their places for dinner at tables set with crystal stemware, linen napkins and lavish floral centerpieces. A roaring outdoor fireplace, palm trees draped in sparkling lights and Torrance Memorial's insignia projected on the surface of the pool added to the spectacular backdrop. The objective of the event was to raise $1 million for the Lundquist Lurie Cardiovascular Institute. The final number came in at a remarkable $4.4 million.
Torrance Memorial president and CEO Craig Leach, Dr. Chris Matchison, Dr. Erol Kosar, Dr. Aziz Ghaly, Dr. Mark Lurie, Dr. Mike Wyman, and Melanie and Richard Lundquist were all called upon to share their thoughts at the gathering.
Craig Leach celebrated Torrance Memorial receiving seven out of eight American Heart Association awards for 2019. The honors include recognition for excellence in care for patients with heart failure and stroke, as well as high achievement in prescription standards, resuscitation and speed of treatment.
Dr. Ghaly, who recently joined Torrance Memorial through Cedars-Sinai, emphasized the impressiveness of the Institute's new technology and cutting-edge therapies. Dr. Ghaly said patients at Torrance Memorial in need of heart care can undergo any procedure, short of a transplant, without leaving the South Bay.
"I'm really excited and humbled to join Torrance Memorial," he said. "The nurses, doctors and facility are all exceptional. My goal in coming here is to align the two programs. We are to become one group—to work here as a team."
While the capabilities of the Lundquist Lurie Cardiovascular Institute and the advanced cardiac care offered by Torrance Memorial—enhanced through its partnership with Cedars-Sinai—were front and center, gratitude was another predominate theme. Torrance Memorial's leadership, physicians and donors alike expressed their thanks for the financial support provided for the Institute to date.
A standing ovation for Melanie and Richard Lundquist was a poignant pause in the program. When the applause finally stopped, the Lundquists thanked the donors for supporting the Institute, which was established with their initial $10 million gift in 2013.
"Melanie and I couldn't be more pleased to see what has been accomplished. We are just a little part of what you all do," Lundquist said.
Melanie Lundquist reiterated her care and concern for those who suffer cardiovascular disease. She shared a heartfelt account of the couple's first collaboration with the Torrance Memorial Foundation and her happiness with its outcome.
"I don't think anybody could be prouder than we are to be affiliated with such an outstanding organization. The improvement in the quality care that can be provided in our own community is absolutely amazing," she said. "For us to have the opportunity to make a difference like this for the community—there is no better journey."