NEWS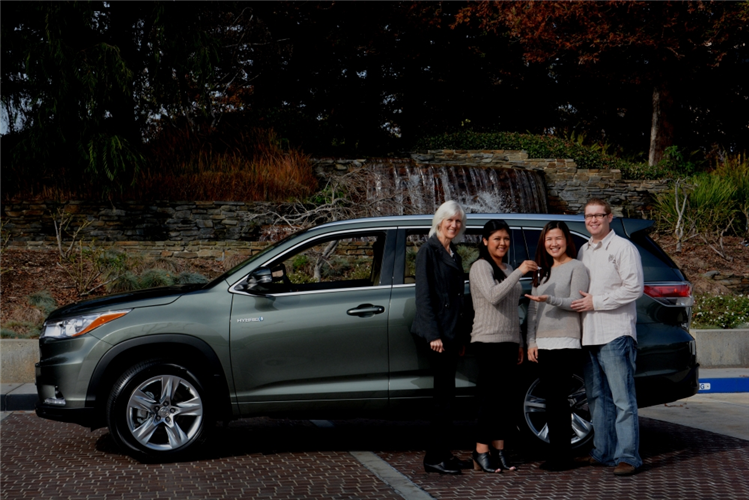 Five is Magic Number for Festival Opportunity Drawing
It was good timing for Stephanie Tang, DO, to get in line to purchase an Opportunity Drawing ticket at the 2014 Holiday Festival Gala. Just ahead of her was her Emergency Department colleague Eric Nakkim, MD, the previous year's winner. Pushing his luck, Nakkim entered once again using the same winning strategy as before. After dropping in his just-purchased tickets, he shared his formula with Tang.
"He said, 'Buy five tickets and sprinkle them around the barrel,'" Tang says.
She did just that. Two days later while driving to another holiday party with her husband, Christopher Angemi, DO, also an ED physician, she noticed she had a voice message. She remembered that the raffle was taking place that afternoon, so when Torrance Memorial came up on caller ID, she had a gut feeling there might be good news waiting.
When she checked her messages, the voice speaking was indeed Laura Schenasi, executive vice president of the Torrance Memorial Foundation.
"Congratulations! You're the winner of a 2015 Toyota Highlander Hybrid Limited," Schenasi said. "Almost better than winning the car was the look on my husband's face. His expression was priceless, and he is not usually very excitable," Tang says.
After learning the news, Nakkim was the first person to call Tang and welcome her to the Opportunity Drawing winners' club. Tang and Angemi soon made the trip to Toyota Motor Sales' USA headquarters in Torrance to receive keys to their shiny, new, jade metallic SUV.
"Everyone at Toyota was fantastic and took the time out of their busy work day to show us all of the wonderful features of the car," she said.
The car has since become the family workhorse for taxiing their two toddlers to and from preschool, the park and grandma's house. "It gives us peace of mind to know it's always available to safely transport the kids," she says. "The gas mileage is also much better than a regular SUV."
Like Nakkim, Tang says she plans to enter the Opportunity Drawing again this year and is optimistic about her chances of winning a second time. She also encourages others to take a chance.
"I have never won anything like this before. I feel super lucky," she says. "If I can win, anyone can win. We want to express our thanks to Toyota for making such a generous donation to the hospital through the drawing. Even if you don't win, you are still donating your money to a great cause."
Opportunity Drawing
Tickets are available for purchase now for the 2015 Holiday Festival Opportunity Drawing. Proceeds benefit Torrance Memorial Medical Center. This year's grand prize is a Lexus RC350 (estimated value is $43,500) donated by Toyota Motor Sales, USA, Inc. Second prize is a Holiday Festival certificate tree (valued at $2,500). Third prize is $500 cash. Purchase one ticket for $50, three for $100 or five for $150. The drawing will take place on Sunday, December 6 at 3 p.m. The winner need not be present.
For more information, please call Torrance Memorial's Foundation at 310-517-4703.