NEWS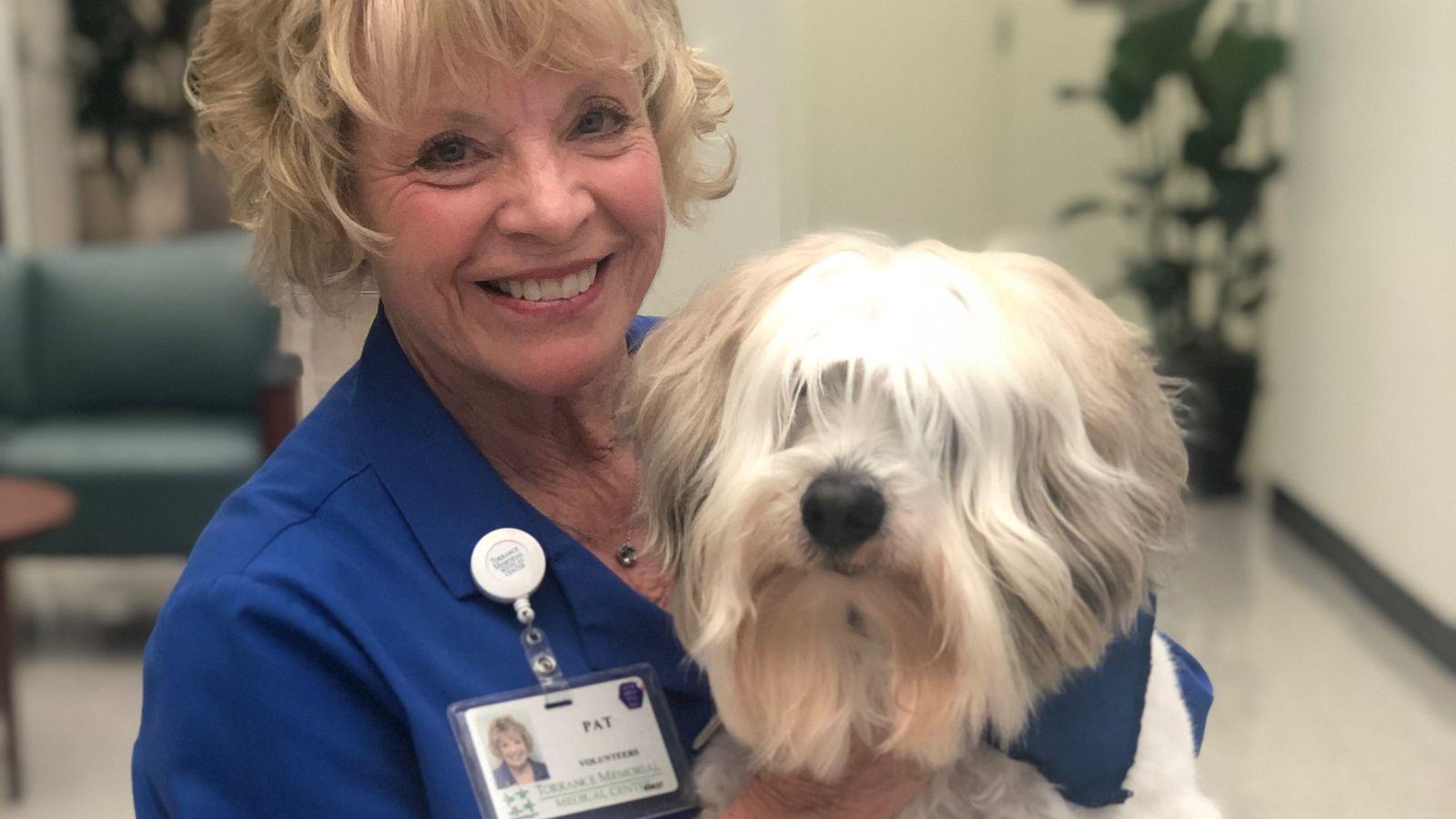 Ambassadors Corner: Pack Leader
Pat Carlson has been Torrance Memorial

'

s resident dog whisperer for more than 20 years.
Written by Diane Krieger
For someone who claims to never have been sick a day in her life, Pat Carlson spends an awful lot of time in the hospital. She measures her visits in miles, not days.
"I use my pedometer religiously," says the longtime Torrance Memorial volunteer leader and Ambassador. Pat averages around 2,800 steps per trip, usually with Quincy, a Tibetan terrier, or Kylie, a Briard herding dog, by her side.
For more than 20 years, Pat and her well-mannered, impeccably groomed dogs have fronted the hospital's much-loved Pet Visitation Program. It began in 1999, building on a service for patients in the hospital's former psychiatric unit. The first eight visitation dogs and their handlers were chosen from 40 candidate pairs. Pat and her Briard-Beardie mix, Chloe, were among them.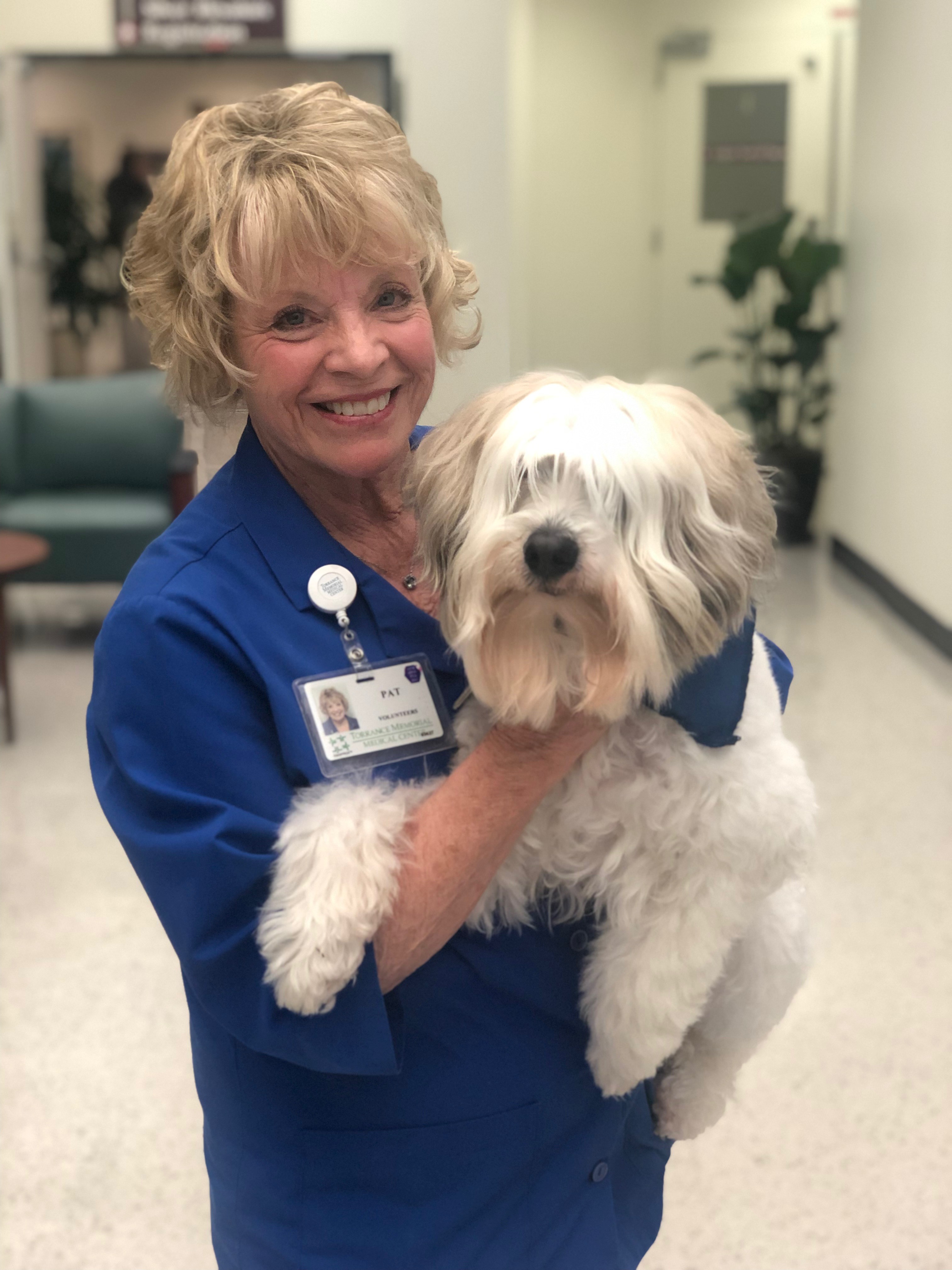 In 2005, Pat stepped up as program chair, and Chloe became her training partner. Together they helped prepare the next generation of volunteers. "Chloe gave 13 years to this hospital," says the Malaga Cove resident. Since Chloe passed away in 2013, Quincy and Kylie have taken up the baton.
They come at least twice a month, but usually sneak in extra visits under the 24-hour bath rule. "With one bath, I can do back-to-back shifts," Pat explains. "If I wash my dog Monday morning and he stays clean, we can come back on Tuesday."
In addition to volunteer shifts with Quincy and Kylie, Pat screens all new candidates and their dogs. She trains those that meet her rigorous standard, introduces them to the hospital and shadows each team through their first three months of visitation. There are currently 15 dogs in the program, and some weeks Pat is at Torrance Memorial three or four times. After more than 22 years walking the units, she knows everyone.
A retired dental tech and former Gail Jewelers salesperson, Pat has no formal canine training experience, but she has spent her entire life around dogs—starting with the family dachshunds. The child of Swedish immigrants, Pat was born in Los Angeles during the post-war boom and grew up in Westchester.
Her father, Vic Melin, was an aerospace engineer who started his own business manufacturing airplane parts. Her mother, Kathleen, was a homemaker with an adventurous spirit. Before the war, she had seen exotic palm trees on a travel poster in a Stockholm travel agency and resolved to someday live "there."
All the Melins were builders. Pat's brother, Carl, became an engineer like his dad. Pat had an artistic streak, so after graduating from St. Mary's Academy High School, she enrolled in a USC-affiliated technical school where she learned the "hidden art" of making porcelain teeth.
She met her husband, Dick Carlson, through an aunt who waitressed at the San Pedro restaurant where he and his partner were lunch regulars. An engineer, Dick led Komax Systems, the manufacturing company he cofounded in the 1970s. They've been married for 42 years, and though Pat has no children of her own, she has three grandchildren and five great-grandkids thanks to stepson Donald Carlson and stepdaughter Barbara Clark.
In the early days, the couple lived in Redondo Beach and Pat worked as a dental ceramist in Beverly Hills. But after 15 years of that unpleasant commute, she made an abrupt career change. Stopping one day at Gail Jewelers to get a chain necklace repaired, she fell into conversation with the owner and ended up applying for a seasonal job as a gift wrapper. Soon she was learning the trade and moving into sales. She stayed until retiring in 2004.
The best part of working in jewelry, she found, was "everybody's happy. Everyone has a smile on their face." Ironically, Pat seldom wears jewelry herself, but she enjoyed the customers' energy. She likens it to the hospital nursery—another place where smiles are ubiquitous.
It was curiosity that first brought Pat to Torrance Memorial. Never having been sick in her life, she wanted to meet patients. "I'm also an ER junkie," she admits. "I love to watch hospital TV shows."
Starting as a general "blue jacket" volunteer, she later moved into the ER but found it wasn't "active enough. I wanted to be really busy," she says.
When she heard of the dog visitation program, Pat pounced. After Chloe sailed through the vet screening with flying colors, Pat brought in Tucker, her Maltese, to be evaluated. She learned an important lesson about hospital dog volunteering that day: It has to be a team effort. "Tucker was a great dog, but he just didn't want to be there," she recalls.
How could she tell? "It's pretty obvious when you have a dog that's going toward the door the minute he arrives," she says.
Chloe, however, was a natural. She had a repertoire of 25 tricks, from jumping through hula hoops to playing a toy piano (Pat used to carry the props around with her.)
Chloe's successor, Kylie, also performs tricks. Though she doesn't tickle the ivories, she'll gladly weave poles, turn circles, back up, sit-up pretty, salute and take a bow—to the delight of patients, their families and the nurses, doctors and hospital staff who attend to their needs.
Dick is proud of the work his wife and their dogs do at Torrance Memorial, and he supports their desire to do even more. Seven years ago she suggested they become donors, and the Carlsons have been Ambassadors ever since.
Pat's relationship with the Torrance Memorial Foundation goes back at least a dozen years. That's when she started the tradition of Dogs on the Catwalk—a highlight of the annual Holiday Festival. During the popular fashion show luncheon, a half-dozen stylish visitation dogs accompany festival volunteers on the runway, decked out in matching scarves and costumes.
In the runup to the show, Pat carefully identifies dog-people among the volunteer models, pairs each with the appropriate visitation dog and drills the duo in a dress rehearsal. On the day of the luncheon, Pat crouches at one end of the runway, and Sandy VandenBerge from the Torrance Memorial Foundation office kneels at the other—ready to leap should a volunteer stumble or a dog slip its leash.
That, mercifully, hasn't happened, but Pat recalls a scene that caught her off guard some years ago. A woman had approached her after the luncheon, checkbook in hand, and announced, "I want to adopt this dog," pointing at Chloe. Pat stared in confusion, then burst into laughter. The woman had mistaken Chloe for a silent auction item. "I told her, 'No, she's not for sale.' The poor woman was mortified," Pat recalls, chuckling.
Pat runs the Pet Visitation Program without any assistance and with a minimal budget. "It's just me," she says, though she credits Volunteer Services leaders Mary Matson and Ruth Velasco (now retired) as dedicated partners.
The work brings her deep satisfaction. "It's not about me," she says. "It's about the wonderful people who come and do this. I just want to make it as easy as possible and make sure their dogs are happy." Aside from comforting patients and staff, Pat sees the pet visitation program as a gateway to personal growth.
Last year a new program volunteer had confided she was uncomfortable around sick people. That's OK, Pat reassured her. Dogs are excellent icebreakers. "It took about six months," Pat says, "and she's now very comfortable. I love that part—having somebody gain confidence in themselves to meet all these new people at the hospital. And then go on their own journey." •