NEWS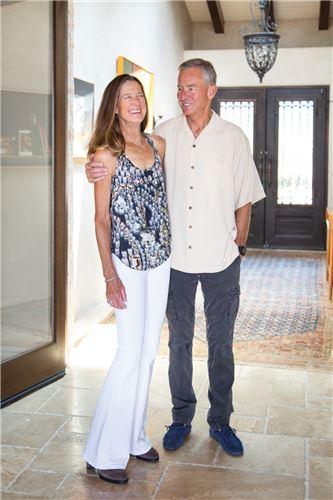 All In the Family
The Campbell family's relationship with Torrance Memorial Medical Center spans decades, but it was Paul Campbell's trip to the emergency department that got the family involved with the Patrons program.
Jim Campbell and his son-in-law Paul built their relationship around technology. Paul was part of the Silicon Valley revolution and Jim worked with some of the biggest names in the industry—IBM and Xerox. The two were not only colleagues but also really good friends. "We had great mutual respect for one another," Paul says. "I really looked up to Jim as a father figure."
Jim knew Paul would hit it off with his daughter Cindy, an investment banker on Wall Street; so when Paul needed to travel to New York on business 23 years ago, Jim arranged a meeting. After six dates, Paul proposed on Cindy's birthday in 1995. "The last 23 years have by far been the best 23 years of my life," Paul says.
After 21 years in Northern California, Hawaii and Dallas, the couple and their two teenagers moved to Cindy's hometown, Palos Verdes Estates. While looking at real estate and putting together a transition plan for their move, Paul found himself in the emergency room—but not Torrance Memorial's.
"I was actually at another institution, fearing for my life," he remembers. He called his father-in-law. "Jim told me, 'Get in a taxi and get over to Torrance.' Which I did."
Everything turned out fine, and the experience left a great impression on Paul. He was struck by the superb medical care and TLC he received in Torrance Memorial's emergency department. "In emergency rooms you're dealing with impossibly difficult situations—people were positive, upbeat; people were courteous." Shortly after that, Paul and Cindy became hospital Patrons.
Putting Patients First
Earlier this year Paul joined the Torrance Memorial Foundation board, where he's helping to raise funds for the medical center. From this position, he has an up-close and personal view of the entire organization. He sees a consistency of values permeating everywhere from the administration to the doctors and nurses.
"Every staff person you encounter is really doing the utmost to put the patient's interest first," he says. "And there's real cohesion around the sense of mission, which is to create a positive environment that enables people to heal, not just physically but also emotionally and psychologically."
Of course once Paul joined the board, he began talking to Jim and Marie, Jim's wife of 11 years, about joining him and Cindy in their support, by becoming Patrons as well. "Becoming a Patron at Torrance is a way to contribute to an organization that is really making a positive impact on the world. You wake up in the morning knowing you're making a difference in people's lives."
 
Marie and Jim Campbell
Jim and Marie didn't need much convincing.
"I've been a customer of this wonderful hospital since 1970," Jim says. "I had a family of four daughters and, of course, our family used all of their services as needed."
When Jim first moved to Palos Verdes 48 years ago, it was to set up a new business for Xerox. Being on the cutting edge of computer technology at the time, he wasn't sure that was going to work. His daughter Nancy, who was in the eighth grade and had already attended 12 schools, made a request of her father: to make it work and stay in town so she could finish high school in Palos Verdes. "I told her I'd do my best."
Jim was successful and fulfilled his daughter's request. The family established deep roots in the community, and Torrance Memorial became their hospital.
Marie's experience, however, dates back much further. She was employed by the hospital at its original location in old Torrance 70 years ago, when it offered just 41 beds. She worked for three years in administration, doing everything from processing the mail to admitting patients. Marie has also been a patient.
"We have been long and loyal patrons to the hospital in a number of ways," Jim explains. "We've been there on the receiving end, so at this point we want to give back."
Because of loyal supporters like the Campbells, Torrance Memorial has grown from those original 41 beds to more than 500. Today the medical center has an extensive and integrated system of physicians and comprehensive medical services that provide residents of the South Bay with complete care and treatment.
Cedars-Sinai Affiliation Will Enhance Access
Just recently Torrance Memorial announced its affiliation with Cedars-Sinai Medical Center, a Los Angeles hospital renowned for its medical research. This affiliation will bring more expertise in the areas of neuroscience, cancer and heart failure to the South Bay and enhance health care access for its residents.
"That's a terrific, terrific, terrific step into the future for everyone associated with the Torrance Memorial Medical Center family," Paul says. "Because now we can combine all the strengths of Torrance, all the research protocols with all the special areas of care that Cedars-Sinai provides seamlessly. I don't think there's any better medical care in the world that one could access."
The entire Campbell family says they have been fortunate and blessed in their lives. Despite visits to the emergency department here and there, they have their health. They have also had successful careers and love every aspect of the community in which they live—particularly their hospital.
The more the family learns about Torrance Memorial and its staff's sincerity and treatment of patients regardless of their ability to afford care, the more the family is impressed. Paul adds, "What a phenomenal resource we have in our community and how blessed we are to support it."
Written by Mary Scott 
Photographed by Shane O'Donnell